Out & About: Girl, 13, youngest triple crowner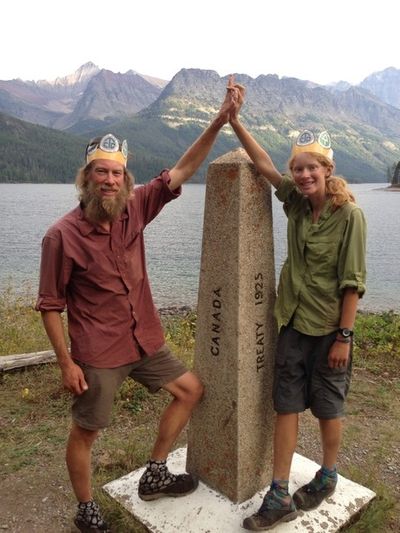 OUTHIKE – Reed "Sunshine" Gjonnes, 13, hiking with her father, Eric "Balls" Gjonnes, has become the youngest person to complete the triple crown of long-distance hiking.
The pair from Salem, Ore., through-hiked the 2,652-mile Pacific Crest Trail in 2011, the 2,181-mile Appalachian Trail in 2012, and this month they finished the 3,100-+mile Continental Divide Trail.
Sunshine turned 13 years-old one month into this year's trek.
They finished the CDT on Sept. 6 with what Sunshine blogged was "an easy 27 miles" in Glacier National Park to the U.S.-Canada border at Waterton Lakes National Park.
She said their pace picked up a bit with the sight of a grizzly bear, and she mentioned that:
"Our tent smelled so bad last night from three days of wet socks (mostly Dad's). I could hardly breathe it was so bad."
Turnbull adds land with wetland grant
OUTGROW – Turnbull National Wildlife Refuge has been awarded $547,000 from the Migratory Bird Conservation Commission to purchase 400 acres of additional wetland habitat.
Turnbull is one of three refuges in the nation – the only one in the West – to receive a share of $3.3 million approved to acquire refuge land from the Migratory Bird Conservation Fund. The primary source for the fund is sales of Duck Stamps purchased by waterfowl hunters and other conservationists.
"We have a landowner willing to sell 400 acres that includes a number of wetlands plus more that we can restore," said Dan Matiatos, manager of the 18,217-acre refuge.
He said the parcel adjoins refuge land that's separate from the main block of the refuge.
"We have identified a stewardship area of 44,000 acres around the refuge from which we can buy additional lands when sellers and funds are available," he said.
Elsewhere on the refuge, prescribed burning is scheduled this fall to rejuvenate habitat, especially aspen groves, and reduce fuels that could cause bigger summer fires, he said.
Youth waterfowl hunts are underway this weekend for youngsters who drew special permits to hunt from designated blinds on the refuge.
Reel Rock films at Mountain Gear
OUTCLIMB – Spokane is one of the first stops for the  2013 Reel Rock 8 Film Tour, a gripping collection of climbing films that will show Friday starting at 7 p.m. at Mountain Gear's retail store, 2002 N. Division St.
The films, which debuted in a Boulder, Colo., festival on Sept. 19, include "High Tension: Ueli Steck and the Clash on Everest."
All proceeds go to the  Access Fund, a national advocacy organization founded in 1991 to conserve and keep U.S. climbing areas open.
Buy tickets online at bpt.me/421221.
---