Sports
Cougs need to pass physical test to win
Stanford's strength is its strength, size on lines
Thu., Sept. 26, 2013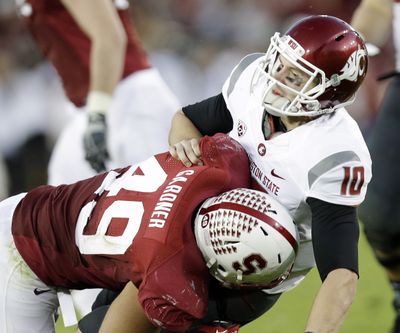 PULLMAN – He's talking about the matchup between his offensive line and Washington State's defensive line a year ago, and Stanford coach David Shaw says something he hasn't said often during his two seasons in charge of the Cardinal.
"When we were on offense and they were on defense," Shaw said, "I thought they took it to us. I think they played extremely hard, I think they played extremely well, and they matched our desire to run the ball with their desire to not let us run the ball. I think it was probably one of our top two most difficult days to run the ball. I thought they matched up very well."
That was a Cardinal team that finished 12-2, won the Pac-12 championship and defeated Wisconsin in the Rose Bowl. Stanford averaged 174.3 yards rushing per game, but managed only 120 – on 37 carries – in a 24-17 home victory over the Cougars on Oct. 27.
That performance, though accompanied by a loss, wound up the reference point for folks insistent that WSU was capable of defensive greatness. More importantly, it proved that WSU, despite its inconsistencies, was capable of matching the physical nature of a Stanford team considered one of the strongest in the nation.
So the Cougars will again be provided a toughness barometer on Saturday, when they face Stanford at Seattle's CenturyLink Field in search of a fourth consecutive victory.
Despite WSU's defensive stoutness a year ago, WSU coach Mike Leach said he found the Cardinal to be pretty tough to move around.
"They're really strong," Leach said. "I thought they were stronger. The biggest thing you notice about Stanford is their size and strength."
And it's not as if the Cougars dominated the trenches. More like the trench. That game was an offensive nightmare for WSU quarterback Jeff Tuel, who was sacked 10 times as Stanford's defensive front manhandled the Cougars' offensive line.
That group allowed 57 sacks a year ago, most in the country. Through four games this year they've yielded just seven, a considerably improved average.
Last year, Leach said, "I think we were young. I think we weren't very strong. I think you've got to trust your technique and stay with your technique and I think they were good. We were in it until the end, and I wish we'd finished better."
WSU defensive coordinator Mike Breske said the Cougars won't mess with their base 3-4 formation just to suit the opponent, though one would expect to see more than three players with their hand on the ground more frequently than usual.
"We've just got to work it and make sure our fits are exact," Breske said. "And we've got to tackle very, very well. We've got to gang-tackle this week. They're not so much about spreading you out. It's about gang-tackling. They've got big bodies, and they get in your way.
"Obviously when they get big, big, big, they run," Breske said. "They're not so much about trying to trick you. Just, 'this is what we do.' They do it very, very well, and we've got to fit well and be physical."
Defensively, that hasn't been a problem. Defensive tackle Xavier Cooper vowed after WSU's 42-0 thrashing of Idaho that the Cougars would "come into that (Stanford) game fighting," just as they have en route to a No. 10 national ranking in total defense. To WSU's benefit is the absence of All-America Stanford guard David Yankey, who will miss the game while handling a family issue.
If WSU's offensive line matches the defense's physical mandate, this could be more than a competitive loss.
Local journalism is essential.
Give directly to The Spokesman-Review's Northwest Passages community forums series -- which helps to offset the costs of several reporter and editor positions at the newspaper -- by using the easy options below. Gifts processed in this system are not tax deductible, but are predominately used to help meet the local financial requirements needed to receive national matching-grant funds.
Subscribe to the sports newsletter
Get the day's top sports headlines and breaking news delivered to your inbox by subscribing here.
---