News > Features
Obamacare will bring price break for many in Washington
Sun., Sept. 29, 2013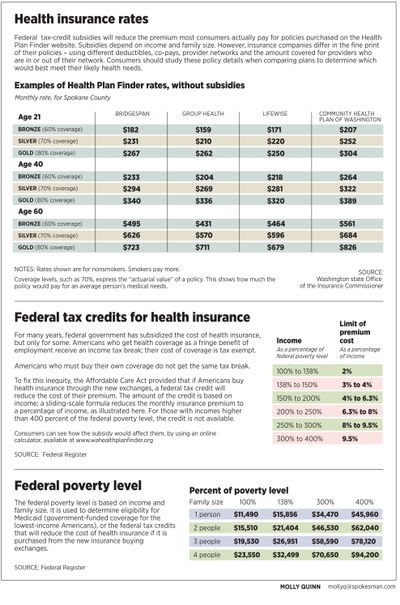 What will Obamacare cost, and who will it help?
In Washington state it will cover more people and provide more comprehensive benefits than insurance companies sell today. And the final rates indicate many consumers' health costs could drop.
How is that possible? Federal law requires insurance companies to compete side-by-side in a government-run online marketplace. New regulations required plans to cover more; this could drive premiums higher, but for most consumers the better coverage is expected to reduce total out-of-pocket costs. Plus, federal tax credits will reduce premiums for many.
From August through early September, the office of state Insurance Commissioner Mike Kreidler announced its decisions on the rates and policies to be offered for sale on Washington's new insurance-selling website, the Health Plan Finder. Located at www.wahealthplanfinder.org, the site begins insurance sales on Oct. 1. The policies sold there will take effect Jan. 1.
Eight of the nine insurance companies who sought regulatory approval passed muster. In Spokane County, seven companies will sell policies. Residents of smaller counties will have fewer choices. A complete list of the approved insurance providers, along with their rate information and the counties where they have chosen to do business, is available at the Health Plan Finder web site.
In addition to selling health insurance to paying customers, the Health Plan Finder site will become the way Washington residents sign up for Medicaid, the government-funded health plan for low-income people. The Washington Legislature decided to expand Medicaid for 2014, making it a comprehensive plan covering everyone up to 138 percent of the federal poverty level. The federal government will pay for Medicaid's expansion.
In Washington, more than 507,000 people are uninsured but have incomes too high to qualify for Medicaid; these individuals can purchase coverage on the Health Plan Finder site, and most will qualify for federal tax credits to reduce their premiums. Another 328,000 uninsured people will be eligible for expanded Medicaid, according to state and federal estimates.
Until Jan. 1 when the federal law kicks in fully, people without insurance face difficult choices: They've been able to get some types of care in hospital emergency rooms, where costs are high and get passed along via hospital fees and insurance rates to those with insurance coverage.
But when the uninsured experience serious medical problems, the bills often push them into bankruptcy; medical costs account for 60 percent of personal bankruptcies in the United States.
And, due to the inability to pay for care, many ailing Americans simply go without it and die. According to the American Journal of Public Health, lack of insurance is linked to 44,789 deaths per year in the United States.
It was to address those problems that the Affordable Care Act of 2010 required Americans to get health insurance and provided for the creation of government-run websites to sell it. Private-sector health insurance companies provide the federally regulated coverage these websites sell. For most consumers, the federal tax credits will reduce the cost of coverage.
Due to federal regulations, the policies that won approval feature considerably more coverage than has been available in the past. In recent years as medical costs have soared, individual policies have covered less and less, Kreidler said, to a point where they cover perhaps 40 percent of medical bills and often do not cover maternity care or drugs at all.
This difference in benefits makes it difficult to compare today's available policies to the ones on the exchange website.
For next year, consumers can choose whether they want coverage of 60 percent, 70 percent or 80 percent. For buyers under age 30, it may be possible to purchase a high-deductible policy. Federal rules require all policies to cover 10 "essential benefits": ambulatory services, emergency services, hospitalization, maternity and newborn care, mental health, prescription drugs, rehabilitation, laboratory services, prevention and wellness, and pediatric services including dental and vision care.
When an economist in Kreidler's office compared the new plans to the individual policies available now, he concluded the new plans would cost consumers less in most age brackets — taking into account the high deductibles in use today and the impact those deductibles have on a consumer's out-of-pocket medical bills. Rates are more likely to be higher for young people – except that young people, due to their lower incomes, likely will qualify for federal subsidies to reduce the cost of the coverage.
Local journalism is essential.
Give directly to The Spokesman-Review's Northwest Passages community forums series -- which helps to offset the costs of several reporter and editor positions at the newspaper -- by using the easy options below. Gifts processed in this system are not tax deductible, but are predominately used to help meet the local financial requirements needed to receive national matching-grant funds.
Subscribe to the Coronavirus newsletter
Get the day's latest Coronavirus news delivered to your inbox by subscribing to our newsletter.
---