Sports
Ernie Kent named men's basketball coach at Washington State
Tue., April 1, 2014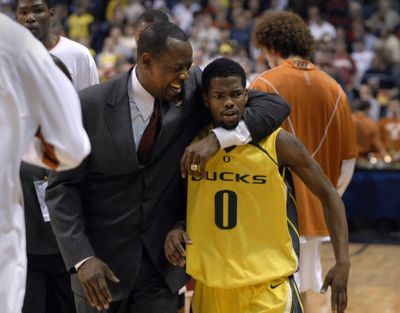 PULLMAN – Bill Moos enjoyed hiring Ernie Kent so much that he decided to do it again.
Kent has been hired by Washington State athletic director Moos as the school's new men's basketball coach.
Kent, 59, was signed to a five-year rollover contract.
"I'm looking forward to providing the kind of passion and leadership to help potential student-athletes understand how special WSU is," Kent said in a press release. "Getting back into coaching for me has meant finding the right program that matches up with my passion, my vision, my beliefs and my commitment; and I feel Washington State University fits all that criteria for me."
Kent was previously hired by Moos at the University of Oregon in 1997, where he coached for 13 years. He has been working as a college basketball analyst for the last three years, first with Root Sports and then the Pac-12 Networks.
Kent led the Ducks to a 235-173 record and five NCAA tournament appearances in his time at UO. He was 109-125 in conference games and has the 17th most conference wins in Pac-12 history.
The Ducks made it to the Elite Eight in 2002 and returned in 2007. He also took the Ducks to two NIT Final Fours.
He left as the all-time win leader at UO and was named the Pac-12 Coach of the Year in 2002. The UO men's basketball team finished No. 1 among Pac-10 schools in the NCAA's Academic Progress Rate three out of his last four years.
But the Ducks struggled in Kent's final two seasons, finishing just 9-27 in the Pac-12 and winning just eight total games in the 2008-09 season, after which he was dismissed by Oregon athletic director Mike Bellotti. Prior to his time at UO, Kent spent six seasons as head coach at Saint Mary's.
With the Gaels he went 90-80, guiding the school to its first NCAA tournament berth since 1989 during the 1996-97 season. He still ranks second all-time in wins at the school.
Prior to that he served as an assistant at Stanford under Mike Montgomery for two seasons (1989-91). Montgomery announced his retirement as California coach on Monday.
Kent began his career in unique fashion, living in Saudi Arabia from 1980-87 and coaching the al-Khaleej club in Sayat.
He told ESPN's Andy Katz that, "my paycheck was on one side of the table and my passport on the other, and they said to me, 'You can't leave and you won't get paid if you don't win,' " when asked about the experience.
Kent takes the keys to the Cougars' program after the dismissal of Ken Bone as coach earlier this month. Kent becomes WSU's fourth head coach since 2003.
Bone was five years into a seven-year contract that will pay him $1.7 million over the next two years.
Bone was dismissed because attendance plummeted while the Cougars struggled on the court. The Cougars finished just 10-21 this season, and 3-15 in Pac-12 play. They averaged just 2,800 sold tickets per home game this season, last in the conference by more than one thousand fans.
"When WSU is having success, Beasley Coliseum is one of the best environments in the West. The students are so passionate. I saw 5,000 of them out there ready to go during warm-ups, one of the few places I've ever witnessed that," Kent added.
"When you've seen that arena full and the program was at its best and now you have the opportunity to lead that program and you understand the potential that exists, that is very special to me."
Local journalism is essential.
Give directly to The Spokesman-Review's Northwest Passages community forums series -- which helps to offset the costs of several reporter and editor positions at the newspaper -- by using the easy options below. Gifts processed in this system are not tax deductible, but are predominately used to help meet the local financial requirements needed to receive national matching-grant funds.
Subscribe to the sports newsletter
Get the day's top sports headlines and breaking news delivered to your inbox by subscribing here.
---