Sports
Chiefs face tough decisons on next year's roster
Thu., April 3, 2014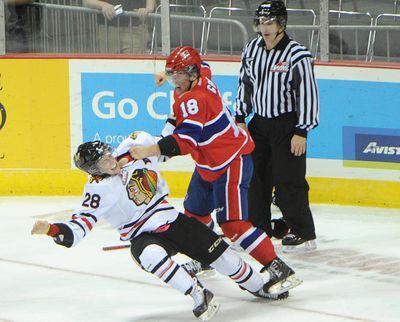 Spring cleaning time came too early for Don Nachbaur's tastes.
The Spokane Chiefs coach would rather have a cluttered desk and still be part of the Western Hockey League's postseason, which picks up again tonight with two second-round series.
Nachbaur's Chiefs were swept by Victoria in the first round.
"You never expect to be out this early, so it's like withdrawals at this time of year," Nachbaur said.
His office straightened up and phone messages returned, Nachbaur plans to relax with some golf and attend some of the remaining playoff games. He'll be watching as more than a fan.
"There are always players that you might cross paths with in the future, such as through trades … so it's good to have the knowledge of players on other teams," Nachbaur said.
One of the biggest challenges facing next year's Chiefs is a glut of players entering their 20-year-old seasons. WHL teams are limited to three overage players and Spokane has six on its current roster: forwards Connor Chartier, Marcus Messier, Carter Proft and Liam Stewart, and defensemen Reid Gow and Cole Wedman.
Gow was Spokane's captain and third-leading scorer (61 points); Chartier played all 72 regular-season games and tied for sixth in scoring with 32 points; Proft also played in every game and led the team with 145 penalty minutes; Stewart, limited to 43 games by a broken foot, had 28 points; Messier, acquired from Tri-City in January, finished with a combined 31 points; and Wedman had 13 points.
"They're all capable of playing in the league, we know that," Nachbaur said. "I'm sure there'd be interest from other teams, but the end result is, if we do bring all six guys back (to camp), it's going to be up to those six to determine who's on the team and who's not."
The Chiefs didn't face as much of a tough decision after last season, when four players were potential returners: forwards Mitch Holmberg, Mike Aviani and Todd Fiddler, and goalie Eric Williams.
The Chiefs traded Fiddler and the other three were Spokane's best players during 2013-14.
But now the loss of Holmberg (62 goals, 118 points), Aviani (38 goals, 81 points) and Williams (33-19-2-2) leaves the Chiefs with big question marks.
"Moving forward, that's what we need to focus in on: Who's going to score for us next year?" Nachbaur said. "If there's not one individual, we have to come up with a game plan that allows our players to be able to score. It's going to be by committee."
Williams' backup, Garret Hughson, was 7-7-1-1 in 21 games.
Nachbaur said it's too early to worry about Spokane's goalie situation, or any other position, because a summer of dedicated conditioning can turn around a player's career. As an example he mentioned Chiefs defenseman Jason Fram, who bulked up for his 18-year-old year and improved from 15 to 58 points, including 52 assists.
Nachbaur will enter the final year of his five-year contract with the Chiefs next season. He said he and general manager Tim Speltz have begun discussions about his future in Spokane.
"I love the Chiefs," he said. "That's the thing with coaching – you get pretty close to the players. … I've spent a lot of time with these kids and I've seen them grow before my eyes, so I'd like to be part of that."
Local journalism is essential.
Give directly to The Spokesman-Review's Northwest Passages community forums series -- which helps to offset the costs of several reporter and editor positions at the newspaper -- by using the easy options below. Gifts processed in this system are not tax deductible, but are predominately used to help meet the local financial requirements needed to receive national matching-grant funds.
Subscribe to the sports newsletter
Get the day's top sports headlines and breaking news delivered to your inbox by subscribing here.
---