News > Spokane
Medal of Honor recipient Ty Carter advocates for returning veterans
Thu., April 3, 2014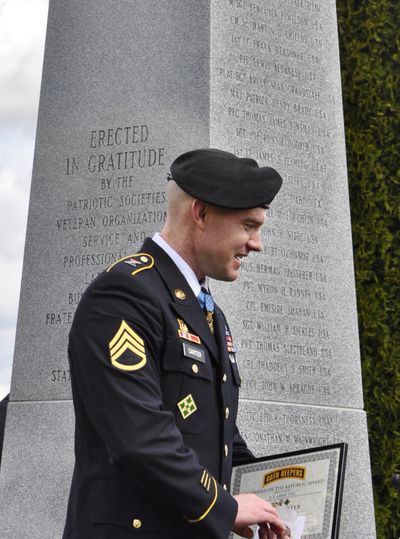 OLYMPIA – Staff Sgt. Ty Carter is learning to handle the attention that comes with being a Medal of Honor recipient, believing that by calling attention to the problems of returning veterans he's helping to save lives just as much as if he were protecting a group of soldiers with his rifle in Afghanistan.
It's a burden he feels he owes to other soldiers who died to protect him. But he's still not comfortable standing up in front of a crowd of strangers and talking.
"To represent all the soldiers and service members is very stressful," said Carter, who received the nation's highest military medal last fall for heroic actions in Afghanistan in 2009. "I'm always afraid I'm going to mess up."
He tries to help other people by telling his story of coping with post-traumatic stress disorder, listening to the stories they tell him, and assuring them it's OK to ask for help.
Carter, who grew up in Spokane and is now stationed at Joint Base Lewis-McChord, was one of three Washington residents whose names were added Wednesday to the state Medal of Honor Monument on the Capitol Campus. He spoke briefly at a ceremony in the Capitol Rotunda with Gov. Jay Inslee, other elected officials and some top military brass in the audience, urging everyone to try to recognize the unseen wounds of war like PTSD and traumatic brain injury, and work to improve the lives of returning veterans.
Then he joined Sgt. 1st Class Leroy Petry and Capt. William Swenson, two other recent recipients for heroism in Afghanistan, at the stone obelisk for a ceremony that included a 21-gun salute and the playing of taps.
The monument carries the names of all Washington residents who have received the Medal of Honor. He never pictured having his name etched in stone, at least not while he was living, Carter said after the ceremony.
"Every single one of those guys," he said, pointing to the long list of names down the side of the monument, "they didn't know what they were getting into, either."
From his many speaking appearances, Carter said one of the things he's learned is that most people are good: "All they want to do is give, give, give."
On Wednesday, Washington state gave some things to current and former members of the military. A few hours after the ceremony, Inslee signed a series of bills designed to help service members, veterans and their families.
Washington will now allow any member of the armed forces or veteran, and in some cases their family members, to attend a state college or university on in-state tuition without requiring they first live in the state for a full year.
Another bill orders the Veterans Innovation Program to provide funds for veterans, National Guard members and reservists for crisis relief, education, training and employment opportunities. Another authorizes the establishment of the state's fourth Veterans Home.
Local journalism is essential.
Give directly to The Spokesman-Review's Northwest Passages community forums series -- which helps to offset the costs of several reporter and editor positions at the newspaper -- by using the easy options below. Gifts processed in this system are not tax deductible, but are predominately used to help meet the local financial requirements needed to receive national matching-grant funds.
Subscribe to the Coronavirus newsletter
Get the day's latest Coronavirus news delivered to your inbox by subscribing to our newsletter.
---