Sports
NFL notes – RGIII, Hall attract Jackson to Redskins
Thu., April 3, 2014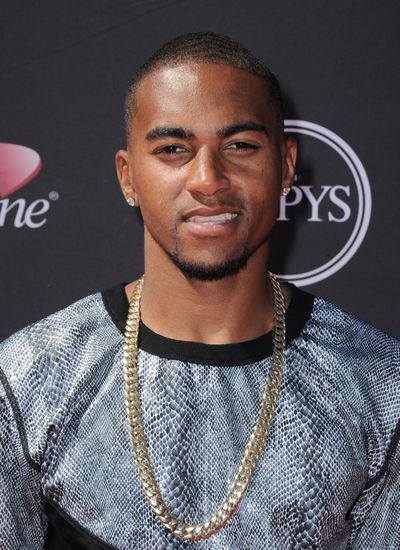 The contrast couldn't have been greater for DeSean Jackson.
In a matter of days, he went from unwanted to wanted, from fired to hired, from discarded by the Philadelphia Eagles with reputation tarnished to rock star treatment and a new fat contract from the Washington Redskins.
Concerns about work ethic, attitude and reports about gang activity seemed miles away when he was being wooed by Robert Griffin III or enjoying his recruiting-style evening out with cornerback DeAngelo Hall, receiver Pierre Garcon and rapper Wale.
On Wednesday Jackson signed a three-year, $24 million contract that includes $16 million guaranteed.
"I feel they embraced me," Jackson said. "RG3, DeAngelo Hall reached out to me and made it feel like it was home. After everything that was going on the past couple of days, and the last week, that's a big step. … I think the biggest thing about this move is finding a place where I can be happy and go out there and just be myself."
The Redskins are getting a three-time Pro Bowl receiver with speed, someone who singlehandedly can change a defense's approach. He set career highs with 82 catches for 1,332 yards last year for the NFC East champion Eagles.
Around the league
The Titans signed OL Chris Spencer to a one-year contract….The Steelers signed WR Darrius Heyward-Bey to a one-year contract….The Giants signed DE Robert Ayers….Former Miami Hurricanes OL Jason Fox has signed a one-year contract with the Dolphins.
Local journalism is essential.
Give directly to The Spokesman-Review's Northwest Passages community forums series -- which helps to offset the costs of several reporter and editor positions at the newspaper -- by using the easy options below. Gifts processed in this system are not tax deductible, but are predominately used to help meet the local financial requirements needed to receive national matching-grant funds.
Subscribe to the sports newsletter
Get the day's top sports headlines and breaking news delivered to your inbox by subscribing here.
---