News > Features
Get Lit! headliner Anthony Doerr's new novel puts light on war's hidden stories
Sun., April 6, 2014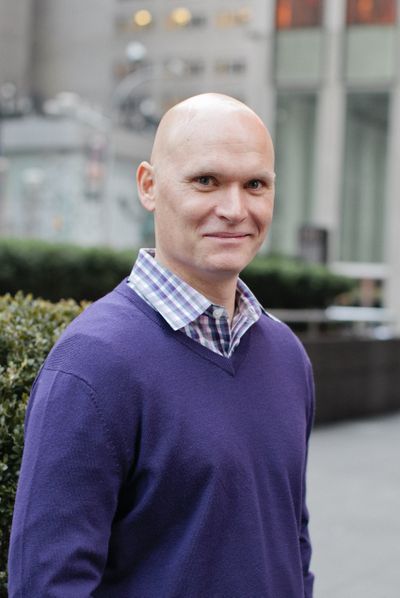 Radio waves figure prominently in Anthony Doerr's new novel, wavelengths on the electromagnetic spectrum invisible to the eye but powerful enough to compel hearts and minds.
But the title, "All the Light We Cannot See," also refers to stories that remain unseen and unheard, decades after World War II. Because they're children's stories, they're hidden stories.
Doerr, a headliner at this week's Get Lit! festival who's earned high honors as a short story writer, said he wanted to write a novel about World War II without repeating war clichés. A story about children, he said, allowed him to imagine a story from a different angle.
When writing about children, "you have to show the world in what I think is a really interesting and new way, which is how kids see the world," Doerr, who lives in Boise, said in an interview. "That's why I love being around my kids – suddenly just a trip to the park becomes a lot more interesting, because it's new for them."
Doerr's appearance in Spokane will be the first stop on his tour to promote his novel, set for publication May 6 (Simon and Schuster, $27). He's slated to speak alongside William T. Vollmann, the prolific author and journalist whose novel "Europe Central" won the National Book Award in 2005 (and whose essay in the September issue of Harper's Magazine recounted his discovery that the FBI suspected him of being the Unabomber).
Doerr said his new novel, nearly 10 years in the making, got its start during a visit to Saint-Malo, a walled city in Brittany in northwestern France where German soldiers holed up during the war.
Early reviews offered praise.
Publishers Weekly said Doerr "convinces readers that new stories can still be told about this well-trod period, and that war – despite its desperation, cruelty, and harrowing moral choices – cannot negate the pleasures of the world."
The Library Journal said the novel "has the physical and emotional heft of a masterpiece."
Much of the story takes place in Saint-Malo, connected to France by a spit of sand.
It weaves the stories of a French girl, Marie-Laure, and a German orphan named Werner.
Marie-Laure lives in Paris with her father, a museum lockmaster who builds the girl a model of their neighborhood after she's blinded at age 6. They flee to Saint-Malo at the start of the German occupation.
Werner, two years Marie's senior, grows up with his sister Jutta. His talent for building and fixing radios earns him a spot at the military academy for Hitler Youth, then a special assignment tracking the Nazi Resistance. Werner's story converges with Marie's when he travels to France.
It's no accident that Werner, despite his work for the Nazis, is a sympathetic character, suffering his own losses and enduring his own struggles.
As told on the History Channel or in the video games downloaded by Doerr's sons, WWII still tends to get a "comic book-y" narrative, he said, about a battle between good Americans and evil Germans.
"I wanted to try to humanize the situation a little bit, and say, 'You know, this is an incredibly complicated thing to be born into,' " he said. "I certainly don't know if I would have been brave enough to take families into my basement or do whatever I could to fight the government."
One of the "great projects" of the book, he said, is to present that question to readers: In Werner's shoes, would you be brave enough to step away from the path his government set him on?
Along with making research trips to Saint-Malo – much of it destroyed by the U.S. military during the war – Doerr read interviews with Germans who grew up under the Nazi regime and listened to translations of "god-awful speeches" on German radio during the war. He listened to radio plays for children in which the villains were Jews.
In creating Werner, Doerr said, he set out to imagine the experience of a child growing up in an "intensely nationalistic situation, where the radio is hammering you all the time about incredibly racist things – but things he might come to believe in, growing up in that tightly controlled media state."
Doerr's own twin sons are 10.
When they were younger, he made up bedtime stories for them, silly ones, "anything to get them to laugh," he said. He read them Harry Potter books and Jack London books. He still reads to them sometimes.
"They still love stories before they bed," he said. "They associate that hour before bed with narrative, written or spoken narrative, into their heads."
Actually, so does he, Doerr said. If he's tired, he might feed his craving for narrative by turning on the TV. Nor is he opposed to stories in other electronic forms. His sons' video games, for example, amount to long, sustained stories, "probably the only kind of narrative that's as long as a novel."
"I think we're always searching for a narrative, storytelling," Doerr said. "Whether or not people are bemoaning the fate of books doesn't mean the human appetite for narrative has diminished at all."
What does concern him is the time social-media lovers spend cultivating their personal stories and images online. He's guilty of cultivation, too, he said; judging by his iPhoto collection, "it looks like we've had a glorious life of vacations." But Facebook and Twitter narratives fall short of meaningful human connection.
Reading a novel, on the other hand, is an act of empathy, he said.
"You're reading a novel to enter somebody else's world," Doerr said. "Ultimately, that makes you feel less isolated, I think."
Even if, surprisingly, you're along for the ride with a brilliant boy on assignment for the Nazis.
Local journalism is essential.
Give directly to The Spokesman-Review's Northwest Passages community forums series -- which helps to offset the costs of several reporter and editor positions at the newspaper -- by using the easy options below. Gifts processed in this system are not tax deductible, but are predominately used to help meet the local financial requirements needed to receive national matching-grant funds.
Subscribe to the Coronavirus newsletter
Get the day's latest Coronavirus news delivered to your inbox by subscribing to our newsletter.
---