Spokane 'texture' comes through in 'Shorties'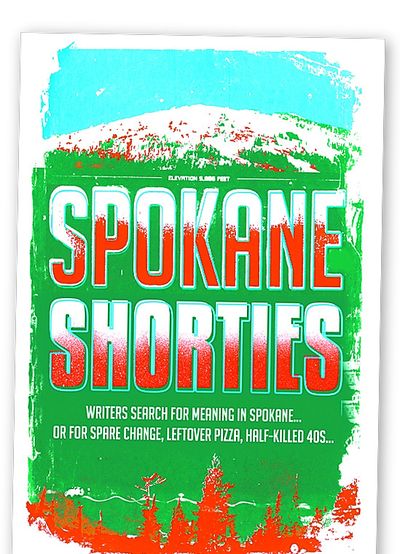 Kevin Taylor has a theory: Everybody in Spokane has a story about living here, one of those "only in Spokane" tales that, OK, could happen elsewhere but that seem so … "Spokane-ish."
When you have a story like that, he believes, you feel a need to tell it.
Taylor, a former Spokesman-Review and Inlander reporter who now works as a freelance writer, collected a few dozen of them – poems and short fiction and essays – for a book, "Spokane Shorties." It will be sold for $8 at Get Lit! events, then Atticus and Boo Radley's downtown, with proceeds to benefit the festival.
Taylor was hoping for stories with "a twist," he said – something that would "shine some sort of light on the meaning or gist of Spokane."
When he started, Taylor wondered whether he'd have enough stories to fill the pages. But from writer to writer, word spread of his hunt for work by "Spokane-ish writers writing Spokane-ish stories."
As it turned out, there were many of those. Submissions began to flood his inbox.
The final product puts established writers such as Jess Walter and Kim Barnes alongside less-famous ones.
A story by Leah Sottile begins: "The bus rattles along, passengers silent, when suddenly, a man – sitting alone – yells 'I'm not living up to my full potential!'
"No one looks up from their cell phones."
Sharma Shields wrote a story about three sisters feeding the ashes of their abusive uncle to Riverfront Park's garbage-eating goat.
Kris Dinnison's story, about chasing a shoplifter wearing a top hat through downtown, is based on a true story. But it was her husband who chased the shoplifter in a top hat, who'd lifted some incense from their gift shop, Boo Radley's. They also own the shop next door, Atticus.
Dinnison, whose young adult novel, "You and Me and Him," will be published in spring 2015, said the shoplifter was familiar to them – although he would show up variably costumed, sometimes "almost like a South American dictator, kind of military-ish."
He was part of a cast of real-life characters who populate Spokane's real-life stories, people Dinnison said she's mostly glad to dwell among: "To me, that's part of the texture and color of living and working downtown."
The public is invited to the book's "Coming Out Party"; 4:30 to 6:30 p.m. Tuesday, Saranac Public House, 21 W. Main Ave.
---