Sports
WSU spring football: WR Vince Mayle emerges slimmer, faster
Sun., April 13, 2014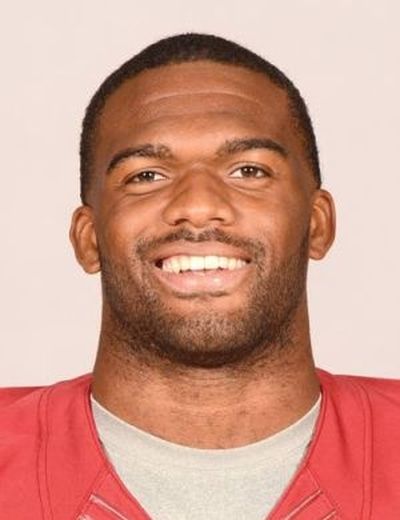 PULLMAN – College football players spend the winter hidden away from the outside world in a weight room where their work goes unwatched by their autumnal fans.
In spring, they burst forth from their cocoon of sweat and heavy-metal music, bigger and more muscular versions of their former selves.
But Washington State wide receiver Vince Mayle underwent a different metamorphosis. While the majority of his teammates were guzzling protein shakes and packing on weight, Mayle shed fat and emerged this spring sleeker, more slender and much faster.
"A lot of stuff with him was he'd never really lifted weights before," WSU strength coach Jason Loscalzo said. "So it was a lot of technical stuff with him so he had a lot of neuromuscular adaptation to what we were doing, and he's a quick learner."
Not that the 6-foot-3, 220-pound receiver is small. But he is downright svelte compared to the 240-pound tight-end candidate that showed up last season after two years at Sierra College in California.
"I wasn't naturally that big. It was just my transition to getting here," Mayle said. "It happened from not working out and then I got here and I just started working out more and my metabolism got better, and I started eating better foods at the training table."
His newfound speed has made Mayle one of the breakout players of spring, and he often dominates WSU's young, smaller defensive backs. He gets behind the defense for at least one long touchdown reception per practice. The senior appears a sure thing to dwarf his 539 yards and seven touchdowns from a season ago.
Mayle spent the winter working out with fellow receiver River Cracraft, a freshman last season who earned All Pac-12 honorable mention after a 46-catch campaign.
Quarterback Connor Halliday calls the pair "probably the two hardest-working guys we have out here," and they are often two of the last players to leave spring practice.
"(He) keeps me going. If I see him lifting more I'm going to lift more," Mayle said of Cracraft. "If he sees me lifting more it's going to push him more, so he's a great workout partner."
In addition to losing weight, Mayle has also seen big gains in his knowledge of the Cougars' Air Raid offense.
That knowledge has made the game more intuitive for Mayle and allows him to become faster as he is surer in his movements. It also frees his mind to focus on making a critical catch, without the background noise of second-guessing his actions. With his extra work after practice running routes, he can be sure that he knows where the ball will be and when it will get there.
"He did a great job of learning how to run routes this winter. That was his big thing," Loscalzo said. "He learned how to run routes, he learned how to use his body. So he's really refined his technique on change of direction, acceleration, and losing the weight did help."
Note
Wide receiver Sebastian LaRue worked out at cornerback on Saturday and coach Mike Leach said the team is considering having him stay there. LaRue transferred to WSU after redshirting his freshman season at Texas A&M.
Local journalism is essential.
Give directly to The Spokesman-Review's Northwest Passages community forums series -- which helps to offset the costs of several reporter and editor positions at the newspaper -- by using the easy options below. Gifts processed in this system are not tax deductible, but are predominately used to help meet the local financial requirements needed to receive national matching-grant funds.
Subscribe to the sports newsletter
Get the day's top sports headlines and breaking news delivered to your inbox by subscribing here.
---