News > Features
Livestrong at YMCA helps cancer patients move toward fitness
Tue., April 15, 2014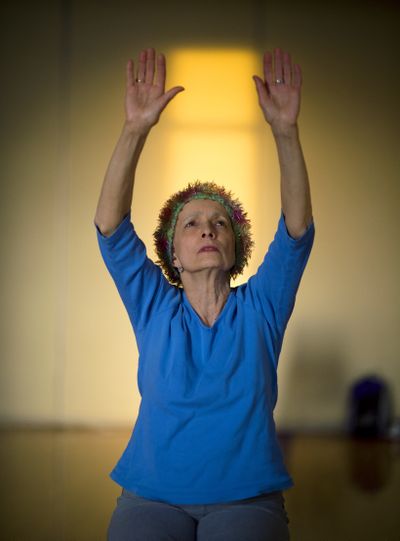 It was like many beginning yoga classes in most ways. Students gathered in a studio at the downtown YMCA raised and stretched their limbs in wobbly formation, their instructor at the front talking them through poses.
It was unlike many yoga classes in a few ways. One student's oxygen machine purred at regular intervals; cancer had cost him part of a lung. In the center of the room, the waning sunlight lit another student's face and her colorful hat, her hair sparse after treatment for lymphoma.
Some of the eight students in Thursday evening's Livestrong at the YMCA class recently finished cancer treatment, and others have been cancer-free for years. All enrolled in a program designed to fill a gap in cancer care by picking up where medicine leaves off, helping patients regain fitness after enduring both cancer and cancer treatment.
With roots in a national-level partnership between the YMCA and the Livestrong Foundation, the Livestrong program at the YMCA of the Inland Northwest has been running free, regular classes for a year at its three locations. Eighty-one cancer survivors have graduated, with 27 more to finish the program in June.
Participants praise its individual approach and the sense of community and support it fosters.
"The Livestrong program is not rocket science," said Spokane resident Rob Parker, 54, a graduate and retired physical therapist who's been undergoing treatment since he was diagnosed with prostate cancer 11 years ago. "It's not that I don't know what to do. It's that I don't have the ability to drag myself into the gym and do it, which is really common for folks.
"For a lot of people with cancer, you've just had this life-threatening, monstrous thing happen, and you just want to stay home and recover. That's the worst thing you can do, because you just sort of melt away into goo."
The 10 to 14 men and women meet as a group twice a week for 12 weeks. Led by two coaches, they spend 30 minutes of each class working on "community building" and 60 minutes on exercise.
The program is open to adults with any kind of cancer diagnosis. Most participants should be done with parts of their treatment that make them too sick to attend classes consistently, Manus said.
But some, with chronic or late-stage diseases, will be in treatment for the rest of their lives. A Livestrong participant who expects to live six months, she said, might spend half that time building enough strength to achieve their "bucket list" goals.
"We hope this is a place where we can support them in doing that," Manus said.
'On your merry way'
While they may rid patients of cancer, chemotherapy, radiation and surgery also can do a lot of damage.
Patients emerging from treatment may be suffering the effects of fatigue and muscle loss. Breast-cancer drugs can cause weight gain and joint pain and stiffness. Stem cell treatments require patients' immune systems to be wiped out, leaving them weak.
Livestrong graduate Brad Reimer, 42, said he was in good shape before undergoing treatment for non-Hodgkin's lymphoma starting in November 2012. Then he underwent surgery to remove several tumors and endured four months of chemotherapy.
"I felt like I was skin and bones and weak – in rough shape," said Reimer, a social worker who lives in Spokane Valley. "I felt like I was through the cancer, but my body was a mess."
While Reimer started the program four months after concluding treatment, the program is also open to people treated years ago. That's because some patients may have gone for years without finding help to get back in shape, program coordinator Nicole Manus said.
"Doctors would say, 'Congratulations, you have no evidence of disease right now. Go on your merry way,' " she said. Patients "didn't know what steps to take safely to continue to get well. They may not have been sick anymore, but that didn't mean they were well."
A growing body of data is finding that daily exercise – between 3.5 and 5 hours a week – substantially reduces the risk of recurrence, said Dr. Joni Nichols, who refers many of her patients at Cancer Care Northwest to the program.
Colon cancer researchers are finding a similar relationship.
"It's just daily exercise, essentially 30 minutes a day, between 3.5 and 5 hours a week," Nichols said. "You don't have to be training for a marathon."
The benefits are mental as well as physical, she said. Patients who've watched treatments break their bodies down get to see it rebuilding.
"It's amazing – when patients start exercising, they feel better," Nichols said. "You just have to get them over the hump. This class helps them do that."
Starting 'low and slow'
The sessions are one-third "community building" – talking – and two-thirds exercise. A few are specialty classes chosen by the group, such as tai chi or Thursday's yoga class.
How the talking part works depends partly on the group, Manus said. Some are more social, some more cerebral.
One class started a session by drawing pictures of their experiences with cancer. One group wanted to know the whys of what they were doing, so coaches taught exercise science lessons for them.
Sometimes they talk about cancer's "collateral" rather than the disease itself, coach Jennifer Boada said – its effect on families and relationships.
It's all meant to create a sense of community and support.
But the sense of community also contributes to accountability, said Parker, a graduate of the program.
"If folks missed a day at the Livestrong program, you go, 'Are they all right? Are they dead?' I mean, there's a possibility," Parker said. "So there was a lot more pressure to go, because you don't want to worry other people."
The exercise program starts "low and slow," Manus said, both to protect participants from working too hard too soon and to ward against lymphedema, uncomfortable swelling often related to the removal of lymph nodes as part of treatment.
Coaches introduce cardiovascular, flexibility and balance exercises. Later, they add strength training exercising for the lower and upper body. By Week 5, the class has the skeleton of a complete fitness program in place.
Then coaches start to customize a program for each person.
Coaches meet one on one with participants to set goals before the classes begin. One person's goal might be to build enough strength to get in and out of the bathtub. Another person might want to play on the floor with their grandchildren.
"In any one class, we might have someone who's in a wheelchair or walking with a walker, and we might have someone else who is getting back to being able to do full triathlons or a 100-mile bike ride," Manus said.
Sammy Smith's goal is to create an exercise routine she can stick to. Her treatment for cancer affects her endurance and strength, she said.
The slight 23-year-old college student was diagnosed with acute lymphoblastic leukemia at age 4 and underwent chemotherapy and full-body radiation. She relapsed at 8 and underwent a bone-marrow transplant, then started taking growth hormones. Doctors believe her diabetes diagnosis in the past year is related to her treatment, she said.
Five weeks into the program, Smith said, she feels her legs growing stronger.
Reimer, the social worker, told his coaches he wanted to run a 5-kilometer race at the end of his 12 weeks.
Reimer ran the race accompanied by all five of his children, now ages 9 to 18.
"You might have a 70-year-old lady who had breast cancer 10 years ago, and she hasn't been out much. She goes to the program, she has very different needs than I have," he said. "But the coaches and the nature of the program (are) such that it totally works for both of us."
Local journalism is essential.
Give directly to The Spokesman-Review's Northwest Passages community forums series -- which helps to offset the costs of several reporter and editor positions at the newspaper -- by using the easy options below. Gifts processed in this system are not tax deductible, but are predominately used to help meet the local financial requirements needed to receive national matching-grant funds.
Subscribe to the Coronavirus newsletter
Get the day's latest Coronavirus news delivered to your inbox by subscribing to our newsletter.
---