Sports
Clint Dempsey scores 2 goals, Sounders beat Rapids 4-1
Sun., April 27, 2014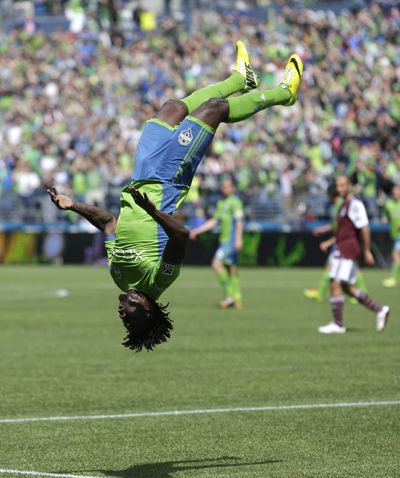 SEATTLE – Everything that Clint Dempsey hoped would happen last year after his splashy signing with the Seattle Sounders is happening now.
Dempsey scored twice in a 5-minute span early in the second half and set up Lamar Neagle's first-half goal to help the Seattle Sounders beat the Colorado Rapids 4-1 on Saturday.
Dempsey leads MLS with eight goals. He has at least a goal or an assist in each of Seattle's last six games. It is the second time in his career that Dempsey has had a six-game scoring streak in MLS, having done it previously in 2005 while with the New England Revolution.
"The year I scored 23 with Fulham, I was on a pretty good run there, but it feels good," Dempsey said.
"We're in a good rhythm as a team, we have a good locker room, and it think that shows on the field in our play."
After Dempsey joined the Sounders last August, expectations for him and the team soared.
But in nine games, he scored only one goal, and Seattle's late-season swoon ended with another early playoff exit.
Now, the Sounders have won three straight to improve to 5-2-1, thanks in large part to Dempsey.
"When I first came, I felt like there weren't too many games where I could look back and say, 'You know what? I had a lot of chances, I should have scored,' " Dempsey said. "I feel like in games now, I'm getting good looks and looks that are allowing me to put the ball into the back of the net. I have to compliment my teammates on that. I feel like we're playing better right now than we were toward the end of last season."
Added Sounders coach Sigi Schmid, "I don't know what the records are for so many goals in so many games, but he might be setting some of those."
Obafemi Martins added a 75th-minute goal for Seattle.
Dillon Serna netted the consolation prize for the Rapids (3-2-2) in the 62nd minute.
Dempsey and Martins (who tallied his third) have accounted for 11 of the Sounders' 17 goals.
"Whether it's six against six or eight against eight in practice, we try to put them on the same team where they look for each other and find each other," Schmid said, "and you see it showing now in games."
Neagle's blast 2 yards in front of a wide-open net gave the Sounders a 1-0 lead 15 seconds into the only minute of first-half stoppage time, and was his third goal of the year.
Dempsey made it 2-0 at the outset of the 47th minute, running onto a loose ball at the top of 6-yard box that Colorado goalkeeper Clint Irwin had slapped away, but couldn't latch onto.
Early in the 52nd minute, Chad Marshall headed Gonzalo Pineda's corner kick toward Dempsey, and Dempsey headed it in just over Irwin's reach.
Neagle assisted on the goal by Martins, which was his third goal of the season.
Colorado came in with back-to-back shutouts and had allowed just five goals all season until yielding the four on Saturday.
The Sounders outshot the Rapids, 20-10.
"The two guys up top (Dempsey and Martins) really made a difference," Rapids coach Pablo Mastoeni said. "Dempsey caused us a bit of grief. And again, if you're not good with the ball, you're going to end up defending. Against a team like this, you definitely don't want to be defending deep in your half as we found ourselves for the majority of the game.
"With the type of players they have, it just puts a lot of pressure on our defense and forced a lot of errors that led to the dismantling of the team," Mastoeni added.
Local journalism is essential.
Give directly to The Spokesman-Review's Northwest Passages community forums series -- which helps to offset the costs of several reporter and editor positions at the newspaper -- by using the easy options below. Gifts processed in this system are not tax deductible, but are predominately used to help meet the local financial requirements needed to receive national matching-grant funds.
Subscribe to the sports newsletter
Get the day's top sports headlines and breaking news delivered to your inbox by subscribing here.
---
Subscribe and log in to the Spokesman-Review to read and comment on this story