News > Pacific NW
Strong winds bring blackouts and blocked roads to the Inland Northwest – again
Mon., Aug. 4, 2014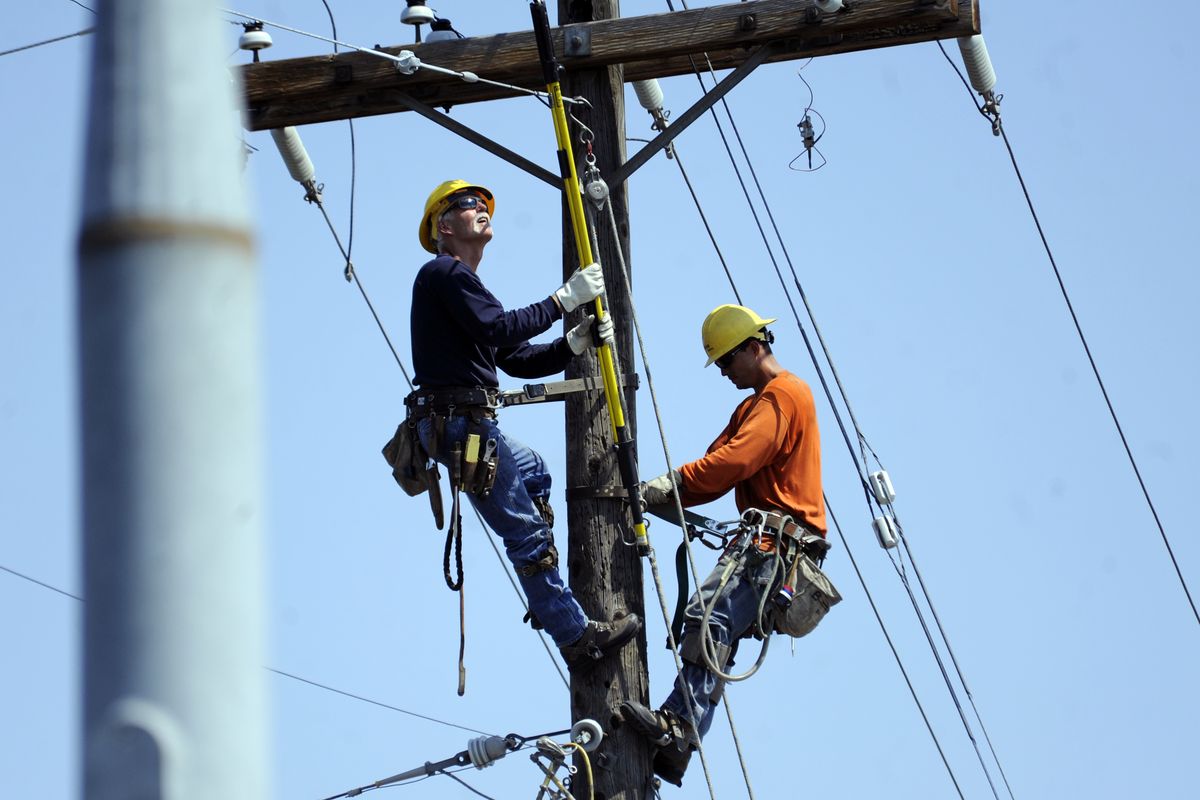 Avista Utilities linemen work on a power pole high above Division Street and Hawthorne Road on Sunday. Thousands of Avista customers remained without power a day after Saturday's windstorm. At one point nearly 50,000 homes were without power. (Jesse Tinsley)
The Inland Northwest was flung back into storm cleanup mode Sunday after being clobbered by high winds for a second time in 10 days.
Thunderstorms packing gusts of 40 to 55 mph brought down hundreds of trees and power lines over a wide swath of the region Saturday evening. Firefighters pounced on new brush fires sparked by arcing wires, while crews cleared trees blocking streets and highways. Utility workers were out in force restoring service to tens of thousands of customers who lost power, mainly north of Spokane and in Bonner County.
The storm punched through starting before 5 p.m., wreaking havoc on some of the same areas hit hardest in the July 23 storm, including Deer Park, Colbert, Colville, Sandpoint and Priest River. Linemen that had put in long days after the first storm were back out Saturday night and all day Sunday.
The heaviest damage was in north Spokane, areas north of the city, and in Bonner County. Avista said nearly 50,000 of its customers lost power – about 10,000 more than in the previous storm.
"We're seeing the same kind of damage because of the wind," Avista spokeswoman Debbie Simock said.
Thirty big trees came crashing down on the grounds of Whitworth University, causing some minor damage to Warren Hall and Cowles Auditorium and forcing the college to close the campus.
"It was fortunate that no people were injured," said Nancy Hines, director of university communications.
Whitworth also lost 13 trees in the July 23 storm. In addition to the 30 that came down Saturday, another eight to 12 trees are compromised and will need to be removed, Hines said.
Sandpoint took a direct hit Saturday. The high winds uprooted trees around town and thrashed canopies at Sand Creek Marina.
"It was a very long night," said Capt. Michael Gow of the Sandpoint Fire Department.
A fireboat on Lake Pend Oreille was swamped while trying to rescue stranded boaters. "Water conditions were extreme to say the least," said Lt. Stu Miller with the Kootenai County Sheriff's Office. "Swells were hitting the 6- to 8-foot mark."
Wind ripped off part of the roof of the Five Mile Prairie Grange on Spokane's north end, trees were uprooted at Holy Cross Cemetery along North Wall Street, and a tree came down on Whitworth Community Presbyterian Church, which moved its Sunday morning worship service outside.
The storm also knocked out power to a Spokane city water booster station in the Five Mile area. Residents there were asked to conserve water Sunday, limiting their use to drinking and cooking. The city lifted the advisory Sunday night.
In north Spokane, power outages forced some restaurants to close their doors, and at least one grocery store had to pull food from its coolers and freezers.
Downed power lines sparked three wildfires north of Spokane, the largest of them growing to about 45 acres along Jim Hill Road in Chattaroy. Two smaller fires broke out along North Madison Road southwest of Mount Spokane. All three fires were contained by Sunday morning, said Randy Johnson, chief of Spokane County Fire District 4.
North of Spokane, a camp for junior high students scheduled to begin Sunday at Camp Spalding on Sacheen Lake had to be postponed due to storm damage. The YMCA's Camp Reed on Fan Lake also lost power in the storm, the night before about 70 kids affected by cancer were set to arrive for the weeklong Camp Goodtimes. Donated generators ensured the program would go on.
The fireboat attempting a water rescue Saturday evening on Lake Pend Oreille got into trouble in the high waves and partially sank, requiring the four firefighters on board to be rescued themselves.
The Timberlake Fire Protection District boat had located two people stranded against the shoreline about a half mile north of Lakeview in Bonner County. "Unfortunately, while they were attempting to rescue the two, the fireboat became swamped," Miller said.
The Sheriff's Office rescued the stranded boaters as well as the four firefighters. Both boats were mostly sunk and were tied to the shoreline for the night. Bonner County will recover the boats.
Avista said about 65 percent of affected customers had service restored by 5:30 p.m. Sunday, and an estimated 90 percent will have power again by tonight.
Transmission and distribution lines primarily were damaged in the storm, and most damage appears to be from large tree branches that hit power lines, the utility said.
Northern Lights Inc., Pend Oreille Public Utility District, Kootenai Electric Cooperative, and Inland Power and Light Co. also worked to restore power to thousands of customers across the region.
Local journalism is essential.
Give directly to The Spokesman-Review's Northwest Passages community forums series -- which helps to offset the costs of several reporter and editor positions at the newspaper -- by using the easy options below. Gifts processed in this system are not tax deductible, but are predominately used to help meet the local financial requirements needed to receive national matching-grant funds.
Subscribe now to get breaking news alerts in your email inbox
Get breaking news delivered to your inbox as it happens.
---