Russ Nobbs stayed true to his hippie roots amid business success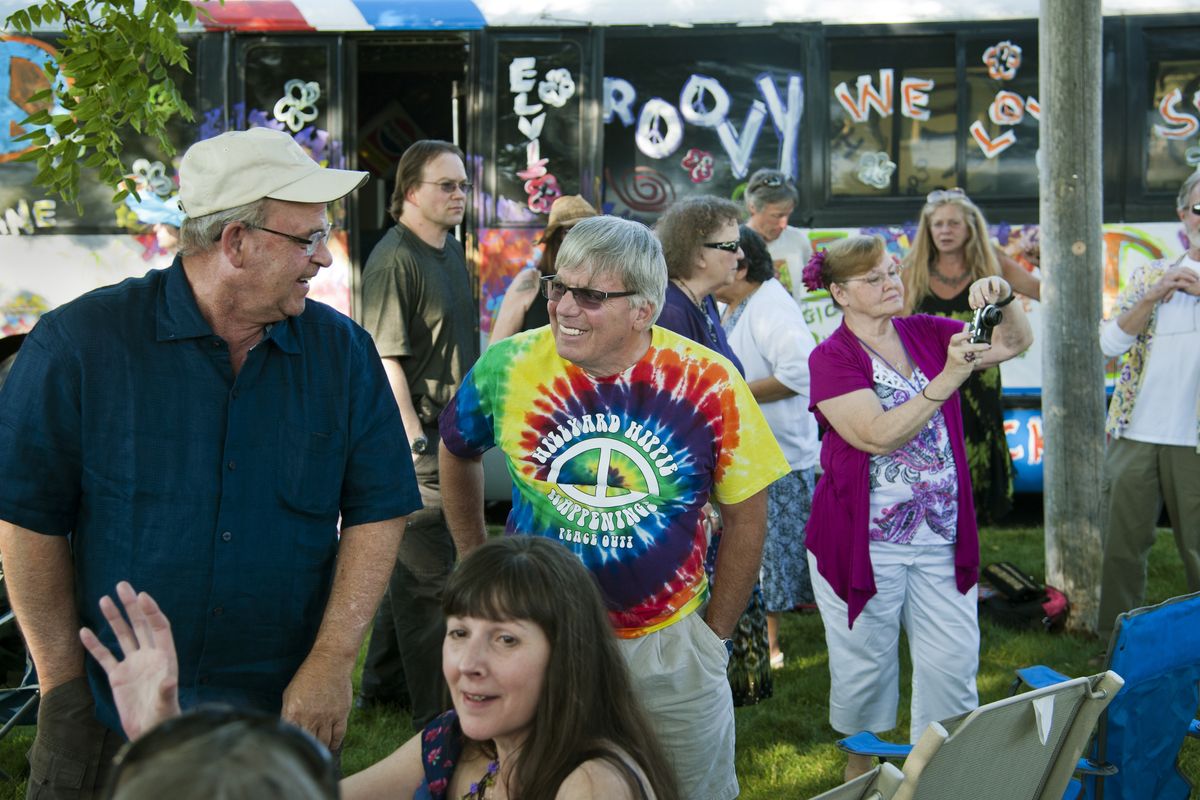 It was the Summer of Love all over again.
At least it seemed like it for a few warm hours Saturday evening on the grassy tableau at Spokane's Grant Park.
Many of the some-200 pilgrims who showed up wore tie-dyed T-shirts, love beads around their necks and sandals on their feet.
An old city bus parked nearby had been given a psychedelic makeover that would make Ken Kesey and his Merry Pranksters smile. Sixties expressions like "flower power" and "far out" adorned the vehicle in electric dripping hues.
At the park gazebo, an aging rocker twanged out some spirited boogie-woogie blues riffs on his electric guitar.
It was all to celebrate the life and times of one of this city's true originals, a business-savvy hippie who loved folk music and valued social causes like justice, the environment and education.
What a guy, Russ Nobbs.
Nobbs died June 27 from his battle with an aggressive form of lymphoma. He was 70 years old and, based on the turnout at the park, a much-loved man.
"I wanted people to have fun and enjoy the day and celebrate a life," said Nobbs' wife, Dee Mueller, about this unconventional memorial that featured music, a steady stream of open-mic reminiscences from friends, plus the chance to donate money to worthy causes.
"He had a good life."
That life first intersected with Spokane in 1967, much to the consternation of uptight city officials.
Nobbs was an unabashed and unashamed hippie who moved here when he tired of life on a nearby commune. He set up shop in Browne's Addition with a like-minded pal and began publishing a counterculture newspaper they called The Natural.
Fearful adults didn't bother finding out much about what Nobbs was up to, but they knew they didn't like it one tiny bit.
Cops even went so far as to bust Nobbs once on a trumped-up vagrancy beef.
I was a sophomore in high school when the following headline hit the front page of The Spokesman-Review:
"Hippies Trying to Establish Sizable Colony in Spokane."
"I couldn't have bought that kind of publicity," Nobbs told me while laughing years later over a Thai lunch.
"I scared people, but it was intentional. People need to be scared in order to wake up and see what was going on."
At the time, however, I was more excited than scared to hear how young people like me were about to be corrupted by hippies.
So one day all the members of my high school rock band piled in the van and decided to go check out Nobbs and his so-called "hippie mission."
First time I ever smelled incense – whew!
We left the mission uncorrupted so far as I know.
I did, however, purchase a beaded necklace that made me feel like a real renegade whenever we performed.
This was, of course, just one layer in Nobbs' multilayered life.
Much to the establishment's astonishment, this ponytailed peacenik would grow his love of jewelry into an empire worth millions.
He would go on to own downtown businesses, buy a house, raise a family, volunteer in the school system and – in a move that shocks me still – join the Spokane Chamber of Commerce.
That might have been the bravest thing a hippie ever did.
Yet in my mind, the coolest thing about this college dropout from New York was that the vast amounts of money he made never changed him. Russ Nobbs stayed true to his core beliefs and values from beginning to end.
That is a life worth celebrating.
Doug Clark is a columnist for The Spokesman-Review. He can be reached at (509) 459-5432 or by email at
dougc@spokesman.com
.
---