Western Washington tribe brings protest against planned coal export terminal to Spokane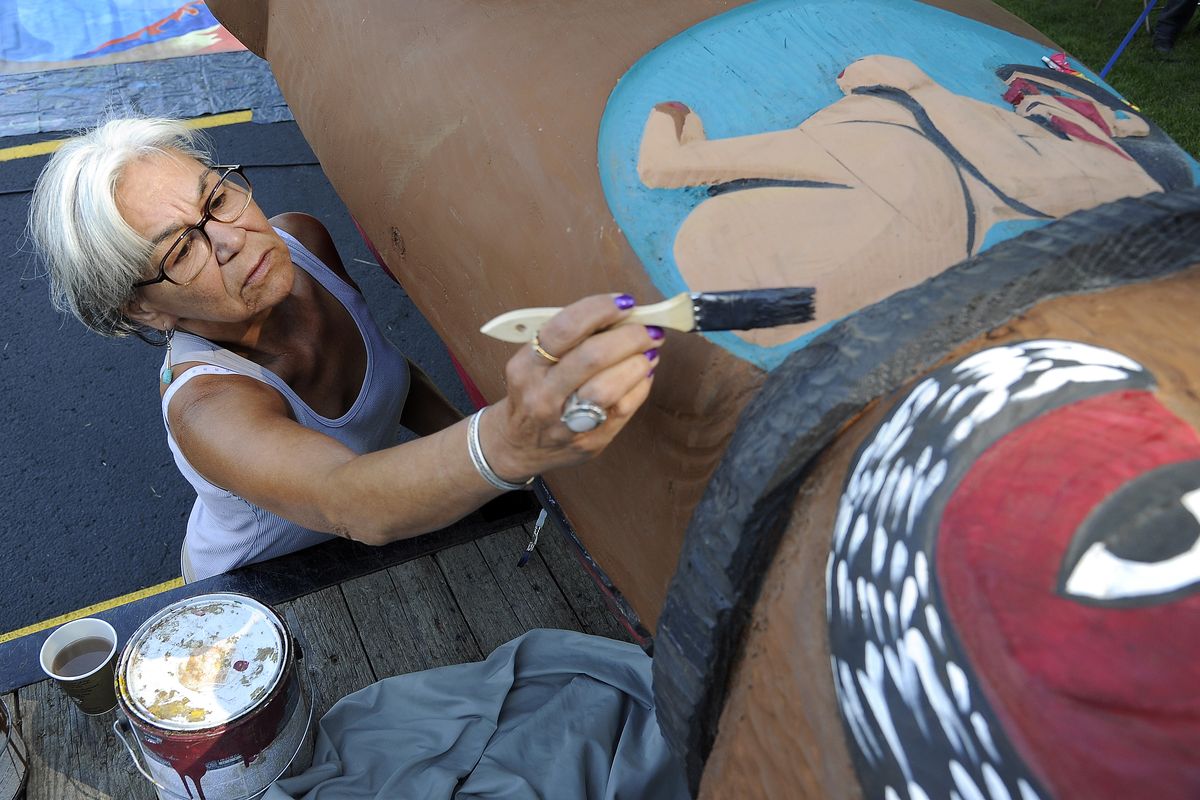 Members of a Western Washington tribe stopped Tuesday near the Cathedral of St. John the Evangelist in Spokane, part of a "totem pole journey" to protest plans to build a coal export terminal north of Bellingham.
The proposed Gateway Pacific Terminal would be located at Cherry Point. According to the project's website, it would be the largest shipping and warehouse facility on the West Coast, sending dry bulk commodities such as coal, grain and potash to Asian markets.
Spokane City Council President Ben Stuckart and congressional candidate Joe Pakootas both spoke out against coal exports at the event, which included Native American songs and a 19-foot totem pole.
Stuckart said the companies and politicians advocating for more coal export terminals are "addicted to fossil fuels."
He said Spokane serves as a major rail hub for the Inland Northwest and proposed new export terminals, including the Gateway Pacific Terminal, would add an additional 30 miles of trains carrying fossil fuels every day, which could create public safety risks and risk polluting the Spokane River.
Jewell James, with the Lummi tribe, said the terminal would contaminate lands surrounding Cherry Point with arsenic and mercury.
But officials involved in the project say they are taking environmental impacts into consideration.
Craig Cole, a consultant for the Gateway Pacific Terminal Project, said there has never been a more stringent environmental review of a project in the state's history, and called some of the opposition to the project "nonscientific fear mongering."
He encourages people to wait for results of an environmental impact statement in two years.
"We're just saying: Why would you take the word, either of an opponent or proponent of the project, when you can wait for this very extensive environmental impact statement?" Cole said.
The project's website claims it will provide more than $11 million per year in state and local tax revenue, as well as 1,250 jobs.
"Frankly, I'm more concerned about an overall movement in this state which is aimed at de-industrializing our economy," Cole said. "There is a very dangerous trend toward opposing anything that has anything to do with industry or manufacturing."
But James is skeptical.
"No matter what they promise you, it's still just a promise. In the end, they're more concerned with the bottom line: Profit," James said.
Those opposing coal exports scored a victory last week in Oregon, when state regulators rejected a proposal for a coal terminal on the Columbia River that would have exported millions of tons of coal to Asia each year.
James and the Lummi tribe assisted tribes in Oregon in opposing the terminal. He is hoping for a similar result in Washington.
"I hope the people of Spokane and the tribe will start putting pressure on (Governor) Jay Inslee," James said.
Stuckart said at the event Tuesday that it is unacceptable to use energy independence as a justification to destroy ancestral lands and for rail companies to spill coal in waterways. He said it's no longer enough to make rail cars safer or to include the city in an environmental impact statement.
"The demand is simple: Leave it in the ground," Stuckart said.
---