Sports
PGA tabs Gildersleeve-Jensen
Fri., Aug. 29, 2014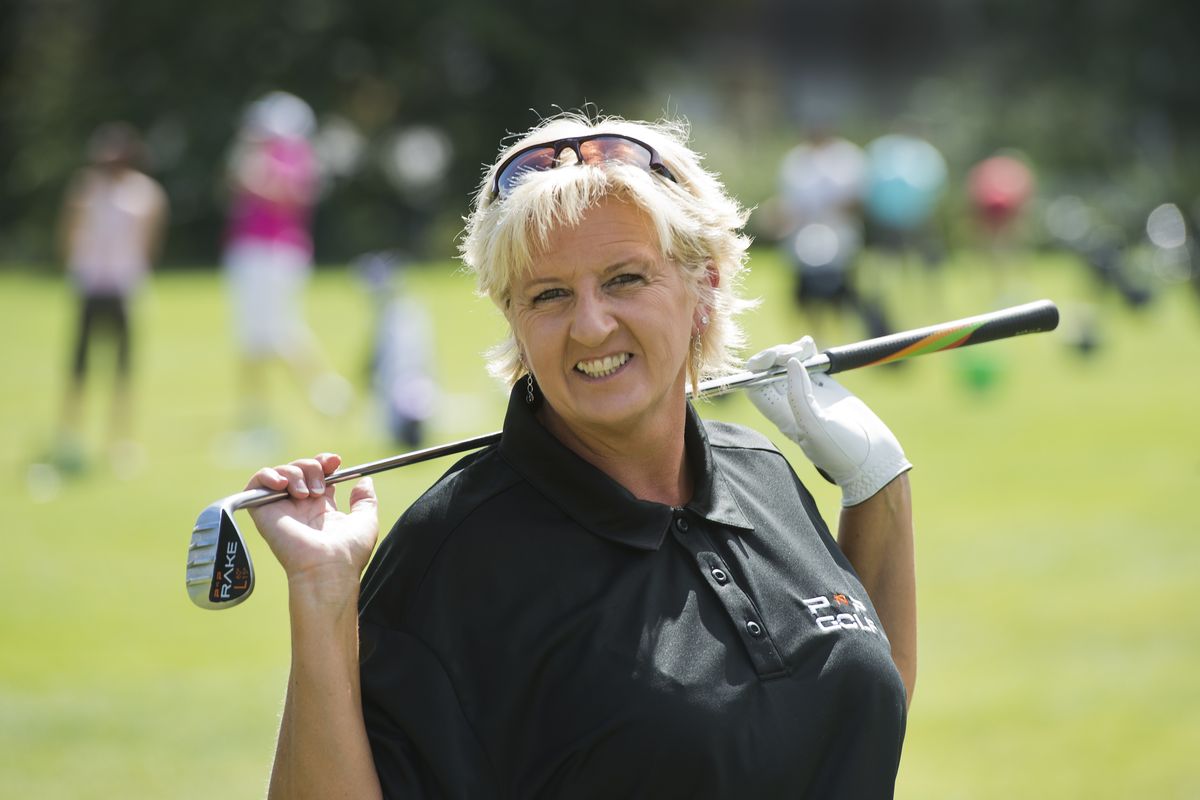 Kathy Gildersleeve-Jensen received national award from PGA. (Dan Pelle)
Golf instructor Kathy Gildersleeve-Jensen's goal in the first few minutes of a lesson is for the student to hit the best shot of their life.
"If I can do that, then I can get their attention and have it for the long haul," she said.
Gildersleeve-Jensen's success rate is impressive and her ability to communicate and teach through multiple platforms is innovative. Because of those things, Gildersleeve-Jensen is the one receiving national attention.
The PGA of America announced Thursday that Gildersleeve-Jensen has been named the 2014 PGA Teacher of the Year. She was one of three finalists for the award last year.
"It's humbling," Gildersleeve-Jensen said. "It's a ginormous honor."
She received a consolation letter from the PGA last year. She figured it was better news when she accepted a call recently from PGA president Ted Bishop.
"When he said I was 2014 Teacher of the Year I couldn't speak," Gildersleeve-Jensen said. "He was wondering if I fell on the floor. I was just stunned. This is something I've been working for."
Gildersleeve-Jensen becomes the first female and the first pro from the Pacific Northwest section to win the award since its inception in 1986. There are 41 sections nationwide representing 27,000-plus pros. Past winners include Michael Breed, host of Golf Channel's The Golf Fix, Hank Haney, Jim McLean and Harvey Penick.
Gildersleeve-Jensen said she's thrilled because the award will shine a spotlight on Spokane and Indian Canyon. "It isn't a win for me, it's a win for all of us," she said. "Kind of like the Seahawks – why can't it be us?"
Gildersleeve-Jensen provides instruction, of course, but she wants to be an excellent communicator who uses a variety of tools to bring new players to the game. To that end, she utilizes her Website (kgjgolf.com), writes articles for numerous magazines and has authored an eBook: "How to Play Golf … Inside 50 Yards."
She has made instructional videos. She gives lessons to golfers all over the world using on-line technology. She teaches year-round at the Jensen-Lindeblad Impact Golf Academy at Indian Canyon. She is very active on social media.
"I'm not trying to reinvent the swing or anything like that," Gildersleeve-Jensen said. "I believe it's more about communication and growing the game to the masses. The online stuff, that's what the PGA of America is trying to do, get the game out there in so many different ways."
Indian Canyon pro Gary Lindeblad said the scope of the award and the attention it brings will change Gildersleeve-Jensen's life. She will be part of PGA teaching and coaching summits in Orlando, Florida. Her demand as an instructor will surely increase. She said there was an uptick last year when she was a finalist.
She figures to receive endorsement offers and corporate speaking opportunities.
"If you look down the list of the past winners there are giant names on that list," said Lindeblad, who told Gildersleeve-Jensen to consider hiring an agent. "I truly believe it'll open doors on the Golf Channel, to do major-league clinics, a fair amount of traveling, pretty much whatever she makes herself available for.
"Teaching aids, videos, books … the floodgates are about to open. It couldn't happen to a nicer person."
Gildersleeve-Jensen will be honored Nov. 20 at the PGA's annual meeting in Indianapolis. She said she's been so anxious for the official announcement that she couldn't find her timing at a recent pro-am at Wandermere "and I didn't care one bit."
She has a small group of trusted friends and advisers. She has a strategy for the immediate future.
"I can't wait to expand and teach others what I've learned from my mentors," said Gildersleeve-Jensen, citing her parents, Lindeblad, the staff at Henry-Griffitts, Joe and John Durgan and Steve Prugh as some of her mentors. "I'm going to absorb everything like a sponge, make good decisions and make it work. I'm going to really enjoy this."
Local journalism is essential.
Give directly to The Spokesman-Review's Northwest Passages community forums series -- which helps to offset the costs of several reporter and editor positions at the newspaper -- by using the easy options below. Gifts processed in this system are not tax deductible, but are predominately used to help meet the local financial requirements needed to receive national matching-grant funds.
Subscribe to the sports newsletter
Get the day's top sports headlines and breaking news delivered to your inbox by subscribing here.
---