Sports
In brief: Kobe Bryant's triple double lifts Lakers past Raptors in overtime
Mon., Dec. 1, 2014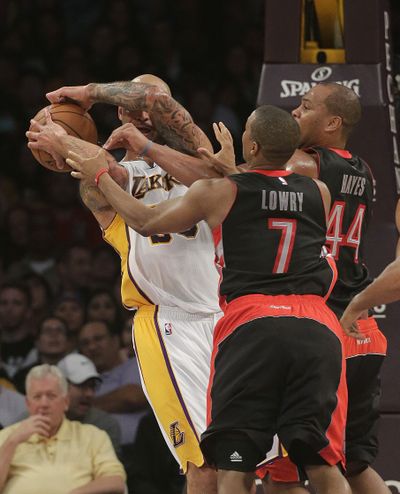 NBA: Kobe Bryant had 31 points, 12 assists and 11 rebounds for his 20th career triple-double, and the Los Angeles Lakers snapped a four-game losing streak with a 129-122 overtime victory over the visiting Toronto Raptors on Sunday night.
Seven players scored in double figures for the Lakers, including all five starters. Nick Young added 20 points off the bench, Carlos Boozer scored 18 and Jordan Hill had 16 points and 12 rebounds.
Kyle Lowry had 29 points, nine assists and six rebounds for Toronto before fouling out with 2.8 seconds left in overtime. Terrence Ross had 20 points and Lou Williams added 19 off the bench for the Raptors, whose 13-3 record entering the game was the best start in franchise history.
• Blazers beat T-Wolves: LaMarcus Aldridge had 26 points and 15 rebounds to pace host Portland in a 107-93 victory over short-handed Minnesota.
Wesley Matthews added 23 points, including six 3-pointers for his third straight game with at least five 3-pointers, and the Blazers led by as many as 16 points in earning their 10th win in 11 games.
Shabazz Muhammad scored 28 points for Minnesota, which used just nine players.
• Warriors win again: Draymond Green scored 20 points and Stephen Curry added 16 points and 10 assists as Golden State beat the Detroit Pistons 104-93 in Auburn Hills, Michigan, for their ninth straight victory.
Marreese Speights added 11 points and 12 rebounds for the Warriors.
The Pistons have lost eight in a row, the longest streak of Stan Van Gundy's coaching career, and have matched his career worst at 11 games under .500. Kentavious Caldwell-Pope led Detroit with 23 points.
• Grizzlies handle Kings: Zach Randolph had 22 points and 12 rebounds, Marc Gasol added 18 points and six rebounds and visiting Memphis held off a late rally to beat short-handed Sacramento 97-85.
The Grizzlies built a 21-point lead in the second quarter and pulled away again in the fourth to stretch their NBA-best record to 15-2.
DePaul knocks off Stanford 87-72
Men's Basketball: Myke Henry scored 16 of his 29 points in the second half, leading DePaul to an 87-72 upset of Stanford in Rosemont, Illinois
DePaul led by as much as 52-34 early in the second half. Jamee Crockett added 19 points for the Blue Demons, which shot 54 percent in the field and forced 21 turnovers.
Anthony Brown scored 15 and led a charge that closed the Cardinal within 60-55 with 8:55 to play, but they got no closer.
• Kansas takes Orlando Classic: Perry Ellis had 17 points and nine rebounds to help No. 11 Kansas beat No. 20 Michigan State 61-56 in the championship game of the Orlando Classic in Lake Buena Vista, Florida.
Svi Mykhailiuk added 11 points and Frank Mason III chipped in 10 for Kansas.
Michigan State got 14 points from both Denzel Valentine and Travis Trice.
Trice's 3 made it 59-56 with 1:36 left. After both teams failed to score on their next possession, Jamari Traylor hit two free throws in the final minute.
• Wildcats push past Providence: Kentucky post players Willie Cauley-Stein and Karl-Anthony Towns each had 11 points and six rebounds, and the top-ranked Wildcats opened the second half with an 18-7 run to pull away for a 58-38 rout of Providence in Lexington, Kentucky.
Leading 26-22 at halftime, the Wildcats' two platoons combined to limit the Friars to 2-of-12 shooting early in the second half.
Texas breaks rivalry skid, beats Tennessee
Women's Basketball: Kelsey Lang scored 18 points and No. 6 Texas continued its torrid start with a 72-59 win over No. 4 Tennessee in Austin, Texas, snapping a five-game losing streak in the rivalry.
The victory was another important step in Texas coach Karen Aston's mission to return the Longhorns to the nation's elite programs. Once a powerhouse, Texas has struggled to be a factor nationally or in the Big 12 over the last decade.
Texas had four players score in double figures and shot 62 percent in the second half.
• Aggies complete rally: Courtney Williams scored 21 points to help No. 7 Texas A&M rally from a 15-point second-half deficit to defeat No. 8 Duke 63-59 in College Station, Texas.
Williams had 12 points in the second half for the Aggies. Williams' jumper from the right side of the free-throw line lifted A&M to a 61-57 lead over Duke with 1:15 remaining.
Datsyuk, Red Wings handle Canucks
Hockey: Pavel Datsyuk scored twice and host Detroit beat Vancouver 5-3 for its fourth straight victory.
About a third of the arena, including the Vancouver zone, went dark 29 seconds into the game after a minor power failure. The game was delayed 33 minutes.
Niklas Kronwall, Danny DeKeyser and Gustav Nyquist also scored and Jimmy Howard made 30 saves for Detroit.
• Noel to Vancouver: The Vancouver Giants have hired former Winnipeg Jets coach Claude Noel as their new head coach.
Noel coached the Jets from 2011-2014, compiling an 80-79-18 record.
He also served as head coach of the Columbus Blue Jackets for part of the 2009-10 season, going 10-8-6 in that time.
Spain soccer fan clash leaves one dead
Miscellany: One man died and 11 others suffered minor injuries after a fight broke out outside Atletico Madrid's soccer stadium between its fans and those of visiting team Deportivo La Coruna.
Madrid's Clinico San Carlos hospital said a man died of injuries sustained in the clash between rival fans that broke out hours before the game near the Vicente Calderon stadium. Police made several arrests.
The man, identified only as a 43-year-old Deportivo fan, had to be removed from Madrid's Manzanares River and attended to by emergency services, which initially resuscitated him before transferring him to hospital where he died hours later.
• Jansrud completes double: Norway's Kjetil Jansrud won the super-G in Lake Louise, Alberta, for his second World Cup victory in two days.
The Olympic super-G champion finished in 1 minute 32.02 seconds. On Saturday, he won the season-opening downhill.
• Hosp takes slalom: Nicole Hosp of Austria raced to her first World Cup victory since 2008 with a powerful final slalom run and American Mikaela Shiffrin struggled to a fifth-place finish in Aspen, Colorado. Hosp was nearly a second back after the first run, but glided through the deteriorating course in a time of 1 minute, 44.90 seconds.
Local journalism is essential.
Give directly to The Spokesman-Review's Northwest Passages community forums series -- which helps to offset the costs of several reporter and editor positions at the newspaper -- by using the easy options below. Gifts processed in this system are not tax deductible, but are predominately used to help meet the local financial requirements needed to receive national matching-grant funds.
Subscribe to the sports newsletter
Get the day's top sports headlines and breaking news delivered to your inbox by subscribing here.
---