News > Obituaries
Obituary: Burket, Katherine "Kay" (Alexander)
Age 91
Mon., Dec. 1, 2014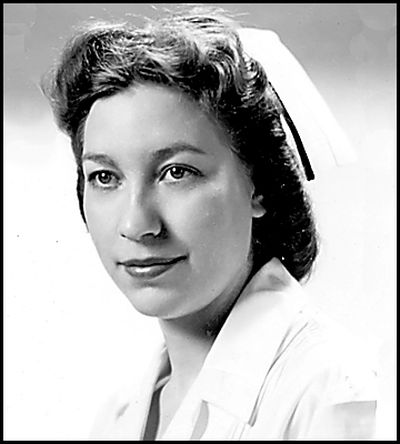 BURKET, Katherine "Kay" Alexander age 91, of Spokane, Washington passed away at her residence at Clare Bridge Memory Care on October 27, 2014.
She was born December 30, 1922 in Tacoma, WA to Wade Hampton and Olive Mildred (Hosker) Alexander.
She contracted polio at eighteen months (which shortened one leg), but through the years never let that slow her down.
Most of her childhood was spent in Vancouver WA.
While her family was of limited means, her father and mother were hard workers, and instilled that work ethic into their daughter.
Around 1946 Kay applied and was accepted into the Cadet Nurse Corps (a program passed by Congress to supply registered nurses to fill the extreme shortage created by World War II).
"It was a wonderful program, structured, strict, a great opportunity for women who couldn't afford a college education".
After graduating in 1947 from Deaconess Hospital School of Nursing in Spokane, she attended and received her BS Nursing degree in 1950 from Gonzaga University.
Kay then joined the U.S. Air Force to give back to her country for her education and rose to rank of captain while stationed at Fairchild Air Force Base Spokane.
During her time in the service, Kay met and married pilot Wallace "Wally" Arthur Burket on December 3, 1952 at Fairchild.
After her son Stephen was born, she left the service to raise her son as a single parent, working as an RN at the VA Hospital in Spokane for 33 years.
After retirement Kay enjoyed a number of travel vacations; touring the Holy Land, taking cruises up the inland passage to Alaska, around the Hawaiian Islands, as well as the far east; and touring through the British Isles.
Kay was also an avid genealogist and a life-long Christian.
Kay is survived by her former spouse Wally of Tyrone, PA, son Stephen Burket and his wife Gaylan of Plano, Texas; nephews, "Rick" Erickson, Mark Erickson; and nieces, Benajean Bond and Traci Erickson.
She was pre-deceased by her parents, Wade and Olive Alexander; brothers, Joseph Alexander and Cleo Alexander; sisters, Mary Alexander and Dena Erickson.
A funeral service will be held Tuesday, December 2, 2014 at 11:00 am at Ball & Dodd Funeral Home, 5100 W. Wellesley Ave., Spokane, WA 99205.
There will be an interment ceremony at 2:15 pm at Washington State Veterans Cemetery at Medical Lake.
In lieu of flowers, donations can be made to The Women's Memorial Foundation (www.womensmemorial.org or Dept.
560, Washington DC 20042-0560).
Local journalism is essential.
Give directly to The Spokesman-Review's Northwest Passages community forums series -- which helps to offset the costs of several reporter and editor positions at the newspaper -- by using the easy options below. Gifts processed in this system are not tax deductible, but are predominately used to help meet the local financial requirements needed to receive national matching-grant funds.
Subscribe now to get breaking news alerts in your email inbox
Get breaking news delivered to your inbox as it happens.
---