News > Spokane
Then and Now: Falls City Block now a high-rise
Mon., Dec. 1, 2014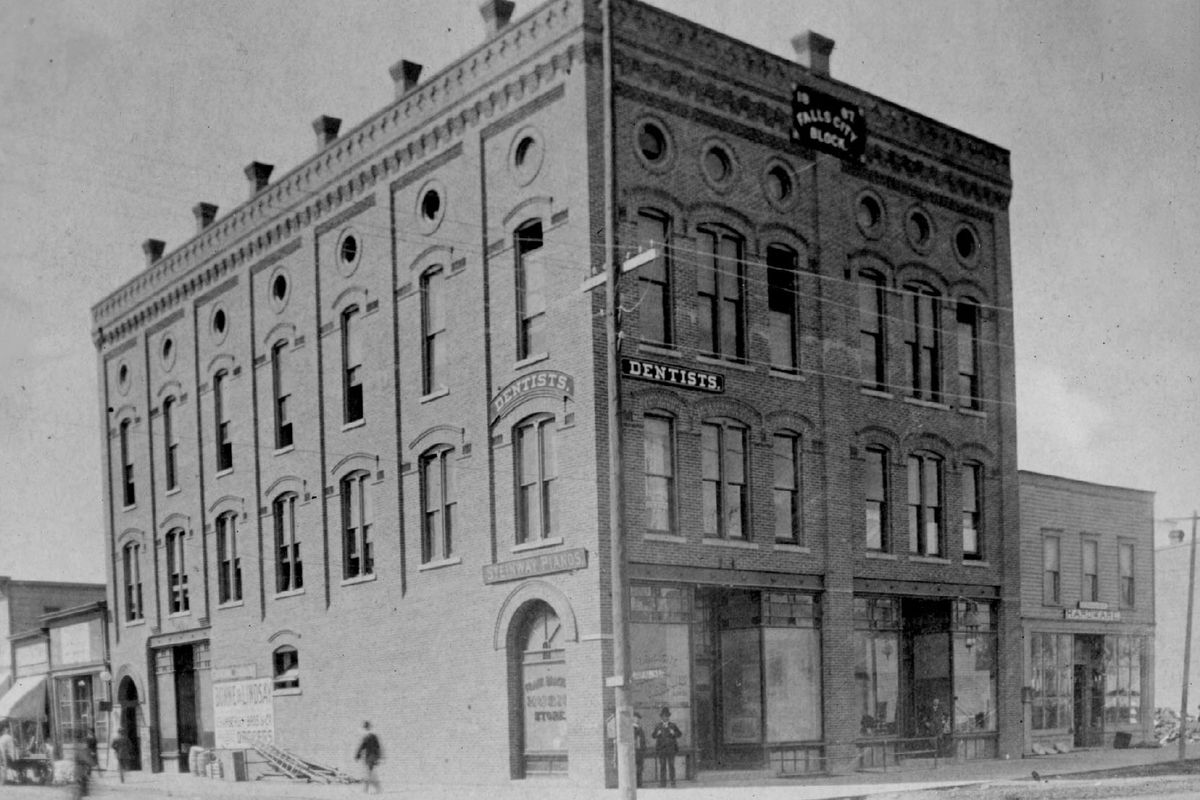 Circa 1888: The Falls City Block, one of Spokane's original skyscrapers, was built in 1887 on the southwest corner of Post and Riverside. Its first tenant was Frank Bracht, who owned a music store at the left-front corner of the building. (Spokesman-Review Photo Archives)
Daniel H. Dwight came to Spokane Falls in 1887 and married Mary Willis, daughter of businessman W.G. Willis, who had started building the Falls City block in 1886. Just months into the project, W.G. Willis fell ill and died. Dwight stepped in and finished the three-story building, which contained Falls City Opera House. Mrs. Dwight was a graduate of the Boston Conservatory and an avid arts patron. Among the notable events in the high-ceilinged walkup hall was a concert by Adelina Patti, a coloratura soprano whom composer Giuseppe Verdi called "the finest singer who had ever lived." A stage play of "Ben Hur" was held and included a horse that willingly climbed the two stories to the theater hall. The building was one of the first brick structures destroyed in the great 1889 fire. Dwight set about rebuilding as soon as he could get materials. The new Falls City Block was more modest and modern, and for years housed prominent banks on the ground floor. Dwight operated the building and added to its holdings slowly. The Dwights attended Westminster Congregational Church, and he presided over the Spokane school board in the 1890s. His obituary said he weathered recessions and depressions without any loss of property over 60 years, becoming one of the largest downtown landowners. His wife died in 1924. The grieving widower donated an elaborate set of chimes in his wife's name for Westminster's new bell tower. Dwight, said to be handsome, tall and stately, ran his affairs from the same office in his building right up to his death in 1950 at age 88. For most of his adult life, the family home was 1905 W. Pacific Ave. in Browne's Addition. The Falls City Block met with its final wrecking ball in 1967 to make room for the National Bank of Washington. The Spokane Regional Business Center now occupies the location.
– Jesse Tinsley
Local journalism is essential.
Give directly to The Spokesman-Review's Northwest Passages community forums series -- which helps to offset the costs of several reporter and editor positions at the newspaper -- by using the easy options below. Gifts processed in this system are not tax deductible, but are predominately used to help meet the local financial requirements needed to receive national matching-grant funds.
Subscribe now to get breaking news alerts in your email inbox
Get breaking news delivered to your inbox as it happens.
---