News > Idaho
Police: Idaho fugitive shot himself in chest
Tue., Dec. 2, 2014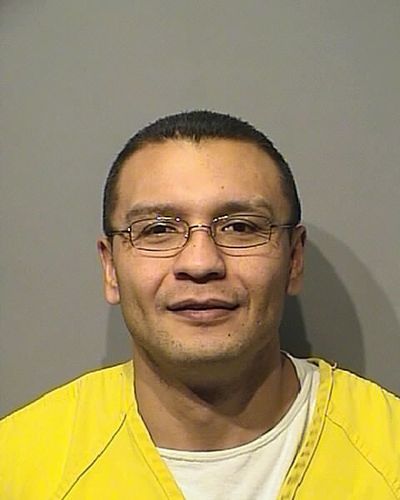 A violent fugitive who barricaded himself inside a Coeur d'Alene house Saturday night apparently killed himself while a SWAT team had the house surrounded, the Idaho State Police said today. John David Crispin, 37, died of "an apparent self-inflicted gunshot wound to the chest," ISP spokeswoman Teresa Baker said. That determination is based on an autopsy, Baker said. The man was found dead when a SWAT team entered the residence Sunday morning. Crispin fired at least one round from a gun about 3:30 a.m. Sunday, and officers returned fire, police said. No officers were injured in the exchange. Crispin was wanted on four warrants involving allegations of violent crimes, police said. He was wanted in Benewah County for assault, battery, drugs, unlawful possession of a firearm and felony eluding. He also was wanted in Salt Lake City for assault with a dangerous weapon. He was wanted by the U.S. Marshals Service for aggravated battery, aggravated assault, attempt to injure with a weapon and eluding, and by U.S. Probation and Pretrial Services for a probation violation of felon in possession of a firearm. In October, the North Idaho Violent Crimes Task Force was searching for Crispin after he fled from police near Plummer. He allegedly fled from Coeur d'Alene Tribal Police and tried to run over an officer with a vehicle. During a subsequent foot chase, Crispin reportedly fired shots at officers. The weekend standoff was in the 7000 block of Quincy Court in the Landings subdivision in northwest Coeur d'Alene. About 8:30 p.m. Saturday, Crispin's ex-wife left her house and contacted police, saying Crispin was inside her residence armed with a gun and had made statements that he would not leave or cooperate with police. Officers set up a perimeter around the house and notified nearby neighbors of the armed standoff. Officers attempted to contact Crispin by phone and bullhorn. A SWAT team from the police department and Kootenai County Sheriff's Office responded and also attempted to make contact with Crispin, who would not communicate with them.
Local journalism is essential.
Give directly to The Spokesman-Review's Northwest Passages community forums series -- which helps to offset the costs of several reporter and editor positions at the newspaper -- by using the easy options below. Gifts processed in this system are not tax deductible, but are predominately used to help meet the local financial requirements needed to receive national matching-grant funds.
Subscribe now to get breaking news alerts in your email inbox
Get breaking news delivered to your inbox as it happens.
---