News > Spokane
School library's late fees 'Gone With the Wind'
Book returned to Rogers after almost 66 years
Tue., Dec. 2, 2014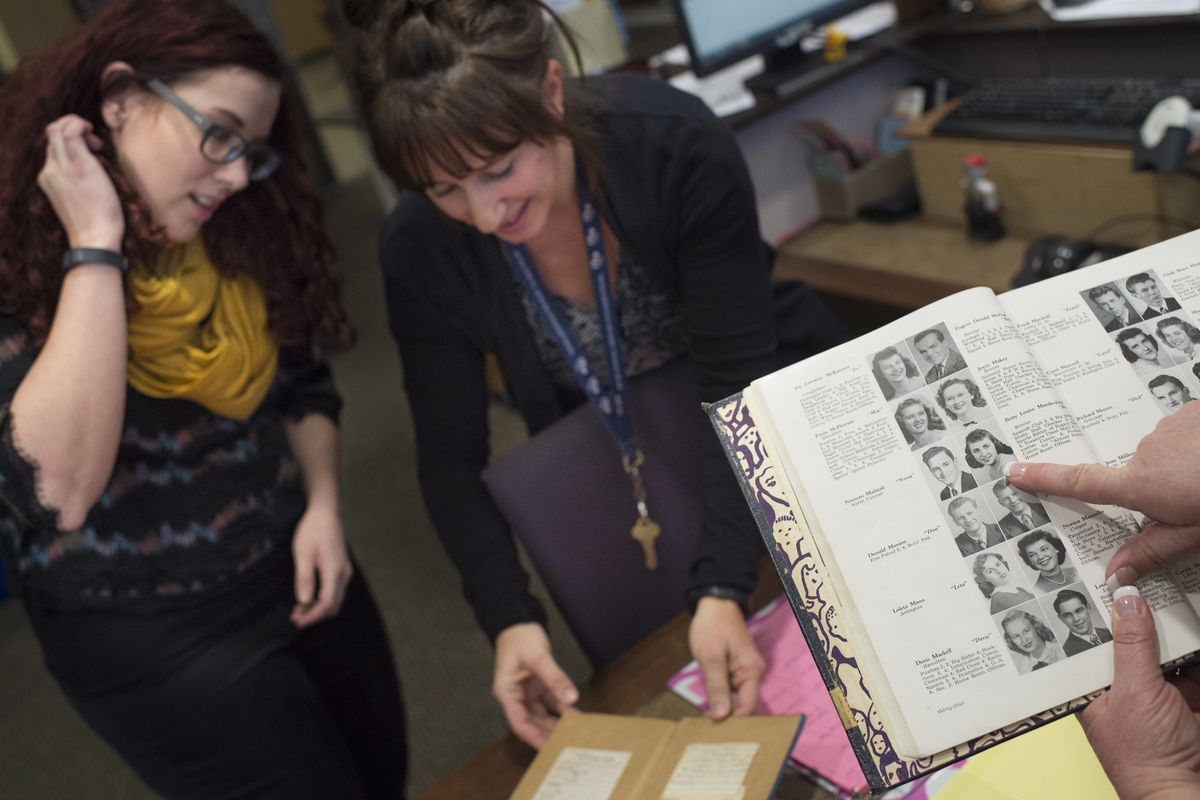 Rogers High School librarian Becky Huss, left, looks at a long-overdue copy of "Gone With the Wind" with school literacy coach Tracy Schumacher, center, as Principal Lori Wyborney finds the last student to check out the book, Betty Mandershied, in a 1949 yearbook late last month at the Spokane school. (Tyler Tjomsland)
A 1946 copy of "Gone With the Wind," long thought lost, was returned to Rogers High School's library in the wake of a handwritten letter and a promise to waive a late fee that began accumulating 65 years ago.
"Isn't this awesome?" Principal Lori Wyborney said as she marveled at the vintage book that made it back into her hands. "It's in pretty good shape, too."
Margaret Mitchell's Civil War tale was published in 1936, so the 1946 edition isn't worth a lot in today's market – beyond the story of its return.
A little more than a month ago, Wyborney received a letter sent from Carmel, Maine. The author asked if the high school existed back in 1949.
Wayne Hachey was cleaning out his father's New England cellar and found the copy of "Gone With the Wind" from the Rogers library, complete with a school stamp and the library card still in its pocket.
The book was last checked out Jan. 4, 1949, to Betty Mandershied. She's pictured in the 1949 yearbook, but Hachey wrote, "Not sure how the book ended up on the East Coast." He added in his letter, "I'd be willing to ship the book back if this is the same school," with this qualifier: "As long as I don't have to pay the late fee in back of the book at 2 cents per day. That would be around $470."
Hachey's father never attended Rogers High School. Did Mandershied meet up with Hachey all those years ago? She was a senior in high school then. How did her book end up with his belongings?
Hachey did not include a phone number in his letter, only his address. So Wyborney wrote back and confirmed Rogers is the correct high school. The book arrived about a week ago with another letter: "The book is finally back home where it started. Glad to send it back."
A spin through the mildew-infused pages gives the only hint of the novel's journey.
Nevertheless, Wyborney and the school's librarian are glad to have the book back.
The principal plans to showcase the book in a glass case on a library wall under a sign saying "Pirates always return their books."
The display, perhaps, will prompt more than one teenager to mutter: Frankly, my dear, I don't give a damn.
Local journalism is essential.
Give directly to The Spokesman-Review's Northwest Passages community forums series -- which helps to offset the costs of several reporter and editor positions at the newspaper -- by using the easy options below. Gifts processed in this system are not tax deductible, but are predominately used to help meet the local financial requirements needed to receive national matching-grant funds.
Subscribe now to get breaking news alerts in your email inbox
Get breaking news delivered to your inbox as it happens.
---