Sports
Blanchette: Gonzaga, Arizona set for latest Best in West chapter
Fri., Dec. 5, 2014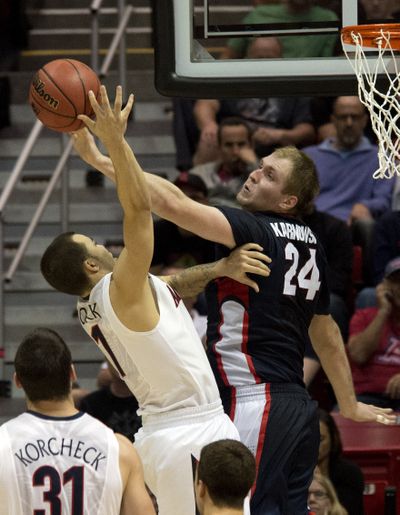 We interrupt college football – championships being pursued, scapegoats being fired, coaching raids in broad daylight and the dead of night – for the best game of the weekend.
Maybe. No guarantees.
Most anticipated, surely. Assuming recent history is dismissed.
OK, then perhaps a seeding tiebreaker come March.
In the middle of what should be football prime time, except that almost no one plays college football in the afternoon anymore, ninth-ranked Gonzaga and No. 3 Arizona tip it off in Tucson in yet another plebiscite on college basketball in the West.
More of a recount than a rematch.
In Spokane, the Arizona-Gonzaga relationship is almost always viewed through the prism of the 2003 NCAA epic in Salt Lake City – Tony Skinner's twister, Blake Stepp's unrequited bank shot, spent opponents pulling each other off the floor when the scoreboard totals were final after two overtimes. Not the happiest game in the Zags' album, but still the best played.
Nostalgia, of course, ain't what it used to be.
Now games are all spectacle and referendum, even those that come along the first week of December. Or how is it that Gonzaga assistant coach Tommy Lloyd put it?
"Too much is going to be made of it either way," he said, "but that's what people do."
Well, it's either now or in March. Can't dodge the judgments forever.
Besides, sometimes it's the principals making so much of it.
You could certainly infer as much talking to Arizona coach Sean Miller three Decembers ago, when he was trying to swallow a pretty fair beatdown the Zags had administered to his team in KeyArena. It ended 71-60, but was 34-15 at one point and Miller was chain-smoking timeouts.
This was the game in which Elias Harris rediscovered his freshman self and tortured the Wildcats inside, and when Miller took a swing at an analogy afterward he found the sweet spot.
"If this was a football game," he said, "they would have 180, 200 yards running – 5 yards on every carry."
Miller felt bullied. So he kicked his chair and gambled a stamp and did the Charles Atlas thing, and over the next few years some big, strong types like Aaron Gordon, Kaleb Tarczewski, Rondae Hollis-Jefferson and Stanley Johnson have made their way to UA. Gordon has moved on to the NBA, but the Zags must deal with the other three come Saturday.
It seems odd that while the Wildcats must do battle with some pretty good folk in the Pac-12 all winter, it was Gonzaga in a December game that mostly got lost in the holiday hubbub that gave Miller a blueprint for what he needed to do in building his program.
It's probably a stretch to suggest he returned the favor last March. But what the Wildcats did to Gonzaga on the bigger stage of the NCAA tournament was surely more painful – an endless reel of turnover/run-out/layup that made the Zags look very high schoolish.
"Blood in the water," is Gonzaga coach Mark Few's haunting image.
That Zags team wasn't going any further anyway. The linch-pin guards were beat up, the front-court depth had disappeared. But no one enjoys being exposed.
And if the Zags had 5-yarded Arizona to death in Seattle, their cornerbacks got torched in San Diego.
"They're solid in the gaps, but at the same time they're opportunistic," Lloyd said. "Rather than being out denying every pass, they're kind of protecting the paint on drives. A lot of schools do that – it's kind of the Tony Bennett deal, the 'pack.' But most teams that do that are more conservative by nature. Not them."
It wasn't necessarily by recruiting design, but the Zags seem better equipped to handle it this time – though a kick to the jaw in New York City that now seems likely cost freshman Josh Perkins his season has left Gonzaga temporarily without a true point guard to back up Kevin Pangos.
"Gary (Bell Jr) has done a good job of stepping up and he's going to have to – he's the one with all the experience," Few said. "Kyle (Dranginis) can play a little. Kyle Wiltjer can handle the ball a little bit and Wes (Byron Wesley) needs to, too. We'll just spread it out a little bit."
There are really three names on the West's basketball marquee – Arizona, GU and San Diego State, with some accomplished supporting characters. No team in the region in the last decade has won more games than the Zags, but the Wildcats have been to two Elite Eights in the last five years, and the Aztecs to a pair of Sweet 16s.
But it's the Zags and Wildcats who seem to be chasing each other's tails, and so there's much – maybe too much – to be made of this one.
"I don't think that's for me to decide," Wesley said. "That's for all the viewers and fans. But we know what's at stake."
Sure. A spectacle and referendum. What else?
Local journalism is essential.
Give directly to The Spokesman-Review's Northwest Passages community forums series -- which helps to offset the costs of several reporter and editor positions at the newspaper -- by using the easy options below. Gifts processed in this system are not tax deductible, but are predominately used to help meet the local financial requirements needed to receive national matching-grant funds.
Subscribe to the sports newsletter
Get the day's top sports headlines and breaking news delivered to your inbox by subscribing here.
---