Sports
Colville enters new territory in chase for football title
Fri., Dec. 5, 2014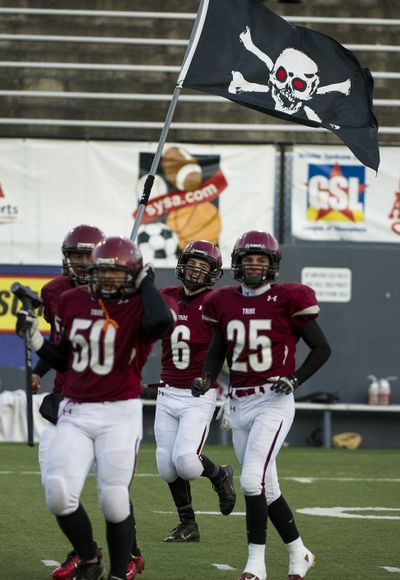 COLVILLE – Other than a real estate sign that reads "Congrats Colville Good Luck in Tacoma," the residents of this logging town have done little to outwardly show that their high school football team will play the first time in the State 1A championship game.
But coach Randy Cornwell said he's been inundated with phone calls and emails from former players and alumni who are proud that the Indians have reached the pinnacle of the sport. Colville (12-0) plays at 10 a.m. Saturday against Cascade Christian (12-0) in the Tacoma Dome.
"That's part of what makes this fun: The joy these people are having because of this is a first for us," said Cornwell, who took over the program in 1997. "This is our first state championship. It's all so new."
Joe Gordon, 70, was nursing a stiff drink Tuesday at the Acorn Saloon and Eating Station when he was asked about the Indians' exploits.
"I am flat proud of our team. We've never made it this far and we've had some good years," Gordon said. "You wouldn't believe it, but this is a close-knit town. When we have some kids who do well, we are proud."
Gordon lives outside of town, near the home of senior running back Colton Vining, who leads the team with 1,612 yards rushing and 23 touchdowns. Vining, who is 5-foot-7, 175-pounds, also has 16 catches for 283 yards and five receiving touchdowns.
"I love Colton. He's their man," Gordon said. "He is so good. He is out of this world."
Cornwell conceded that the football team has historically not given its hometown a log-truck load to cheer about.
"When I took over (in 1997), we had like three winning seasons in 30 or 35 years. It was really pathetic," he said. "It didn't happen overnight."
Building a tradition
Cornwell didn't have a winning season until 2001 when his team went 6-4 and made the playoffs, beginning a run in which the team made the postseason for the past 12 of 14 years.
"So there has been an expectation of success," he said. "But we've never advanced past the quarterfinals."
The only years the Indians haven't extended the season were 2003 and 2012, when most of the current seniors started as sophomores.
"We went 2-7. The core of this team was sophomores, and we took a beating," Cornwell said.
Those kids have grown up.
That crew includes Journy Young, who rushed for 884 yards, caught 11 passes for 250 yards and scored 15 total touchdowns. The core also included quarterback Ben Knight, who completed 76 of 104 passes this year for 1,055 yards and 12 touchdowns.
Other seniors who started on the 2012 team were Taylor Beeman, Nick Warhus, Jed Keating and Vining, who started as a freshman in 2011.
Jacob Morris and Tyler Ward, who led the team with 19 catches for 279 yards, didn't start in 2012 but saw lots of playing time.
At the end of the 2012, with only one win going into the game, Colville beat Pullman, which at the time was only one win away from locking up the league championship.
"That's when we knew. In 2012, they physically were not ready," Cornwell said. "But they kept improving all year long. That reaffirmed what we thought of our kids."
Practice like a game
Cornwell said the thing that sets this team apart is its ability to turn on the intensity during practices.
"I keep going back to the terms: competitive maturity," he said. "They played at a high level all the time because they practice at a high level all the time."
Colville went 7-4 in 2013 and finished second in the Great Northern League before falling in the first round of the playoffs to Ellensburg.
But this year, Colville has beaten every team that stepped on the field with them, including defending state champion Freeman.
The Indians must topple another undefeated team, Cascade Christian, which recently had a four-year stretch from 2008-2011 when it made it to the state title game.
"This is going to be a street brawl," Cornwell said. "They are certainly big and physical. We'll hit them in the mouth, too. We'll figure out a lot in the first couple of series."
But getting film of the Cascade Christian turned out to be a bit of a surprise. Cornwell said he called and emailed the coaches seeking video to exchange.
"They didn't even respond. I contacted another coach. He said, 'You won't hear from them. They just don't exchange,' " Cornwell said.
But the plan appears to have backfired. It turns out that every one of Cascade Christian's opponents was more than happy to send videos of their games.
The Indians will leave at 8 a.m. today and will practice at 4 p.m. at the Seattle Seahawks' training facility. Cascade Christian has about a 45-minute bus ride Saturday to the Tacoma Dome.
"We won't be sleeping in our beds for the first time," Cornwell said. "That's OK. We are excited to be where we are and seize the opportunity we have."
Local journalism is essential.
Give directly to The Spokesman-Review's Northwest Passages community forums series -- which helps to offset the costs of several reporter and editor positions at the newspaper -- by using the easy options below. Gifts processed in this system are not tax deductible, but are predominately used to help meet the local financial requirements needed to receive national matching-grant funds.
Subscribe to the sports newsletter
Get the day's top sports headlines and breaking news delivered to your inbox by subscribing here.
---