Sports
NFL notes: Arian Foster adopts British accent
Fri., Dec. 5, 2014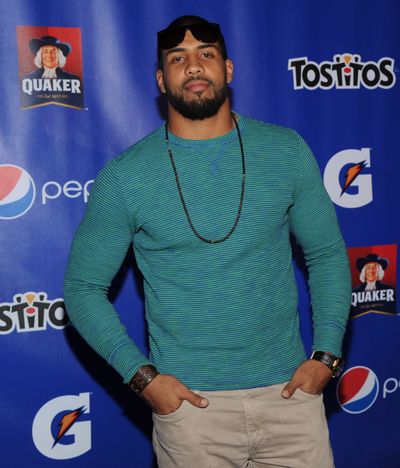 Arian Foster plays in Texas, but on this day he was very, very British.
The Houston running back is notoriously prickly when facing the media. But when he assumed a British accent during an interview Thursday, he suddenly morphed into a merry old chap.
He was asked why the Texans have been unable to win two games in a row since the first two weeks of the season.
"I believe if you want continued success in this league you must string together wins," he said. "That is the goal."
Foster did not say why he was going down this path. But he said before taking questions that he'd be using "his best English accent," and he stayed with it.
He returned on Sunday after missing two games with a groin injury and ran for 79 yards and had 26 yards receiving with a touchdown in Houston's win over Tennessee.
Foster, who is sixth in the NFL with 901 yards rushing, was asked about being in the top 10 in early voting for the Pro Bowl.
"I highly appreciate that," he said. "The fans are why we're able to do what we do in this league and I appreciate it very much so. Either there is one kid clicking out there a lot or I have many fans, and I appreciate it either way."
He ended the session with: "cheerio" and "lovely day."
League bans Ngata for four games
Ravens defensive tackle Haloti Ngata was suspended without pay for the final four games of the regular season for violating the NFL's policy on performance enhancing substances.
Ngata says in a statement released by the team that he took Adderall, a drug used to treat attention deficit disorder. He adds that he "made a mistake, and I own this."
Around the League
Texans linebacker Jadeveon Clowney will have a second knee surgery, ending his rookie season. … Steelers quarterback Ben Roethlisberger returned to practice after an unexpected day off Wednesday and should play on Sunday against Cincinnati. … The Vikings confirmed that receiver Charles Johnson has replaced Cordarrelle Patterson as the starter at the 'X' position. … Browns wide receiver Miles Austin was released from a Buffalo-area hospital following a three-day stay with a kidney injury suffered Sunday against the Bills.
Local journalism is essential.
Give directly to The Spokesman-Review's Northwest Passages community forums series -- which helps to offset the costs of several reporter and editor positions at the newspaper -- by using the easy options below. Gifts processed in this system are not tax deductible, but are predominately used to help meet the local financial requirements needed to receive national matching-grant funds.
Subscribe to the sports newsletter
Get the day's top sports headlines and breaking news delivered to your inbox by subscribing here.
---