News > Obituaries
Obituary: Kramer, Rebecca Jean
Age 34
Fri., Dec. 5, 2014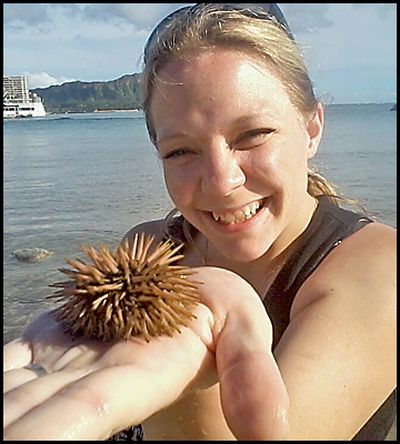 KRAMER, Rebecca Jean (Age 34) Passed away in her home Saturday, November 22nd.
2014.
A memorial service will be held at the Salvation Army Chapel located at 222 E. Indiana Ave., Saturday, December 6th at 2pm.
We are doing a potluck style dinner, so any contributions of food and drink are greatly appreciated.
Becki was full of love.
Whether it was people, animals, or even just rocks and crystals.
If you had the pleasure of meeting Becki, you instantly liked her.
Her sense of humor and willingness to laugh, even at herself, and her compassion for others, rarely thinking of herself made her a one of a kind, special person.
Becki had a calling to the Oregon coast.
Always wanting to spend the rest of her days there combing the beaches for shells, and agates.
Her interests were many including family, reading, camping, fishing, target shooting, painting, leather carving, rock and roll, and fast cars.
Becki is survived by her father and mother, David and Janet Kramer; brother and sister, Christopher Kramer and Jodi Ladrone-Kramer, their spouses Sarah Kramer and Gonzalo Ladrone de Guevara; nephews, Santiago Ladrone, Mckinsey Kramer; niece, Sophia Ladrone; boyfriend, Jeremiah Belmont; and ex-husband Rob Wavada.
There is a Becki Kramer Memorial Fund set up at Washington Trust Bank.
The family greatly appreciates any and all contributions to help their financial burden through this most tragic and trying time.
Local journalism is essential.
Give directly to The Spokesman-Review's Northwest Passages community forums series -- which helps to offset the costs of several reporter and editor positions at the newspaper -- by using the easy options below. Gifts processed in this system are not tax deductible, but are predominately used to help meet the local financial requirements needed to receive national matching-grant funds.
Subscribe to the Coronavirus newsletter
Get the day's latest Coronavirus news delivered to your inbox by subscribing to our newsletter.
---