Sports
Darryl Monroe quits WSU football team
Sat., Dec. 6, 2014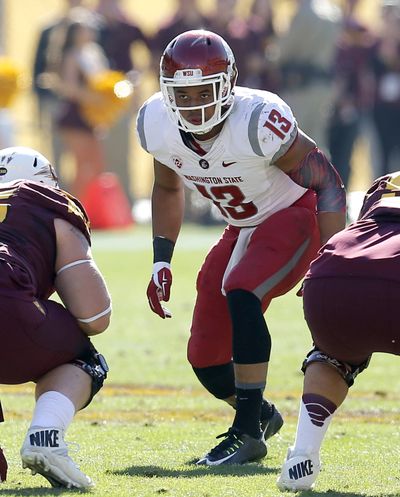 PULLMAN – Washington State linebacker and frequent team captain Darryl Monroe has quit the football team.
Monroe entered the season as the voice of the Cougars in many respects. Well-spoken and a two-year starter heading into his junior season, Monroe was WSU's defensive representative at Pac-12 Media Days and was asked to further engage with fans by conducting video walkthroughs of the football operations building and interviewing freshmen in short videos produced by the athletic department.
Cougfan.com first reported Monroe's departure.
Monroe was selected as a team captain 10 times in 2013 and was well regarded by his peers. He, along with departing senior Isiah Myers, were the last remnants of former coach Paul Wulff's attempts to dip into Florida high school talent in the 2011 recruiting class.
Teammates often praised the work he put in during the last offseason when he gained significant muscle weight and was known as a leader during conditioning.
On the first day of fall camp he tried to set the tone for the season, saying, "Last year was just a taste, it was like a little drop of blood to a shark. He's fiending so now we're fiending for success, so right now the sky isn't even the limit. We're trying to go past that, go to outer space."
After redshirting as a freshman, Monroe started the first 32 games of his career.
"I feel like everything is a lot easier right now," Monroe said during camp. "Just shedding, getting off blocks is easier. Snatching receivers down is easier. Even like in special teams when we do one-on-one punt drills, just clubbing the guy by, watching him go five yards, I can definitely feel the difference and I love it so I'm just going to keep working and transferring it to game time."
But when the games actually started, Monroe seemed to struggle. After the second game of the season, head coach Mike Leach said Monroe had not played up to expectations and needed to "clear his mind."
After the Stanford game on Oct. 10 he lost his starting middle linebacker spot to Peyton Pelluer and never got it back, although linebackers coach Ken Wilson said that the two were locked in a very tight race for the spot and Monroe continued to play extensively.
Local journalism is essential.
Give directly to The Spokesman-Review's Northwest Passages community forums series -- which helps to offset the costs of several reporter and editor positions at the newspaper -- by using the easy options below. Gifts processed in this system are not tax deductible, but are predominately used to help meet the local financial requirements needed to receive national matching-grant funds.
Subscribe to the sports newsletter
Get the day's top sports headlines and breaking news delivered to your inbox by subscribing here.
---