News > Nation/World
Greece outraged by British Museum sculpture loan
Sat., Dec. 6, 2014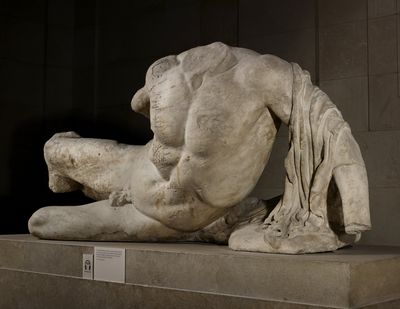 LONDON – One of the British Museum's much-disputed Parthenon Marbles was unveiled Friday after being sent in secret to Russia – a surprise move that outraged Greece, which has long demanded the return of the artifacts.
The loan of the piece, an elegant depiction of the Greek river god Ilissos, was the first time in two centuries that any of the contested sculptures has left Britain – and raised questions of timing amid growing tension between Russia and the West over Ukraine and other disputes.
Greece reacted with fury.
"Greeks identify with our history and culture! Which cannot be sliced up, loaned or given away!" Greek Prime Minister Antonis Samaras fumed in a sharply worded statement punctuated with exclamation points. He described the British Museum's move as a provocation.
The museum announced the loan only after the sculpture had been spirited to Russia's Hermitage Museum in St. Petersburg. It will be on display through Jan. 18 as part of an exhibition to celebrate the 250th anniversary of the museum.
The sculptures are at the heart of one of the world's most famous cultural heritage disputes. The marbles graced the Parthenon temple on the Acropolis for centuries, until they were removed at the beginning of the 19th century by Scottish nobleman Thomas Bruce, the Seventh Earl of Elgin, when it was fashionable for the aristocracy to collect ancient art.
Greece contends they were looted illegally while the country was under Turkish occupation. The British Museum has long rejected their return, arguing that the pieces, sometimes known as the Elgin Marbles, can be seen in London by a global audience, free of charge.
Britain's government played no role in the loan to the Hermitage – the British Museum is independent of the government, a view it has often repeated as Greece sought to have the marbles returned.
Local journalism is essential.
Give directly to The Spokesman-Review's Northwest Passages community forums series -- which helps to offset the costs of several reporter and editor positions at the newspaper -- by using the easy options below. Gifts processed in this system are not tax deductible, but are predominately used to help meet the local financial requirements needed to receive national matching-grant funds.
Subscribe to the Coronavirus newsletter
Get the day's latest Coronavirus news delivered to your inbox by subscribing to our newsletter.
---