News > Idaho
Idaho Power turns to cloud seeding to boost snowpack
Sun., Dec. 7, 2014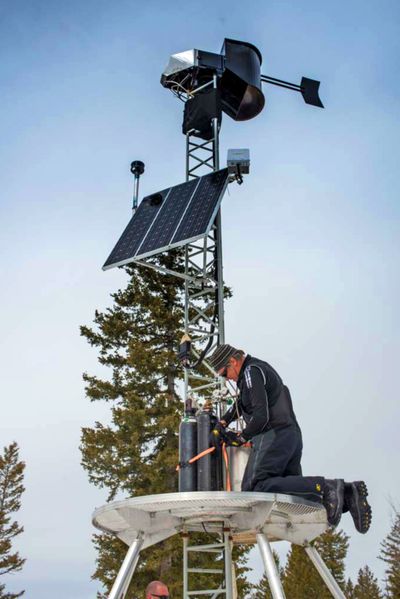 IDAHO FALLS – A warm and dry Idaho winter might be on the way, weather experts say.
That means some state water managers will be turning to the decades-old technology of cloud seeding to squeeze every last snowflake out of the storms that do appear.
Idaho Power officials said last week they are ramping up cloud-seeding operations in the upper Snake River Valley, as well as the Payette River basin near Boise. Another eastern Idaho cloud-seeding effort, operated by the High Country Resource Conservation and Development Council, also is up and running for the winter.
"The goal is more water in the Snake River basin," Idaho Power meteorologist Derek Blestrud said.
Why cloud seeding?
Idaho Power has determined cloud seeding can increase snowpack levels by as much as 14 percent, Blestrud said, though measured benefits in some areas have been less than half that amount.
Idaho Power coordinates its cloud-seeding efforts with the High Country Resource Conservation and Development Council, based in St. Anthony. The nonprofit's board includes elected leaders from nine counties.
Despite one big snowstorm last month and an unusual deluge of rain in August, Idaho meteorologists predict precipitation and temperature trends could reverse heading into winter. Snowfall totals were below average for Idaho Falls and Pocatello in November, National Weather Service meteorologist Alex Desmet said.
Blestrud and Shaun Parkinson, Idaho Power's water resources leader, said they are becoming more confident of the positive effect cloud seeding has on water levels.
In the Upper Snake region, for example, the scientists have determined an average of 270,000 acre-feet of additional water per year can be attributed to seeding, through modeling and river measurements.
Still, some argue the benefits of cloud seeding remain opaque.
"Although the principles behind it are well established, it is difficult to prove that a given round of cloud seeding produced a particular effect because it is difficult to know what would have happened otherwise due to natural variability," a fact sheet from the University Corporation for Atmospheric Research said.
Cloud seeding 101
Blestrud and three other Idaho Power meteorologists already are keeping an eye out for storms with a perfect cloud-seeding combination of temperature and wind direction.
They use weather balloons, surface gauges and other instruments to hunt for the ideal storm, always looking at least three days ahead.
When the right storm appears, they remotely switch on 20 generator towers that are spread out along high-elevation ridges, reaching from Island Park to Soda Springs.
High Country Resource Conservation and Development Council operates another 25 generator towers in eastern Idaho; however, they must be turned on manually and are mostly at lower elevations.
Generators are equipped with a propane torch mounted to 30-foot tower. The torch burns silver iodide, which drifts up in tiny particles to seed the clouds. The particles attract water droplets in the cloud and effectively "teaches" them how to freeze and turn into precipitation, Blestrud said.
The generator towers must be upwind of where the "target" clouds are located, Blestrud said. Eventually, snowflakes fall out of the cloud, usually about 5 to 15 miles downwind from the generator towers.
Growing trend
Outside the Upper Snake region, Idaho Power's other primary seeding operation is around the Payette Basin, where it operates 23 generator towers and two airplanes. Airplanes can release silver iodide deeper inside a cloud, where the coldest water often is hiding.
Idaho Power's seeding program budget stands at about $1.6 million per year, Parkinson said, but he expects that to grow considerably over the next few winters.
Local journalism is essential.
Give directly to The Spokesman-Review's Northwest Passages community forums series -- which helps to offset the costs of several reporter and editor positions at the newspaper -- by using the easy options below. Gifts processed in this system are not tax deductible, but are predominately used to help meet the local financial requirements needed to receive national matching-grant funds.
Subscribe now to get breaking news alerts in your email inbox
Get breaking news delivered to your inbox as it happens.
---