Worthys want their new hotel to 'wow' visitors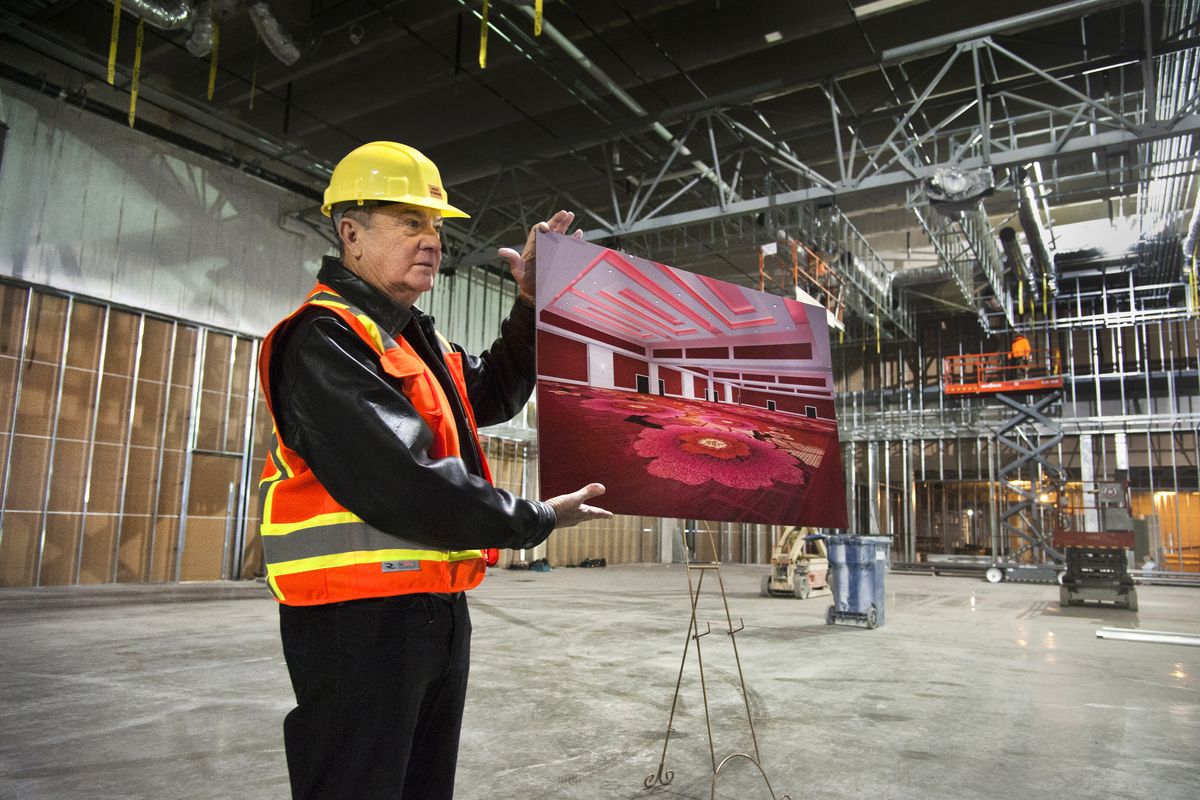 Like their other projects in Spokane, the Davenport Grand Hotel – soon to be the largest in Spokane – is a personal expression of owners Walt and Karen Worthy.
During the planning, for example, the two were captivated by a brightly colored wool carpet they saw in the Encore at Wynn hotel in Las Vegas.
A similar one is now being manufactured in England to be shipped to the Davenport Grand next month.
At their own home, they enjoy a round, see-through fireplace. They decided the new Davenport Grand should have one, too, except the Davenport Grand version is 12 feet in diameter.
They are tapping their favorite restaurateur in Palm Beach, Florida, to help open a neighborly Italian-themed eatery in the Spokane hotel.
"We really have a lot of fun working the details out," Walt Worthy said.
Asked what reaction he hopes the 17-story convention hotel will elicit from guests, the longtime developer and hotelier responded: "Wow. We just want to wow you a little bit."
The wow could come from ballroom lights capable of unending color possibilities – "from wedding to disco" as Worthy puts it.
Or, it could come from a custom chandelier, glass walls of wine, unique local artwork or a third-story outdoor terrace overlooking Riverfront Park decorated with fire pots.
"We hope this is going to be one of Spokane's newest hot spots," he said of the terrace during a recent news media tour of the project.
Built for conventions
Today is expected to mark another milestone in the project, set to open as early as June.
Framework for a new skywalk is scheduled to be lifted into place to connect the Davenport Grand with the older portion of the Spokane Convention Center. The work was to start at 7 a.m.
The connection is important because the Davenport Grand is being built specifically to satisfy Spokane's need for a convention headquarters hotel as a key component in attracting major conventions, and more visitors, to the city.
Worthy said the hotel's appeal will be a big part of the draw. It has the wide corridors on the third floor so convention attendees can set up shop and mingle comfortably. It has plenty of meeting rooms and breakout spaces, which will add to those in the 13-acre, publicly owned convention and performance complex across Spokane Falls Boulevard.
The Convention Center itself is getting a 91,000-square-foot expansion at a cost of more than $50 million under a 2012 ballot measure.
Worthy said he believes the hotel will help convention planners close more bookings, helping the public and private investment pay off.
"I think it's going to bring a lot of new people to town who have been skipping Spokane," he said.
Spacious and efficient
In terms of sheer size, the Davenport Grand Hotel's 716 rooms are nearly double the 375 rooms at the nearby Doubletree Hotel. The Worthys' historic Davenport Hotel has 283 rooms, and the Davenport Tower they built has 328 rooms. The Davenport Grand is also the tallest building to rise in Spokane since Worthy erected the 22-story Davenport Tower at First Avenue and Post Street in 2007.
The Davenport Grand will have 40 suites, 62,500 square feet of meeting space in 25 meeting rooms, an 18,000-square-foot ballroom and 940 covered parking spaces.
The three-lane arrival portico will have capacity for 20 vehicles. Valet parking will be close by, just one level below ground, and the layout should offer speedy exits after events, Worthy said.
Internally, the housekeeping staff will use a laundry that will automatically iron, fold and stack sheets. The building will be energy efficient, using LED lighting and automatic energy conservation features. The project is seeking the environmentally prestigious Leadership in Energy and Environmental Design Gold certification.
As many as 200 construction workers have been on the job at any one time – a combination of union and nonunion labor as well as employees of Worthy's own construction company.
Worthy doesn't mind giving credit. "Our team does a fantastic job," he said.
Rise in real estate
Born in Montana and raised in Georgia, Worthy came to Spokane as an Air Force survival instructor. He married Karen, a former first-grade teacher, in 1974, and they bought their first commercial building at 1801 W. Broadway Ave. in the early 1980s.
Worthy built his real estate holdings a step at a time, refurbishing office space along the Ash and Maple corridor and then developing the Rock Pointe Corporate Center on Boone Avenue north of the Spokane River.
His advertising slogan for years was "Walt Worthy has square feet."
The Worthys' leap into hospitality came after the historic 1914 Davenport Hotel had been shuttered for almost two decades.
They purchased and restored the ornate hotel, reopening it in 2002 to great acclaim. That led to a citizen-of-the-year award given to Walt Worthy by the Spokane Association of Realtors.
The people who work with Worthy said the secrets to his success are a naturally conservative business sense and an ability to learn as he goes along.
A man with a vision
At the start of the project, Worthy said he thought the Davenport Grand would be finished by late 2015. With construction five to six months ahead of schedule, he said, "it's been tough keeping up with all of the work."
"It's been a really big project and it's moving so fast. We have so many decisions to make."
That ability to stay on top of the project is one of the attributes that sets Worthy apart, according to the people who work with him.
"When Walt sets his mind to it, stuff happens," said Mark Aden, president of DCI Engineers, one of the companies hired for the project. "Determined is the beginning and the end of Walt."
DCI is also the structural engineer for the Convention Center expansion and a new student center under construction at Gonzaga University.
Worthy's architect on the project, Craig Woodard, said, "He definitely has a vision. He's a visionary. I like that about him."
Chuck Prussack, sales manager and engineer at Oldcastle Precast, formerly Central Pre-Mix Prestress Co., said Worthy's attention to detail is unending.
Worthy uses precast concrete construction because the method offers speed, strength and quality, Prussack said. Worthy even ordered concrete panels between rooms to enhance sound deadening.
Last summer, as designs were being finalized, Worthy was a frequent visitor at Oldcastle's office, fine-tuning plans with staff.
"He's totally into the details," Prussack said.
Design draws criticism
Building a tower so large comes with criticism, and in the case of the Davenport Grand Hotel, it mostly concerns the design.
Stephen Clark, a longtime Spokane architect and former Park Board member, said the hotel is a "humongous Chinese wall" that blocks views of Riverfront Park and the Spokane River and violates the Expo '74 principles of opening the river to the public and downtown.
He believes the design should have at least been turned to a north-south orientation to reduce its view-blocking effect. "I think it's a disgrace," Clark said. "It's a travesty."
However, Clark tempered his criticism by offering respect to the Worthys. "I'm all for Walt's energy and money," he said.
'No debt' mantra
Matt Jensen, Worthy's director of sales and marketing, said Worthy learned early on that time and money are related. The faster the job, the sooner the cash starts flowing.
Having his own construction company allows Worthy to reduce markups on materials. "He's cutting out a lot of that middleman," Jensen said.
At the heart of the success, Jensen said, is a Worthy mantra: "No debt."
They pay as they go, and that includes the $6.67 million purchase of the 120,000-square-foot block of land for the project from the Spokane Public Facilities District, the owner of the Convention Center.
Worthy did not say how much the project will cost. However, the city permit staff estimated it at $138 million.
"All of their projects are debt-free," Jensen said. "They are very smart people with money."
Linking with Marriott
Worthy said the decision to join Marriott International's Autograph Collection was based on two things: the need for a worldwide marketing and reservation system and the reported success from other independent properties such as the Cosmopolitan of Las Vegas.
"We have a lot of confidence they are going to do a good job," he said. "We think it's the wave of the future."
The Davenport Grand more than doubles the number of rooms over his three other hotels. "We knew we needed some help," Worthy said.
But the confidence doesn't waver. "The tide is going up. It's raising all boats," he said.
"We're not trying to put the Doubletree out of business. We think more is better. So now we have more."
---