Sports
NFL Notes: 49ers' Jim Harbaugh addresses rumors about Michigan
Tue., Dec. 9, 2014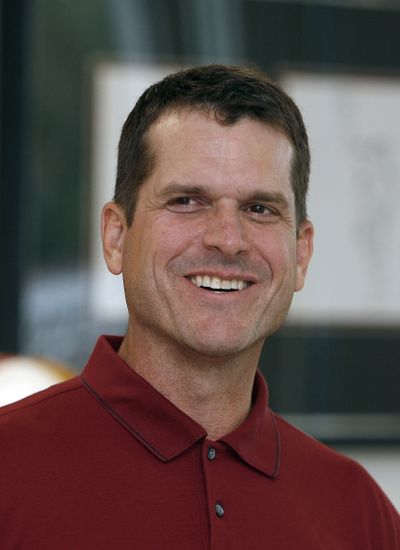 Coach Jim Harbaugh on Monday addressed a recent report that he had been approached by the University of Michigan, his alma mater, and about the nature of an exchange he had with Raiders owner Mark Davis.
"As a principle, I don't talk about any other job other than the one that I have," Harbaugh said. "I've answered this question many times, even recently, so you know exactly where my priorites are.
"I get this from the Marines: Leaders eat last. My No. 1 priority is winning football games. The second priority is the welfare of the players, the coaches, all our staff, the welfare of our team. Lastly is my own personal, professional future."
An NFL Network report Sunday said Michigan had reached out to Harbaugh about the prospect of becoming its next head coach.
Michigan officials reportedly came away feeling as if Harbaugh is intent upon remaining in the NFL.
Harbaugh has one year left on his contract. However, numerous reports say that Harbaugh's four-year tenure with the 49ers isn't going to last beyond this season.
One potential landing spot for Harbaugh is the Raiders, who fired head coach Dennis Allen in late September and currently are being guided by interim head coach Tony Sparano.
For that to happen, the 49ers would have to fire Harbaugh or trade him after this season. There's no official indication that either is going to happen.
Berry diagnosed with cancer
Chiefs safety Eric Berry has been diagnosed with Hodgkin's disease and will begin chemotherapy for what doctors called a "very treatable and potentially curable" form of cancer.
Hodgkin's disease is a form of lymphoma originating in white blood cells.
Berry said in a statement that he will "embrace this process and attack it the same way I do everything else in life. God has more than prepared me for it."
Browns' Manziel eyes first start
Browns coach Mike Pettine is leaning toward making a switch at quarterback.
Johnny Manziel's first start could be days away.
After starter Brian Hoyer played poorly again in Sunday's loss to Indianapolis, Pettine said it's "natural to lean the other way," which would indicate starting Manziel, the high-profile rookie who came off the bench in the fourth quarter two weeks ago in Buffalo.
Williams stands by criticism
Bills safety Aaron Williams isn't backing away from his criticism of NFL officials, and doesn't care if it costs him.
"I don't care if I do get fined," Williams told the AP.
Williams took issue with a fist bump between two officials after Denver running back C.J. Anderson scored his second of three touchdowns Sunday.
Jets in the mix for top pick
The New York Jets have a good chance of being No. 1 – in the NFL draft.
At 2-11, they're in the mix with Tennessee, Oakland, Tampa Bay and Jacksonville for the dubious distinction of having the NFL's worst record. Next Sunday could play a big part in deciding things with the Jets playing at the Titans.
Around the league
The Titans say they are aware police are investigating a sexual assault allegation involving defensive lineman Sammie Hill. … Bears receiver Brandon Marshall will miss the rest of the season with rib and lung injuries. … The Chargers are in the market for a punter after Mike Scifres broke his left clavicle in a loss to New England.
Local journalism is essential.
Give directly to The Spokesman-Review's Northwest Passages community forums series -- which helps to offset the costs of several reporter and editor positions at the newspaper -- by using the easy options below. Gifts processed in this system are not tax deductible, but are predominately used to help meet the local financial requirements needed to receive national matching-grant funds.
Subscribe to the sports newsletter
Get the day's top sports headlines and breaking news delivered to your inbox by subscribing here.
---