News > Washington Voices
Facelift pondered for historic Coeur d'Alene Park
Thu., Dec. 11, 2014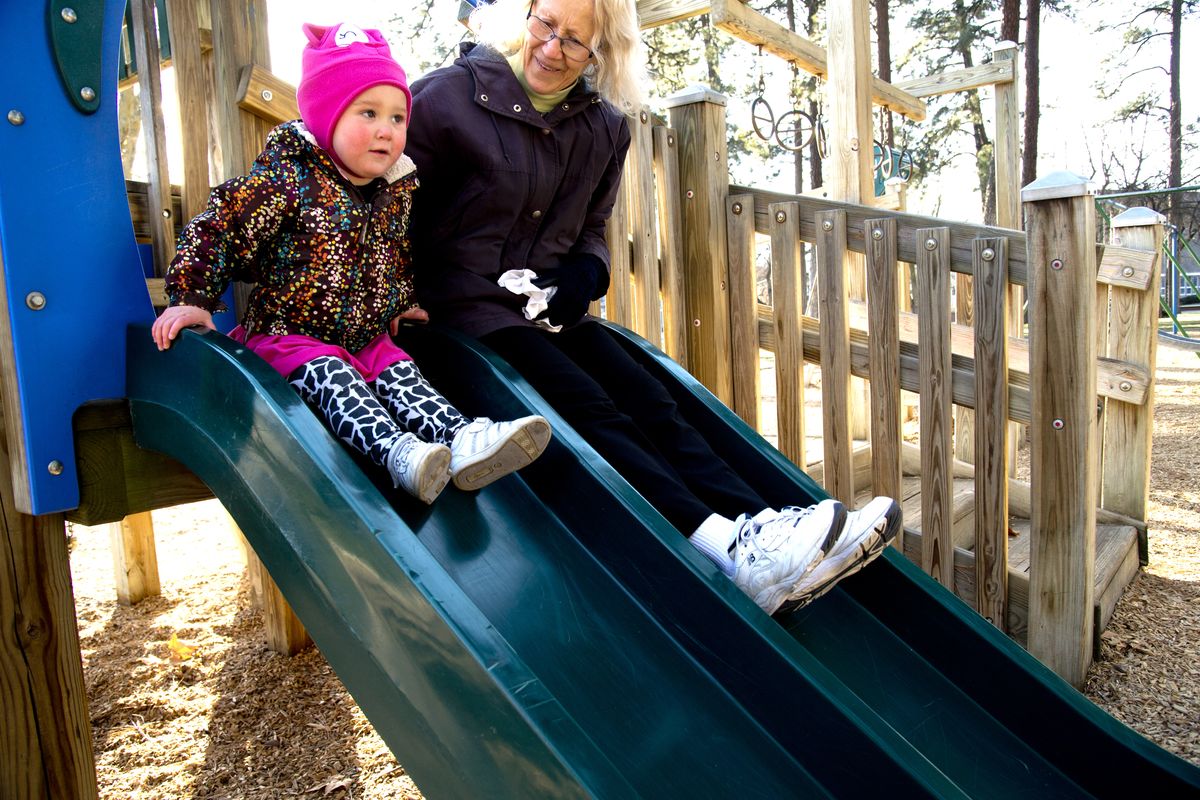 Kyla Tobler, 2, prepares to go down a slide with her grandmother, Morag Stewart, at Coeur d'Alene Park, on Dec. 3. The neighborhood council and Friends of Coeur d'Alene Park are gathering ideas about improvements in the park. (Jesse Tinsley)
Coeur d'Alene Park is looking a little ragged around the edges.
So the Browne's Addition Neighborhood Council and the Friends of Coeur d'Alene Park are teaming up to write a new master plan and make some changes.
They've hired landscape architect Bob Scarfo to help them come up with the changes they would like to see.
Topping the list is removing some of the overgrown shrubs that they say are a haven for transients.
During a neighborhood meeting in November, one resident told a story of two men who emerged from a shrubby hiding spot and approached him in a threatening manner before he yelled at them and scared them off.
Residents also said the pathways are run down, the park needs more benches, the toddler play area is inadequate, nighttime lighting needs improvement and the sprinkler system needs upgrading.
"It's just sort of a general shabbiness," said MaryLou Sproul, a member of the friends organization and also a board member of the neighborhood council.
Scarfo said that because the park was part of the city's original Olmsted Brothers design, any changes should respect the Olmsted concepts.
He said the dominance of evergreen trees is out of balance with the deciduous trees. Scarfo recommended removing some of those evergreens.
The Olmsted design used more deciduous trees instead, he said.
"Very definitely think about four seasons," Scarfo told the small group of neighbors.
He also said activities both during the day and night need to be considered.
Scarfo recommended that the park have features to appeal to all age groups and that Third Avenue be considered for pedestrian improvements to connect the historic park with the overlook on Coeur d'Alene Avenue.
Currently, that section of street lacks sufficient lighting, he said.
Coeur d'Alene Park is one of the more heavily used parks in the city. "It rivals Riverfront Park it has so much traffic," Scarfo said.
Rick Biggerstaff, chair of the neighborhood council, said, "I think one of the most sensitive issues is going to be tree removal."
He said residents should consider that improving the amount of open space will enhance safety.
The planning work is being undertaken with funding from City Hall.
Any projects will require that the neighborhood compete for grants from the city's pot of federal community development funds and other sources, he said.
Scarfo said he hopes to have three to five proposals requiring varying amounts of work ready by March.
Local journalism is essential.
Give directly to The Spokesman-Review's Northwest Passages community forums series -- which helps to offset the costs of several reporter and editor positions at the newspaper -- by using the easy options below. Gifts processed in this system are not tax deductible, but are predominately used to help meet the local financial requirements needed to receive national matching-grant funds.
Subscribe now to get breaking news alerts in your email inbox
Get breaking news delivered to your inbox as it happens.
---