Sports
Balanced Central Valley boys zip past Shadle Park
Sat., Dec. 13, 2014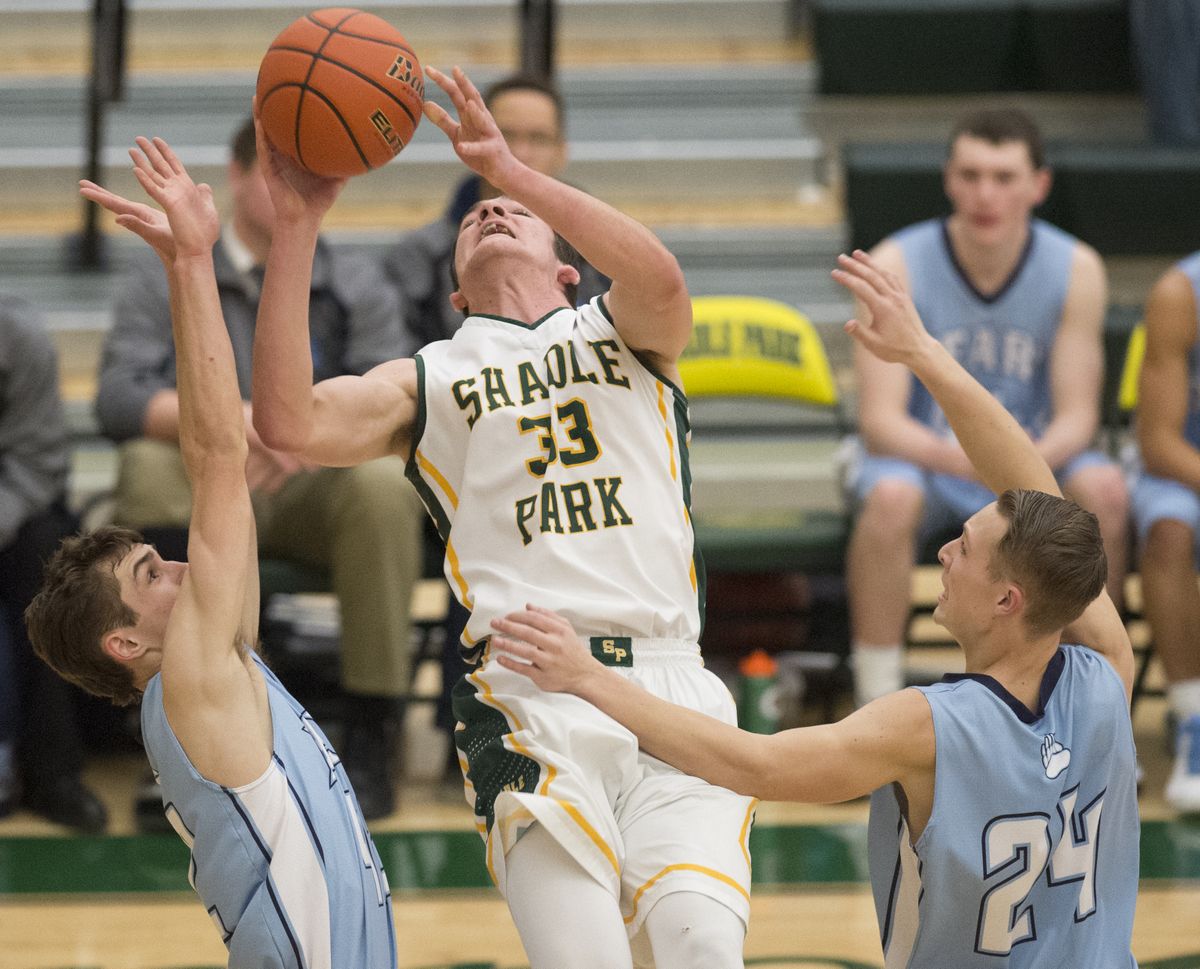 Highlanders' Sam Stratton fights against Central Valley's defense during Friday's GSL play at Shadle Park. (TYLER TJOMSLAND PHOTOS)
The Central Valley Bears lost all of their starters from last season's squad, but that doesn't mean this year's version will necessarily have growing pains.
That's because much of the CV lineup has been playing together since their early youth. The experience was evident in CV's 73-46 Greater Spokane League romp over the host Shadle Park Highlanders on Friday night.
The Bears improved to 4-0 overall and 3-0 in league. The Highlanders are 3-2, 1-2.
The Bears made 10 3-pointers and were able to spread the scoring around.
Senior guard Michael Hannon finished with 27 points. Junior Cameron Tucker had 19, including a putback dunk late in the first quarter. Senior Parker Bowden added 11.
The Bears have the luxury of having a deep bench, and multiple players provided good minutes.
"I thought we battled every possession," CV head coach Rick Sloan said. "We had some guys that stepped up. I thought Cameron Tucker was big early and Parker Bowden came in and gave us a nice lift. Michael Hannon gets his hands on everything."
Hannon, who spent time on the junior varsity as a junior last season, played like a varsity veteran. Sloan credits a productive offseason for Hannon's rise.
"He really grew up," Sloan said. "This summer he was one of our toughest players, so we knew he was very capable of doing what he did tonight based on his improvement over the summer."
Andreas Brown and George Pilimai each scored 13 points to lead the Highlanders.
Shadle Park features a tall lineup, with eight players on the roster 6-foot-3 or taller, including four 6-6 forwards.
But the Highlanders were too careless with the ball at times on offense and allowed too many easy shot attempts on defense.
"We have some tough kids that have played against a lot of good teams, so they don't really back down," Sloan said. "I'm just proud of how they battled."
The Bears showed off their high-energy style of play early on, creating a number of Shadle turnovers and building a 21-12 lead after one quarter. Three straight baskets by Hannon midway through the second quarter stretched the CV lead.
The Highlanders could only close CV's gap to 12 in the second half.
Sloan said much of his roster is familiar with each other and has played together since at least the fourth grade.
"It kind of shows with the way they play and share the ball," he said.
Lewis and Clark 67, University 55: Isaiah Hernandez had 20 points, shooting 7 of 10 from the field, including 3 of 3 on 3-pointers, as the host Tigers (5-0, 3-0) topped the Titans (1-2, 1-2). LC's Dominick Oliveri added 14 rebounds.
Mt. Spokane 43, North Central 40: Zach Vogel's steal and layup with 40 seconds left capped a rally as the host Wildcats (1-1, 1-1) defeated the Indians (1-4, 0-3) after trailing 36-27 after three quarters. Sam Stiles had a team-high 20 points and Conner Verret three blocks for Mt. Spokane. NC's Noah Higley and Austen Scally scored 10 apiece.
Gonzaga Prep 54, Rogers 47: The visiting Bullpups (1-3, 1-2) forced 20 turnovers, including seven in the fourth quarter when they used an 8-0 to take the lead for good, and defeated the Pirates (2-1, 2-1). G-Prep's Logan Adams and Cole Witter combined for 25 points. Robert Rucker led Rogers with 14 points.
Mead 69, Ferris 52: Senior Josh Ritcher scored a career-high 21 points as the host Panthers (4-1, 2-1) defeated the Saxons (0-2, 0-2). Richter scored 14 points in the first quarter, hitting four 3-pointers. The Panthers finished 19 of 23 from the line.
Local journalism is essential.
Give directly to The Spokesman-Review's Northwest Passages community forums series -- which helps to offset the costs of several reporter and editor positions at the newspaper -- by using the easy options below. Gifts processed in this system are not tax deductible, but are predominately used to help meet the local financial requirements needed to receive national matching-grant funds.
Subscribe to the sports newsletter
Get the day's top sports headlines and breaking news delivered to your inbox by subscribing here.
---