News > Features
For Strayed, writing 'Wild' was just the beginning
Sun., Dec. 14, 2014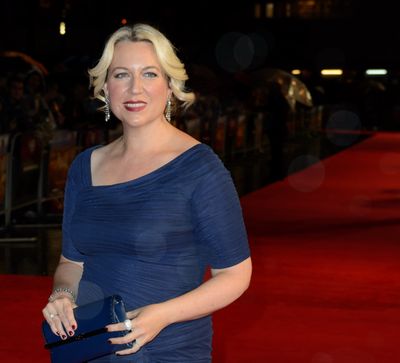 The big checks started coming in about nine months after "Wild" hit bookshelves and started its climb to the top of the New York Times best-seller's list. To Oprah's Book Club. And, now, to movie theaters nationwide.
The first thing author Cheryl Strayed bought was a $2,000 piano for her two children. It was something she never had in her powdered-milk and government-cheese childhood, but always dreamed of. Piano lessons, especially.
"The piano was delivered, and the guys left and I put my hands on it, and I just started crying," Strayed recalled during a recent visit from her home in Portland to Seattle to promote the film version of "Wild," starring Reese Witherspoon. "Because it felt like, 'OK, I earned this.' "
Then on her 44th birthday, Strayed paid off her student loans. "I wanted to give myself a birthday present," she said.
She also opened a college fund for her kids.
Never did Strayed, 46, think that when she dropped her backpack at the end of her journey on the Pacific Crest Trail in 1995, she would eventually drop childhood yearnings and college debt, and make sure her kids' lives were more stable than hers had ever been.
It was that 1,100-mile trek – desert, snow and everything in between – that became the subject of "Wild." The reception of the book has been an adventure all its own for Strayed; not only a dance through the madness-making that is memoir, but a red-carpet walk through Hollywood.
"I find it so funny," Strayed said of the fuss and flash. "I've had so many experiences where I am standing on the red carpet and just laughing, wondering 'Is this a real thing?'
"And I feel like, I'm a writer. I get this wonderful opportunity to be part of this world," she said. "So I greet it with a lot of amazement and wonder and delight and gratitude. And also just a sense of fun. I am having the time of my life."
Strayed was on set for the 35 days of filming in Oregon. Her daughter, Bobbi Lindstrom, 9, played Strayed as a child in the movie (she and husband Brian Lindstrom also have a son, Carver, 10), and Strayed has a brief appearance and a few words of dialogue in an early scene.
These days, Strayed's fame has her dressing up and making-up, but beneath is still the author who puzzles over word choice; and the mom who is quick to mention her children, her husband and the Forest Service cabin she bought in Mount Hood National Forest. She still hikes, after all.
She has made "dear friends" of "Wild" director Jean-Marc Vallie ("Dallas Buyers Club") and actress Laura Dern, who plays her mother in the film and who came to Strayed's five-day writing workshop in Big Sur last year.
As for Witherspoon, well, she is just "Reese."
They met over the phone, after Strayed's agent sent the actress a copy of "Wild."
Witherspoon read the book and called Strayed a few days later.
"Obviously, I was thrilled she was interested," Strayed said. "But I wanted to hear what she had to say about it. I didn't want to just hand it over. It's a big deal to hand over your story, your life, your book."
Strayed wanted to be sure Witherspoon had the right intentions and understood what the story was about: The aspects of the self, grief, truth.
"I didn't want Reese to say to me, 'Oh, man, this is going to be a blockbuster,' " Strayed said. "I wanted her to say, 'Wow, I cried when I read this book. I felt it in my bones and I, too, want to tell a story about this kind of woman, who is so complex, like me.'
"And that's what she did. It resonated with her on a really personal level."
The film got a little too personal in one scene, which depicts Strayed having sex with two men. In an alley. Behind a restaurant. Where she works as a waitress.
"That was the most difficult part of the movie for me," Strayed admitted. "Probably because it's one of the rare moments of the film that wasn't taken from my life."
It was Vallie's construction, Strayed said, to show how low she went after the loss of her mother and her divorce. In her book, she could write about her drug use and promiscuity, but the film had to show it very quickly.
"So it's a shorthand way of showing that I slept with a lot of guys," Strayed said.
But more often than not, when Strayed sees the film, "I'm thinking, 'Oh, my God, this is really how it was!' "
Now, though, her life will never be how it was before the book.
She and Witherspoon are close friends. ("We text each other, we talk, we email each other a few times a week.") Just that morning, Strayed's children were doing their homework with erasers that look and smell like real candy – gifts from the Oscar winner.
"I don't get to write a Hollywood exposé," Strayed said. "Nobody was mean to me."
For now, she is working on a novel and another memoir, this one about her first solo trip, before her "Wild" hike, a six-week journey through the Southwest, researching both atomic history and the years her mother lived there as a child. It also will include her life after the "Wild" hike, and her time as a new mother.
So has it all changed her? Her feet are out of those awful hiking boots and in much nicer shoes – but are they still on the ground?
"I honestly don't understand what that would even look like, for me to change," she said with a laugh. "I am just me, getting to have this crazy, glamorous, exciting, interesting, bizarre Hollywood experience."
Local journalism is essential.
Give directly to The Spokesman-Review's Northwest Passages community forums series -- which helps to offset the costs of several reporter and editor positions at the newspaper -- by using the easy options below. Gifts processed in this system are not tax deductible, but are predominately used to help meet the local financial requirements needed to receive national matching-grant funds.
Subscribe to the Coronavirus newsletter
Get the day's latest Coronavirus news delivered to your inbox by subscribing to our newsletter.
---