News > Obituaries
Obituary: Jensen, Patricia (Gannon)
Age 87
Sun., Dec. 14, 2014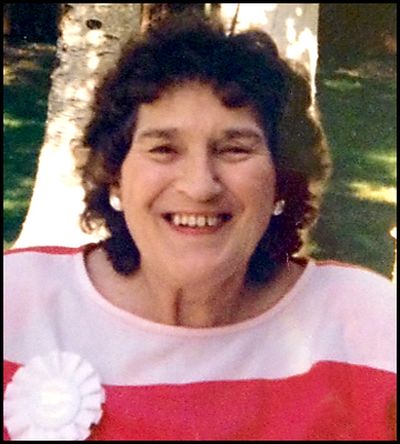 JENSEN, Patricia (Gannon) (Age 87) Pat Robertson Gannon Jensen passed away on December 9, 2014 in Anchorage where she had lived since 1964.
Born and raised in Spokane, she was a graduate of John Rogers High School.
She married Joseph Gannon in 1949 and traveled with him while he was in the Air Force.
After his death in 1969, she married Arlo Jensen of Dagmar, Montana.
He died of cancer in 1982.
She was the beloved mother of Patti (Michael) Simmons, Kathy (Robert) Woodhead, Debbie (Lee) Comiskey, all of Anchorage; and Ann Vavra Faris of Laramie, Wyoming.
She was preceded in death by all of her sons, Bruce and Joe Gannon of Anchorage, and Roy Vavra of Wyoming.
Her infant daughter, Diana Lynn Gannon, died in Spokane in 1962, as did her first granddaughter, Shelly Gannon, in 2012.
She was the youngest and sole surviving child of Sadie and Newton Robertson.
She is also survived by seven grandchildren and two great-grandchildren, with another great-granddaughter due to arrive on Christmas Day.
She has many nieces and nephews surviving, including Marilyn (Bill) Luebke of Spokane Valley, and Linda (Dennis) Bowman of Kent, WA.
Beverly Branson Gorder of Spokane was her best friend for over 75 years.
She was a wonderful and inspiring mother, grandmother, aunt and friend, with a keen wit and very positive spirit.
Mom, you will be loved and missed forever.
Memorials may be made in her name to the Alzheimer's Resource Agency of Alaska, 1750 Abbott Rd., Anchorage, AK 99507.
Local journalism is essential.
Give directly to The Spokesman-Review's Northwest Passages community forums series -- which helps to offset the costs of several reporter and editor positions at the newspaper -- by using the easy options below. Gifts processed in this system are not tax deductible, but are predominately used to help meet the local financial requirements needed to receive national matching-grant funds.
Subscribe to the Coronavirus newsletter
Get the day's latest Coronavirus news delivered to your inbox by subscribing to our newsletter.
---