News > Obituaries
Obituary: Pollard, Gloria F. (Fisher-Springer)
Age 87
Sun., Dec. 14, 2014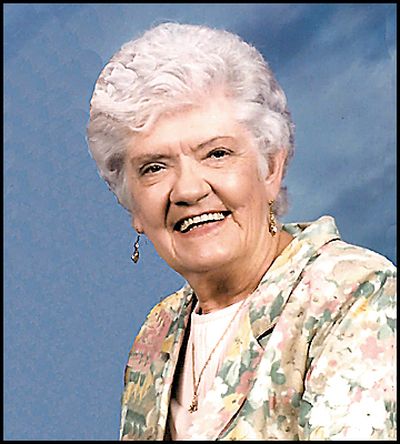 POLLARD, Gloria F. (Fisher-Springer) (Age 87) Gloria passed away peacefully at her home on Monday, November 24, 2014 with her family by her side.
Gloria was born November 18, 1927 in Butte, Montana to Harry and Gladys Fisher.
Gloria grew up in Kalispell, Montana and graduated from Flathead High School.
She then moved to Pullman, Washington in 1944 to attend Washington State University and then St. Luke's School of Nursing in Spokane, Washington, graduating in June 1948.
After receiving her Registered Nurses degree she worked at various Medical facilities in Spokane, WA.
She was Director of Nurses at University Manor when she also obtained her Nursing Home Administrators License.
She continued her education to receive her Business Administration degree in 1975.
In 1976 she bought Kirbyhaven, a home for developmentally disabled residents.
In 1980 she also leased Latah Center, an additional home for developmentally disabled.
Gloria was instrumental in starting United Health Care, an association of Long Term Care Facilities which later became Washington Healthcare Association.
She served on the Board many years representing the Developmentally Disabled Community.
She loved working with people and had a special place in her heart for those less fortunate.
She married Bill Springer in 1948 and had four children, Dale Springer, Vicki Springer-McKenna, Leann Springer and Lori Springer-Miller.
She divorced and later married Gene Pollard in 1981.
She moved to Sun Lakes, Arizona in the winter of 1981 and spent her summers in the Pacific Northwest.
Gloria was involved with the Shriner's organization of Sun Lakes and served with her husband on various committees.
She had many hobbies during her retirement including Wood Carving, Wine Making, Crocheting and her love of making unique homemade greeting cards with flowers from her daughter's gardens.
Gloria loved traveling and made many trips overseas to Europe, China, Thailand and several cruises in North America.
Gloria is survived by daughters Vicki Springer-McKenna (Bill) of Sun Lakes, AZ, Leann Springer of Spokane, WA and Lori Springer Cox-Miller (Guy) of Spokane, WA.
Grandchildren include Tony Drew, April Drew, Heather Scotto (Keven) and Alexis Cox and great-grand- children Trendon McKenna, Zaria and Zane Scotto all residing in Spokane, WA and her sister, Maridonna Norick (Ken) of Kalispell, MT.
She was preceded in death by her husband Gene Pollard and son Dale Springer.
The family wishes to thank Royal Plaza Retirement Center and Horizon Hospice for their compassionate care of our Mom and making her comfortable with no pain during her last days with us.
Memorial Service and Celebration of Life will be held Wednesday, December 17 at 1:30pm at Heritage Funeral Home.
In lieu of flowers the family requests Memorial contributions be made to SCRAPS of Spokane or Horizon Hospice of Spokane.
Local journalism is essential.
Give directly to The Spokesman-Review's Northwest Passages community forums series -- which helps to offset the costs of several reporter and editor positions at the newspaper -- by using the easy options below. Gifts processed in this system are not tax deductible, but are predominately used to help meet the local financial requirements needed to receive national matching-grant funds.
Subscribe to the Coronavirus newsletter
Get the day's latest Coronavirus news delivered to your inbox by subscribing to our newsletter.
---