Sports > Outdoors
Sturgeon holding on in Columbia system and into Idaho
Sun., Dec. 14, 2014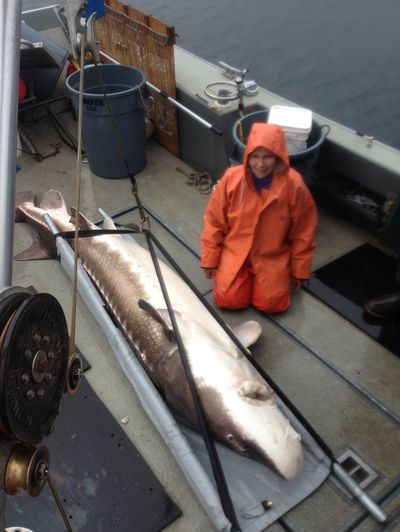 The population of North America's largest freshwater fish living between a dam on the Idaho-Oregon border and another in Eastern Washington was holding steady from 14 years ago, according to information from an Idaho utility's survey.
Hundreds of miles downstream in the Columbia River below all of the dams, sturgeon numbers are increasing under a ban on catch-and-keep fishing, according to a report from the Washington Department of Fish and Wildlife.
White sturgeon, which date to the dinosaurs, number about 4,000 in a 140-mile stretch of the Snake River between Hells Canyon Dam and Lower Granite Dam. That tally counts fish measuring 21/2 feet or longer.
Idaho Power is required to monitor numbers of sturgeon there as part of its federal license to operate three hydroelectric projects in Hells Canyon.
The stretch of river from Hells Canyon Dam to Lower Granite Dam is a favorite among sturgeon anglers, said Jeff Dillon, fisheries manager for Idaho Fish and Game.
"For one, it's just fascinating to catch a fish that's probably older and bigger than you are," he said. "And they're prehistoric fish. The other part of it, especially in Hells Canyon, is fishing for sturgeon takes you to really amazing places."
One of the sturgeon in the Snake River is a 470-pound, 10-foot female caught and released last month as part of Idaho Power's survey. The length of the fish is rare and estimated it to be about 75 years old, Idaho Power fisheries biologist Brandon Bentz said.
Angling regulations in Idaho, Oregon and Washington require barbless hooks and that sturgeon be released unharmed. Dillon estimates that adult sturgeon in Hells Canyon are each caught on average once or twice a year.
"We don't see any real evidence of ill effects," he said. "They're pretty resilient fish."
The exception to these fishing rules is in lower Columbia River waters, where limited catch-and-keep seasons are allowed.
Washington fisheries biologists estimate the population of legal-size sturgeon in the lower Columbia River increased 5 percent in 2014, the first year of a total ban on retention by sport and commercial fishermen.
WDFW fish manager Brad James says the population between the coast and Bonneville Dam is estimated to have been 130,990 in January 2014 and will be 138,200 in January of 2015.
Legal-size sturgeon, when catch-and-keep is allowed in Washington, are fish between 38 inches and 54 inches, measured from the tip of the snout to the fork in the tail.
Several members of the state's sport-fishing advisory group have asked for resumption of at least a small sturgeon retention season in 2015.
The legal-size population in the lower Columbia is about at the number it was a decade ago, when Washington and Oregon allowed annual harvests in the range of 40,000 sturgeon, he said.
Sportsmen in 2013 harvested 6,501 sturgeon, 7 percent above their guideline. Commercial fishermen in the lower Columbia and off-channel areas harvested 2,012 sturgeon, nine fish shy of their guideline of 2,021.
The Snake River has two self-sustaining populations of sturgeon. One is Hells Canyon and the other is the section of river between Bliss Dam and C.J. Strike Dam in southern Idaho, Bentz said. A sturgeon measuring just under 11 feet was caught there by an Idaho Power crew in the early 1990s, but it wasn't as heavy as the more recently caught fish, Bentz said.
There is still much that is not known about sturgeon between Hells Canyon Dam and Lower Granite Dam. Biologists don't capture many smaller fish, so their growth rates or survival rates aren't known, Bentz said.
It also is not known how many sturgeon lived in that part of the river before dams were built or how many fish it could support now.
Sturgeon eat bottom-dwelling worms, clams, mussels and crayfish. Though salmon aren't as prevalent as before the dams, they are still a food source, especially nests containing salmon eggs, Bentz said.
The rarity of the 10-foot fish recently caught by Idaho Power begs the question: Why aren't there more of them?
"The (catch-and-release) rules have been in place for only 40 years," said Dillon of the wildlife department. "It could be 100 years before there are a lot of fish over 10 feet out there."
Local journalism is essential.
Give directly to The Spokesman-Review's Northwest Passages community forums series -- which helps to offset the costs of several reporter and editor positions at the newspaper -- by using the easy options below. Gifts processed in this system are not tax deductible, but are predominately used to help meet the local financial requirements needed to receive national matching-grant funds.
Subscribe to the sports newsletter
Get the day's top sports headlines and breaking news delivered to your inbox by subscribing here.
---