News > Obituaries
Obituary: Hodgson, Connie R.
Age 83
Wed., Dec. 17, 2014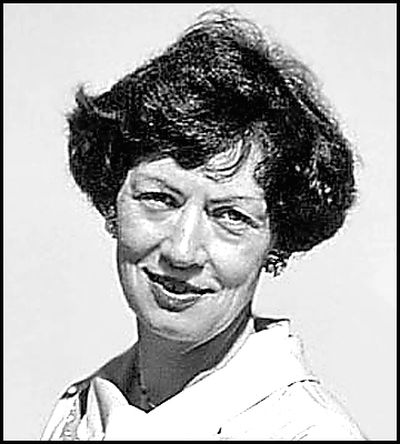 HODGSON, Connie R. Constance "Connie" Roberts was born in Selfridge, ND on June 4, 1931, to Basil and Cidne Roberts.
She was taken to her new heavenly home on December 13, 2014.
The Roberts family moved from Thunder Hawk, SD to Missoula, MT in 1934, and later to Spokane, WA in 1942.
Connie graduated from North Central High School in Spokane and married Paul Hodgson in 1956.
In Spokane, she joined the Gospel Temple church.
The church relocated to north Spokane under a new name "The Church of the Rock of Ages."
There she served our Lord faithfully in music, songs and nursing home visits.
She had four children and was a loving wife, mother, grandmother, great grandmother and friend.
She also enjoyed vacationing in Hawaii and was often seen at Starbucks.
Connie was preceded in death by her parents and three brothers.
She is survived by her husband and all four children, Marlin Virg-In of Anchorage, AK, Steve (Sarah) Virg-In of Haines, AK, David Hodgson (Melissa) of Spokane, Connie Kay Wright (David) of Lakewood, WA, three brothers, four sisters, 15 grandchildren and eight great-grandchildren.
A Celebration of Life Service will be held Saturday, December 20 at 2:00 p.m. at the Riplinger Funeral Home, 4305 N. Division in Spokane, WA.
In lieu of flowers, contributions in Connie's name may be made to the Union Gospel Mission, Spokane.
Guestbook: www.riplingerfuneralhome.com
Local journalism is essential.
Give directly to The Spokesman-Review's Northwest Passages community forums series -- which helps to offset the costs of several reporter and editor positions at the newspaper -- by using the easy options below. Gifts processed in this system are not tax deductible, but are predominately used to help meet the local financial requirements needed to receive national matching-grant funds.
Subscribe to the Coronavirus newsletter
Get the day's latest Coronavirus news delivered to your inbox by subscribing to our newsletter.
---