News > Obituaries
Obituary: Laws, Helen Louise Templeton (Bosch, Kennedy)
Age 84
Wed., Dec. 17, 2014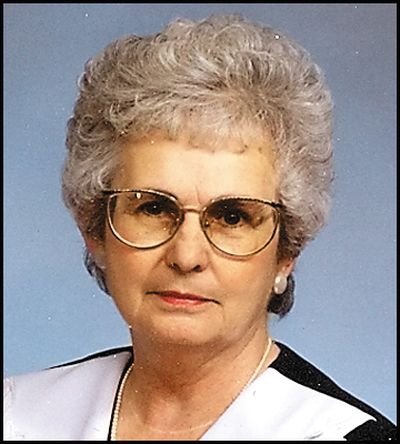 LAWS, Helen Louise Templeton (Bosch, Kennedy) Helen Louise Laws passed into the loving arms of Jesus on December 13, 2014.
She was born July 3, 1930 in Tarkio, Missouri, the first of 12 children born to Harry and Lucille Templeton.
She is the mother of six children, grandmother of 21, great-grandmother of 34, and has two stepchildren.
Helen was a 54-year member of Green Bluff Grange #300 during which time she held many offices: Master of GreenBluff Grange #300, WA State Grange Chaplain for four years, Jr. Director State Grange for four years, Leader at two Jr. Granges for a total of 18 years, and Pamona Master.
She was a member of Green Bluff Methodist Church for 30 years, served as a Lay Leader, and served a mission to the church's sister city in Russia - SINDA.
She spent 35+ years of fruit farming with her late husband Richard G. (Dick) Laws, was the owner and operator of Country Girl Pies and Canned Goods, and author of the cookbook "GreenBluff Country".
Helen was a member and Past President of Washington Women for the Survival of Agriculture, during which time she lobbied for farmers' rights in Washington D.C., She also served as president of the Farm and Roadside Marketing Association and worked to change the state signing laws for GreenBluff Growers, and with the State Department of Agriculture to develop a farm education program "Ag in the Classroom" for elementary students.
She started the Old Orchard Theatre, which earned nearly $70,000 for scholarships in 17 years, and wrote, co-produced and starred in the play, "Hog Heaven", as well as acted in most of the Old Orchard Theatre plays.
Helen wrote articles for the Tri-County Tribune, and was directly involved in the formation of GreenBluff OktoberFest.
She served as the GreenBluff Home Ec Club President in the 1980s, and was Head Cook and Kitchen Manager at Mater Cleri Seminary, Booth Memorial Hospital, and Delaney House, as well as a wedding caterer.
She lived in Germany and traveled in Europe for 2 Ă'Ë?
years.
She loved sewing and quilting (Including making quilts for her children and grandchildren, Quilts of Valor, as well as raffle quilts for GreenBluff Methodist Church).
Helen loved her family!
She demonstrated that in everything she did.
She took great joy in her children, grandchildren and great-grandchildren, to whom she was affectionately known as Apple Grandma.
Many thanks to the Staff at Fairwinds Retirement Community, and Hospice House North for the excellent care given to our mother during the last months of her life; and to longtime friends Pastor Helen Dunlap and Wilma Baker for their always present love and support.
Helen is survived by her children: Christine Eslick (Bob), Ellen "Nelle" Frostad (Rick), John Kennedy (Paula), Mary Conley (Rich), Kathleen Johnson (Jeff); her stepchildren: Mary Reno-Montero (Kirk), Russ Laws; siblings: Clara Eaves (Dick), Stephen Templeton (Karen), Carole Frybarger (Ken) and Donny Templeton (Nancy); numerous nieces and nephews; and many close friends.
She was preceded in death by her husband, Richard G. (Dick) Laws; her oldest son, Harry Kennedy; sisters: Harriet McCormick, Mary Koth, Margaret Kelly, Kay Lessig, and brothers: Bobby Templeton, Wilbur Templeton, Jim Templeton.
A viewing will be held Thursday, December 18, 2014 from 3-6 pm at Hazen & Jaeger Funeral Home, 1306 N. Monroe St., Spokane, WA 99201.
Funeral services will be held Friday, December 19th at 11:00am at Crossover Church, 16825 N. Newport Hwy, Mead, WA 99021.
Pastor Helen Dunlap will be officiating.
Interment will be at Peone Cemetery.
Anyone who would like to make a donation in Helen's honor, please send to GreenBluff Grange #300 Scholarship Fund, 18825 N. Dunn Rd., Colbert, WA 99005.
Local journalism is essential.
Give directly to The Spokesman-Review's Northwest Passages community forums series -- which helps to offset the costs of several reporter and editor positions at the newspaper -- by using the easy options below. Gifts processed in this system are not tax deductible, but are predominately used to help meet the local financial requirements needed to receive national matching-grant funds.
Subscribe to the Coronavirus newsletter
Get the day's latest Coronavirus news delivered to your inbox by subscribing to our newsletter.
---