News > Obituaries
Obituary: Malone, Joan Norinne Mary (Browne)
Age 85
Wed., Dec. 17, 2014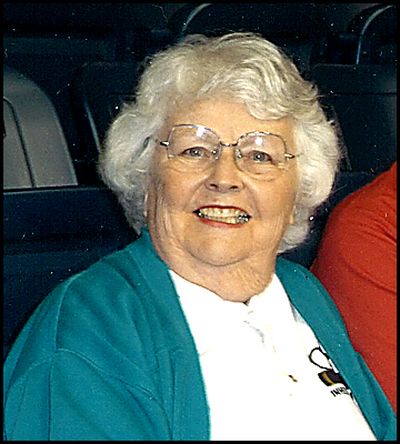 MALONE, Joan Norinne Mary (Browne) Joan Norinne Mary Browne Malone died in the loving arms of her family on Saturday, December 13, 2014.
Joanie was born on February 23, 1929 in Seattle, Washington to Byron E. (Jack) and Elinor (McIntyre) Browne.
She attended Garfield High School and the University of Washington where she belonged to the Gamma Phi Beta Sorority.
She married Richard F. Malone on May 27, 1950.
They lived in Seattle and Pomeroy, Washington before settling in Spokane in 1969.
Joanie lived a joyful life!
She will be remembered by her large family and many friends for her quick wit and warm and generous heart.
She lived her life to the fullest, always active in her children's lives whether it be Cub Scouts, St. Patrick's Day celebrations or neighborhood Easter celebrations in Pomeroy.
She honored her Irish heritage and love of all things Irish when she opened The Little Irish Shop In An Out Of The Way Place in the Spokane Valley, where visitors could always find good, lively conversation and laughter, while Irish music played in the background.
Joanie loved the theatre and spent many years as a delightful actress, director and prop master in Spokane's theatre community.
When family, friends, and even strangers asked her how she was, she answered with her trademark "Practically maaahvelous!"
which always brought a smile and a chuckle.
Joanie was preceded in death by her two children, Mary Aletha and Joseph Corey.
Her Life is Celebrated by her husband, Richard, and surviving eight children: Mike (Debbie), Dan (Retta), Laura, Kevin (Christine), Colin (Teri), Sean (Alicia), Brynne and Eric (Julie); her twenty-two grandchildren and ten great-grandchildren.
Visitation will be Friday, December 19th from 2-5pm and will take place at St. Joseph Funeral Center Chapel, 17825 E. Trent, Spokane Valley.
A vigil will be held on Friday, December 19th at 7:00 p.m. at St. Mary's Catholic Church, 304 S. Adams, Spokane Valley.
Funeral Mass will be celebrated on Saturday, December 20th at 11:00 a.m., also at St. Mary's.
God has you in His keeping, we have you in our hearts forever.
Slainte!
Arrangements have been entrusted to:
Local journalism is essential.
Give directly to The Spokesman-Review's Northwest Passages community forums series -- which helps to offset the costs of several reporter and editor positions at the newspaper -- by using the easy options below. Gifts processed in this system are not tax deductible, but are predominately used to help meet the local financial requirements needed to receive national matching-grant funds.
Subscribe to the Coronavirus newsletter
Get the day's latest Coronavirus news delivered to your inbox by subscribing to our newsletter.
---