Sports
Rookie Richardson an 'electric' receiver for Seattle Seahawks
Wed., Dec. 17, 2014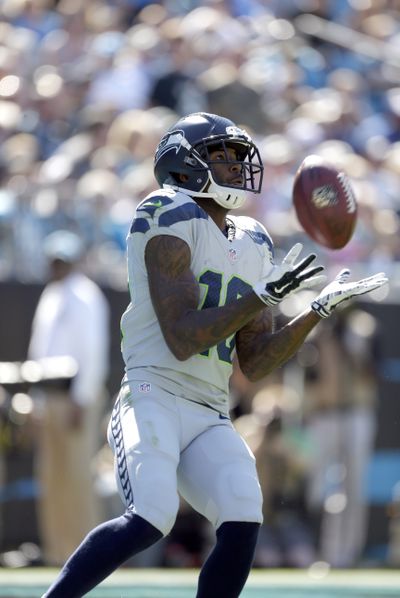 RENTON – Paul Richardson's been down three different times before getting to the NFL – and then again during the first half of his pro-debut season.
So, no, he couldn't wait to get up.
The rookie wide receiver had just slid onto the blue, end-zone turf at CenturyLink Field to duck a hit from San Francisco safety Eric Reid. He'd just caught his first Seahawks touchdown pass – the one that sealed Sunday's 17-7 win and has Seattle (10-4) in position to win the NFC West and perhaps the conference's top playoff seed entering Sunday night's showdown at first-place Arizona (11-3).
And now all Richardson wanted to do was rise.
"I had to just embrace the moment, man, because you never know how many of those you are going to get," he said. "I had to catch it, get down."
Doug Baldwin hugged him. Jermaine Kearse tapped his helmet. Russell Wilson, who had thrown the pass, ran down to bear hug him from behind.
"I definitely could feel my teammates around me," Richardson said. "Definitely, I wanted to celebrate."
Then Baldwin, ever a team leader, retrieved from an official the ball Richardson had just caught and handed it to Richardson to keep. Seattle's flying, second-round draft choice tucked it under his left arm and floated to the sideline.
Where's that first NFL touchdown ball, from his first TD catch since Nov. 23, 2013, for Colorado against USC, going?
"It's a Christmas gift for somebody, man," he said.
Who?
"I can't give it away."
Richardson is in prime position to grab another gift, perhaps one for himself, before next week's holiday.
The Seahawks have been working on an antidote to their sickly pass protection: throwing it before the bad guys get there. And Richardson's gaining prominence by the week as the quick-target third receiver in Seattle's many three-wide receiver sets.
For two seasons the offense of coordinator Darrell Bevell has relied on Marshawn Lynch's power running to keep defenses "honest" – which is to say, keeping foes from teeing off on Wilson trying to pass.
But what happens when a defense stymies Lynch?
That's what happened the last time the Seahawks played Arizona. The Cardinals throttled Lynch last month in Seattle with run blitzes and gang tackling, allowing him just 39 yards on 15 carries. Then they blitzed from everywhere at Wilson, sacking him seven times. If Wilson wasn't so extraordinarily elusive he would have been sacked at least eight other times, and the Seahawks might not have won by a 19-3 score.
In the last three games, Seattle's been having Wilson do more quick drops and throws in an effort to get the ball out before the inevitable arrival of pass rushers blowing past struggling rookie right tackle Justin Britt and others on the offensive line. And this weekend that line likely will be missing left tackle Russell Okung (bruised lung). It might not yet have back two-time Pro Bowl center Max Unger, who's missed the last four games with a high-ankle sprain and twisted knee.
All the more reasons for Wilson to throw quickly – to Seattle's quickest receiver who's run a 4.28-second 40-yard dash.
Richardson's first NFL score came after Wilson took two, quick jab steps and made one read, to the left slot to Richardson down the seam. Even then Wilson had a 49er in his face but completed the pass for the TD.
"Paul Richardson has really stepped up for us," Wilson said. "He's electric."
"That's one aspect of it that we've kind of put some focus on and think we can improve so we're going to try and keep pushing it," Seahawks coach Pete Carroll said of Wilson getting rid of the ball more quickly.
"That's just part of it but it's really exciting to see it when it's really sharp and crisp and the ball is out."
Expect to see more of this Sunday night. The Cardinals will come flying in on Wilson. They know if they can control what is essentially the NFC West championship game with their swarming, blitzing defense they will likely win the division.
Local journalism is essential.
Give directly to The Spokesman-Review's Northwest Passages community forums series -- which helps to offset the costs of several reporter and editor positions at the newspaper -- by using the easy options below. Gifts processed in this system are not tax deductible, but are predominately used to help meet the local financial requirements needed to receive national matching-grant funds.
Subscribe to the sports newsletter
Get the day's top sports headlines and breaking news delivered to your inbox by subscribing here.
---