News > Spokane
Justice Department wants Spokane to improve how it investigates police force
UPDATED: Fri., Dec. 19, 2014
Read the report in its entirety here.
Spokane Police Chief Frank Straub said his department is united in its effort to reform and had a "moral and ethical obligation to enact" the 42 recommendations issued by the U.S. Department of Justice Friday. He asked the community to give the department time to implement the recommendations stemming for a two-year review of the department, noting that distrust of the police department was real and justified, but the time had come to move on. "It also has to be a two way street. We want and we will … engage the community in open and honest discussions," he said. "But I will caution you. The police of old threw bombs. The police of old did things that were inappropriate in response to things that had occurred. We are opening our hearts and our arms to listen, but I have to ask the community to do the same thing. Throwing bombs, incendiary comments don't help the process." The report, which was done voluntarily with the police department, found that "police officers in the SPD do not routinely and deliberately engage in excessive use of force or deadly force, and (the justice department) did not find a pattern of biased application of use of force." The report, done by the
CNA Corp.
, said the department had "ignored or poorly managed" use of force training, documentation policies, officer remediation, accountability and other administrative issues. Among the report's recommendations are formalizing the roles and responsibilities of the police ombudsman and ombudsman commission, as well as improvements in use of force documentation and investigation. Some of the major recommendations of the report include:
Consistent reporting of use of force incidents using standard software suggested by the Department of Justice, BlueTeam.
Meeting with the Use of Force Commission to determine whether a department culture audit is needed.
Study the patterns and behaviors of officers with repeated uses of force. Also, reduce the number of incidents per year that require the review of an officer from 6 to 4.
Evaluate whether to continue the use of the lateral vascular neck restraint, a controversial hold restricting oxygen to the brain that has spawned lawsuits across the country. The hold is commonly referred to as a "sleeper," "choke" or "blood" hold, but police dispute these terms.
Update the department's rifle policy: When to use them, and who needs to carry them.
Speed up the Internal Affairs procedures for officer-involved homicides.
Develop a list of bylaws for the Office of the Police Ombudsman.
Invite the Office of the Police Ombudsman to participate in Use of Force training.
Hold a citizen's academy to illustrate Use of Force training to the public.
Create a Police Chief's Advisory Council to solicit input from the public.
Conduct a staffing study for the department to see where more officers are needed.
Allow agencies whose officers have used force and launched a Spokane Investigative Regional Response Team investigation to timely release information to the media about the event.
Before a packed and stifling room of reform advocates, police officials, and reporters, Straub shared the lectern with Spokane Mayor David Condon, U.S. Attorney Mike Ormsby, Council President Ben Stuckart and Ron Davis, director of the justice department's Community Oriented Policing Services. Davis was recently named the executive director of President Obama's task force on 21st century policing, and invoked the names of Eric Garner and Michael Brown as why it's necessary for police departments to examine and reform their practices. He said that Philadelphia and St. Louis County have invited the justice department to review their policies. Ferguson, Missouri – where a white police officer killed Brown, an unarmed black man – is in St. Louis County. Straub also recognized the impetus for police reform: the death of Otto Zehm after a Spokane police officer confronted and attacked him, leading to his death. "I have to begin my remarks by acknowledging the tragedy that brought us here," he said. "I want the Zehm family to know from me and from our department that … we're sorry for what happened and … I also want you to know that Mr. Zehm did not lose his life in vain." The only other police department to undergo this type of review is the Las Vegas Metropolitan Police Department, which had a 2011 review of use of force policies and practices that covered five years of incidents. Use-of-force complaints against Las Vegas police officers fell 18 percent in 2013, the first full year after recommendations were released. Officer-involved shootings also declined, and more suspects shot by police were armed. Spokane's federal review is not a full "pattern and practice" investigation, the type of probe conducted in Seattle in 2012 by the Civil Rights Division of the Justice Department. A Twitter timeline of reporting on #DOJSpokane:
#DOJSpokane
To find out how we got to this point, from the March 2006 death of Otto Zehm to today's news conference, click on the picture below to check out a timeline.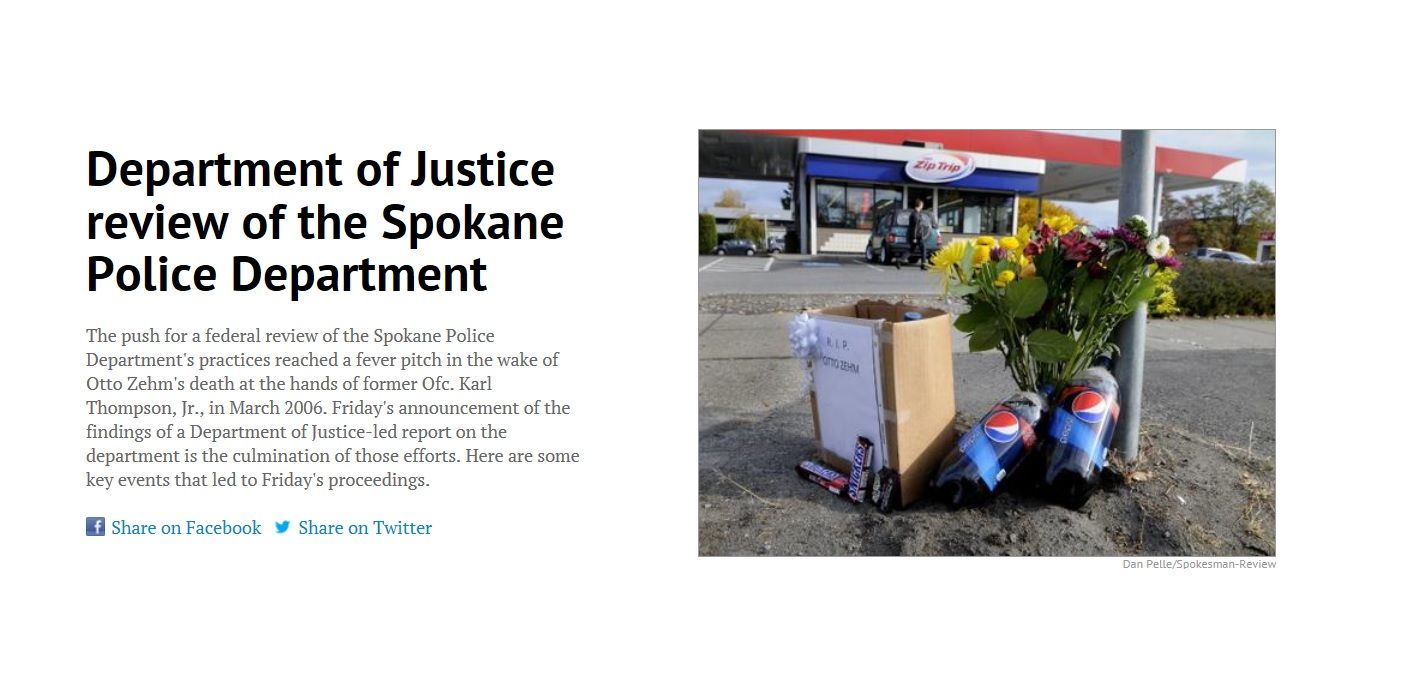 For a complete listing of homicides at the hands of local law enforcement since 2006, review the Google map below. Fifteen people have died at the hands of Spokane Police officers since 2006; 10 have been killed by Spokane County Sheriff's deputies. One officer, Karl Thompson, has been found guilty of criminal violations in those cases.
Blue markers indicate homicides involving Spokane Police officers, green markers are homicides involving Spokane County Sheriff's deputies. Click the marker for more information about each incident.
This story is developing and will be updated as new information becomes available.
Local journalism is essential.
Give directly to The Spokesman-Review's Northwest Passages community forums series -- which helps to offset the costs of several reporter and editor positions at the newspaper -- by using the easy options below. Gifts processed in this system are not tax deductible, but are predominately used to help meet the local financial requirements needed to receive national matching-grant funds.
Subscribe to the Coronavirus newsletter
Get the day's latest Coronavirus news delivered to your inbox by subscribing to our newsletter.
---