Lillard, Blazers top Spurs in triple overtime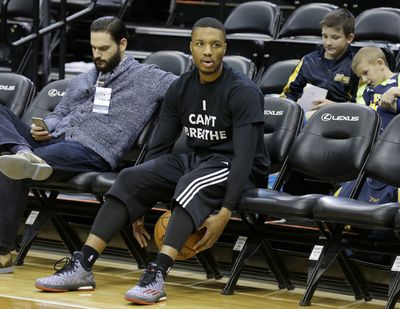 NBA: Damian Lillard had a career-high 43 points, including 16 after regulation, and Portland handed host San Antonio its second straight triple-overtime defeat, rallying for a 129-119 victory.
LaMarcus Aldridge had 32 points and 16 rebounds, and Wesley Matthews added 16 points as Portland extended its winning streak to four games.
Tim Duncan had 32 points and 10 rebounds for San Antonio, which became the first team to play back-to-back triple-overtime games since 1951.
• Timberwolves fall to Celtics: Kelly Olynyk scored 21 points and Boston showed crisp ball movement at home as it began the post-Rajon Rondo era with a 114-98 win over struggling Minnesota.
Devils top Lightning in shootout
NHL: Patrik Elias scored the only goal of the shootout to give goalie Keith Kinkaid his first NHL win, and New Jersey snapped a five-game skid beating visiting Tampa Bay 3-2.
Kinkaid made 26 saves and New Jersey won for only the third time in 14 games.
Florida QB driving without license
Football: Florida QB Treon Harris faces a misdemeanor charge for allegedly operating a motor vehicle without a valid license. Harris' arraignment is scheduled for Jan. 15 in Gainesville, Florida.
Two other Florida players, DBs Jalen Tabor and J.C. Jackson, were with Harris when he was pulled over for speeding.
According to police, two plastic bags found in the car appeared to hold a small amount of marijuana. The vehicle did not belong to Harris, Tabor or Jackson so they were not charged with possession.
A team spokesman said the players' status for the Jan. 3 Birmingham Bowl against East Carolina has not changed.
Tedford joins BC Lions: Jeff Tedford has returned to the CFL, taking over as head coach of the B.C. Lions. He replaced Mike Benevides, fired following B.C.'s 50-17 loss to Montreal in the East Division semifinal.
The 53-year-old Tedford was hired to be the Tampa Bay Buccaneers' offensive coordinator this season, but left the team during the preseason to undergo a heart procedure.
Armstrong associates settle lawsuit
Cycling: Two of Lance Armstrong's longtime business partners agreed to pay the federal government $500,000 to settle a whistleblower lawsuit filed by former teammate Floyd Landis in Austin, Texas.
Notice of the agreement with Bill Stapleton, Armstrong's longtime agent, and Bart Knaggs was filed this week.
Nyman wins in Val Gardena for 3rd time
Skiing: American racer Steven Nyman won the World Cup downhill on the classic Saslong course in Val Gardena, Italy for the third time.
Kjetil Jansrud of Norway finished second, 0.31 seconds behind. Dominik Paris of Italy was third, 1.15 back.
Nyman's other wins came in 2006 and 2012.
---