Matt leads U-Hi to win over Central Valley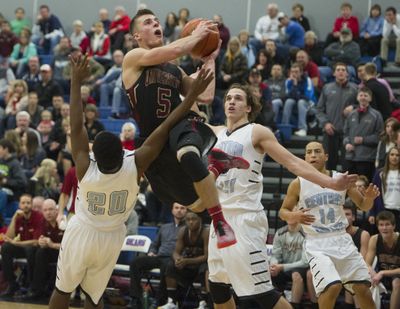 Remember this name – Spencer Matt.
And remember his basketball team – University.
The kid with two first names is making a name for himself five games into the Greater Spokane League season.
Matt, a junior, poured in a career-high 24 points and grabbed 10 rebounds to lead the visiting Titans to a 59-45 win over Central Valley in a game that was never close Friday.
University coach Garrick Phillips didn't know where to rate his team in relation to the league going into the season. He has a better idea now, and he likes the fact the Titans have much room for improvement.
"Talent and toughness is what you strive for but you'll take always take toughness in this league," Phillips said.
The Titans (3-2, 3-2) were tough from start to finish.
They got out to a 16-2 lead, and U-Hi extended it to 24-5 in the second quarter.
CV (4-2, 3-2) cut the lead to single digits at 28-19 when Michael Hannan scored off a backdoor cut seconds before the horn for halftime sounded.
It seemed the Bears were poised to carry that late first-half momentum into the final two quarters. But U-Hi used a 6-0 surge to open the third. A 3-pointer by Robert Little put the Titans ahead 43-26 with 2:20 to go in the period.
CV trimmed the lead to nine points, 43-34, when Hannan scored off another backdoor cut in the opening minute of the fourth quarter. But the Bears couldn't get any closer.
U-Hi extended the lead to 53-35 when the left-handed shooting Matt made his fourth 3-pointer.
"The past couple of years we've come out intimidated against these guys," Matt said. "This year we had to do the opposite if we wanted any chance at winning."
CV applied full-court pressure and created some turnovers.
"I don't think that was a loss of composure. That was just poor execution and a lot of that's on me," Phillips said. "I didn't get the guys in the right spots. There was no panic, and we just hit big shot after big shot. Every time it felt like a momentum shift was happening somebody knocked down a big shot."
The problem for CV is it couldn't make any shots. The Bears made just 5 of 31 from the field in the first half, and things didn't warm up much in the second half.
"I don't think we're significantly better than Central Valley," Phillips said. "They shot poorly and we shot well."
But Phillips likes where things are headed.
"I see us (finishing) in the upper half," he said. "I asked each kid afterward if we played a great game. To a man it was a quick answer – no. I asked if we were a tough team. And the answer all around was yes. That was the difference."
Little supported Matt with 11 points and four assists.
Hannan led CV with 14 points, nine rebounds and four steals.
CV made just 14 of 69 shots overall, a chilly 20 percent.
"That's as good as we've played defensively," Matt said. "We showed a lot of heart. We haven't been doing that lately. We finally got the training rolling. This will give us confidence the rest of the way."
Gonzaga Prep 47, North Central 44: Brandon Bieber made a 3-pointer with 30 seconds to go as the visiting Bullpups (3-3, 3-2) prevailed. Eight of 10 Bullpups scored, three with eight apiece. Four Indians (1-5, 0-5) scored in double figures, led by Drew Williams' 11.
Shadle Park 66, Ferris 49: The Highlanders (4-2, 3-2) outscored the visiting Saxons (0-4, 0-3) 16-4 in the second quarter to open a margin Ferris couldn't overcome. A pair of sophomores, N'Keil Nelson and Andreas Brown, combined for 41 points for Shadle. Nelson had a game-high 24 as he made four 3-pointers. Murphy Butte, who made four 3-pointers, led Ferris with 14.
Mead 57, Mt. Spokane 25: The Panthers (5-2, 3-2) raced to a 42-10 lead by halftime against the visiting Wildcats (1-3, 1-3). Max Hess led Mead with 21 points, Brandon Pettersen added 11 and six rebounds and Spencer Dodd had 10 points. No Mt. Spokane player scored more than nine points.
---