News > Nation/World
British singer Joe Cocker, 70, dies of lung cancer
Tue., Dec. 23, 2014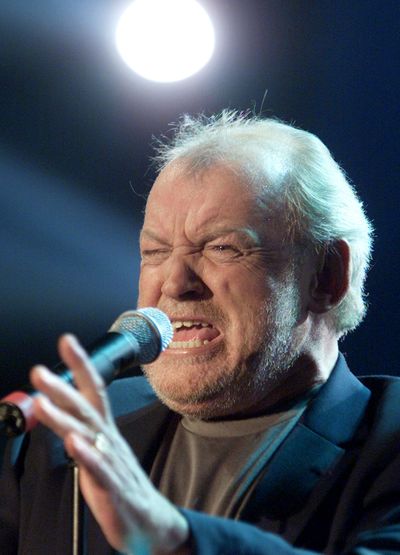 NEW YORK – Joe Cocker, the raspy-voiced British singer known for his frenzied cover of "With a Little Help From My Friends," the teary ballad "You Are So Beautiful" and a contorted performing style uncannily parodied by John Belushi on "Saturday Night Live," has died. He was 70.
His London-based agent, Barrie Marshall, said Cocker died Monday of lung cancer in Colorado, where he has lived for the past two decades.
Cocker, an interpreter more than a writer, became a star through his dazzling transformation of the Beatles' "With a Little Help From My Friends." Featuring a gospel-styled arrangement and furious call and response between Cocker and the backup singers, the song became a No. 1 hit in England and the highlight of his characteristically manic set at the Woodstock festival in 1969.
In a statement Monday, Paul McCartney remembered hearing Cocker's cover of the song he and John Lennon co-wrote for Ringo Starr and finding it "just mind blowing," a "soul anthem."
Cocker's "Mad Dogs & Englishmen" tour and traveling party of 1970, featuring Leon Russell and numerous top session musicians, produced a film and a recording that went gold. But future success was more sporadic, and Cocker suffered from both drug and financial problems.
He had a top-10 hit in 1975 on "You Are So Beautiful," his voice cracking on the final, emotional note, and won a Grammy Award in 1983 for his "Up Where We Belong" duet with Jennifer Warnes, the theme of the movie "An Officer and a Gentleman."
Cocker, who received an Order of the British Empire in 2011 for his contribution to music, released 40 albums. His other popular covers included "Feelin' Alright," "The Letter" and "Cry Me a River," a song previously recorded by one of Cocker's greatest influences, Ray Charles.
Local journalism is essential.
Give directly to The Spokesman-Review's Northwest Passages community forums series -- which helps to offset the costs of several reporter and editor positions at the newspaper -- by using the easy options below. Gifts processed in this system are not tax deductible, but are predominately used to help meet the local financial requirements needed to receive national matching-grant funds.
Subscribe to the Coronavirus newsletter
Get the day's latest Coronavirus news delivered to your inbox by subscribing to our newsletter.
---