Sports
In brief: Danny Green scores 24 points, leads injury-depleted Spurs past Rockets
Mon., Dec. 29, 2014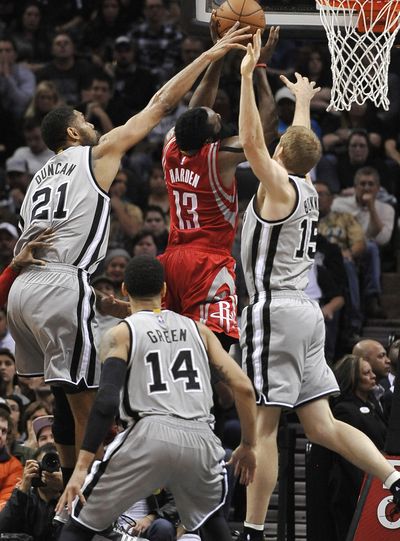 NBA: Danny Green had 24 points and the injury-depleted San Antonio Spurs held off a late rally to beat the visiting Houston Rockets 110-106 on Sunday, snapping a six-game skid against their intrastate rivals.
Tim Duncan had 16 points and Manu Ginobili had 15 for San Antonio, which won for first time in three games.
James Harden had 28 points and Dwight Howard added 24 points and 17 rebounds for Houston. The Rockets' newest additions had differing levels of success: Corey Brewer scored 25 points and Josh Smith added five points.
There were 20 lead changes and 13 ties in another physical and emotional battle between the longtime rivals.
• Pistons push past Cavs: Brandon Jennings scored 25 points, and Detroit used an 18-0 run in the second quarter to roll past host Cleveland 103-80.
Andre Drummond had 16 points and 17 rebounds for the Pistons. Jodie Meeks scored 14 points, and Kentavious Caldwell-Pope had 13.
Detroit set a season high for made 3-pointers by going 17 for 31 from long range.
• Mavericks beat Thunder: Dirk Nowitzki matched his season high with 30 points, Chandler Parsons added 26 and Dallas beat visiting Oklahoma City 112-107.
The Mavericks rallied from seven points down to start the fourth quarter. They were without center Tyson Chandler, a late scratch with back spasms.
Nowitzki put the Mavericks ahead for good with a pair of free throws with 3:25 to go.
• Blazers rout Knicks: Wesley Matthews had 28 points, including six 3-pointers, and host Portland beat short-handed New York 101-79.
Matthews, who leads the NBA with 106 3-pointers this season, made five 3s in the first half against the Knicks. Teammate Nicolas Batum had five 3-pointers and 17 points.
Fowler, Ducks clip Canucks in overtime
NHL: Cam Fowler scored at 2:42 of overtime after defenseman Francois Beauchemin tied it in the third period with his first goal of the season, and the Anaheim Ducks beat the Vancouver Canucks 2-1 in Anaheim, California.
The two-time defending Pacific Division champions are 8-0-1 in their last nine games against Vancouver.
Frederik Andersen faced only 14 shots, the fewest by the Canucks this season.
• Panthers rally past Maple Leafs: Brad Boyes scored a tiebreaking power-play goal in Florida's four-goal third period, and the Panthers beat Toronto 6-4 in Sunrise, Florida.
Willie Mitchell, Dmitry Kulikov and Scottie Upshall also scored in the third for the Panthers, who have won four of five. Jonathan Huberdeau had a goal and an assist, and Jussi Jokinen had two assists.
Kaminsky leads No. 6 Wisconsin by Buffalo
Men's Basketball: Frank Kaminsky had 25 points and 11 rebounds, leading No. 6 Wisconsin to a 68-56 victory over Buffalo in Madison, Wisconsin.
Other than Kaminsky, the Badgers had a poor first half. While the senior forward went 5 of 10 from the field, the rest of the team was 5 of 22, and Wisconsin trailed 27-26 at the break.
But the Badgers found their stroke in the second half. After shooting 31 percent in the first half, they hit better than 55 percent of their shots in the second.
• Texas Southern stuns again: Jason Carter hit a jumper as time expired to give Texas Southern a 58-56 win over Kansas State in Manhattan, Kansas.
Trailing by four late, Tonnie Collier made the first two of three free throws and Chris Thomas putback the third to tie the game at 56 with .9 seconds to play.
A turnover by Jevon Thomas on the inbounds pass set up Carter's winner.
• St. John's rolls: Sir'Dominic Pointer had a career-high 24 points to lead No. 17 St. John's to an 82-57 rout of Tulane in New York.
Pointer also added a career-high seven steals, grabbed four rebounds, had four assists and blocked two shots. The 25-point margin of victory was the largest for St. John's this season.
No. 8 Lady Vols hand No. 10 OSU first loss
Women's Basketball: Isabelle Harrison had 20 points and 12 rebounds, and No. 8 Tennessee beat No. 10 Oregon State 74-63 in Knoxville, Tennessee.
Freshman Alexa Middleton added 12 points off the bench as the Lady Vols handed the Beavers their first loss. Tennessee has now defeated two straight top-10 opponents.Middleton scored six consecutive points midway through the second half, and her jumper from the top of the key with 8:10 to play gave the Lady Vols a 56-52 lead.
• Allen lifts Irish: Lindsay Allen scored a career-high 22 points and No. 4 Notre Dame beat UCLA 82-67 in Los Angeles.
Freshman Brianna Turner added 14 points and a career-high 16 rebounds for her first career double-double for the Fighting Irish. Jewell Lloyd had 12 points, seven rebounds and seven assists.
• No. 14 Georgia upset: Tabatha Richardson-Smith scored 15 of her 25 points in a key second-half run to help Seton Hall upset No. 14 Georgia 70-51 in South Orange, New Jersey, for the Pirates' 11th straight win.
The winning streak is the school's longest since 1980-81 when it had a 12-game run, and the victory marked the first over a Top 25 team in nearly eight years.
Ganong earns 1st win in Cup downhill
Miscellany: American skier Travis Ganong won a men's World Cup downhill on a shortened course in Santa Caterina, Italy, for his first career victory.
Ganong finished in 1 minute, 32.42 seconds to beat Olympic champion Matthias Mayer of Austria by 0.09 and Dominik Paris of Italy by 0.21.
Overall leader Kjetil Jansrud, who has won two downhill races this season, was 1.35 behind and finished outside of the top 10.
• Hector takes slalom: Swedish skier Sara Hector upset all prerace favorites to win a women's World Cup giant slalom in Kuehtai, Austria, for her first career victory.
Hector finished in 2 minutes, 17.61 seconds to beat Anna Fenninger of Austria by 0.09 seconds.
American teen Mikaela Shiffrin, who led after the opening run, came 0.18 behind in third.
• Johnson declares for NFL: Miami running back Duke Johnson is skipping his senior season of eligibility and entering the NFL draft.
Johnson rushed for 1,652 yards this season and finished his Miami career with 3,519 yards in 33 games. He leaves the Hurricanes having set or tied at least 11 significant school records – many as a kick returner despite not playing on special teams this season.
Local journalism is essential.
Give directly to The Spokesman-Review's Northwest Passages community forums series -- which helps to offset the costs of several reporter and editor positions at the newspaper -- by using the easy options below. Gifts processed in this system are not tax deductible, but are predominately used to help meet the local financial requirements needed to receive national matching-grant funds.
Subscribe to the sports newsletter
Get the day's top sports headlines and breaking news delivered to your inbox by subscribing here.
---