Sports > Seattle Seahawks
Seahawks win NFL West and No. 1 seed again
Mon., Dec. 29, 2014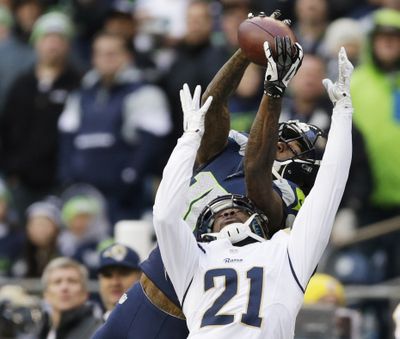 SEATTLE – The final result was the same for Pete Carroll and the Seahawks, wearing NFC West champion hats in the locker room after a Week 17 victory over the St. Louis Rams.
The process in getting to that point and clinching the No. 1 seed in the NFC playoffs for the second straight season was completely different.
So there was a different satisfaction for Carroll and the Seahawks after Sunday's 20-6 win over the Rams wrapped up the ninth division title in franchise history, the third under Carroll. This was not the mostly smooth ride Seattle experienced a year ago on its way to a title.
"All you guys kept talking about how you can't do this and you can't get to this point again and you can't come back and all this stuff. You can. You can do it. And we did it to this point. And we'll see how we'll do in the playoffs," Carroll said. "We got back to division champs and that's pretty rare. I'm really proud of that."
Marshawn Lynch scored on a 9-yard run with 12:07 remaining to take the lead, Bruce Irvin return an interception 49 yards for a TD and Seattle received another stellar defensive effort to close the season with six straight wins.
Seattle, Green Bay and Dallas all finished 12-4, but the tiebreakers went to the Seahawks, who next play on Jan. 10.
Getting home-field advantage seemed unlikely for the Super Bowl champs after losing at Kansas City and falling to 6-4. But their closing run was perhaps more impressive than going 13-3 in 2013's regular season.
Seattle bulled through Arizona and San Francisco twice, won at Philadelphia and finally dispatched the pesky Rams.
Seattle held five of its final six opponents to less than 10 points. The Seahawks became the first team since the 1969-71 Vikings to lead the NFL in scoring defense in three straight seasons, giving up 15.9 points per game.
Seattle's defense came up with continuous big plays when needed, forcing three turnovers in the fourth quarter. Jordan Hill and Irvin had interceptions and Earl Thomas knocked the ball from Benny Cunningham at the 1-yard line, sending the ball out of the end zone for a touchback, as the Rams looked to score with six minutes left.
"Any other person in the league would have probably slowed down and let him score," Irvin said. "Earl being one of our leaders, he leads by example. … A play like that is all he has to do."
Lynch finished with 64 yards on 15 carries. Russell Wilson was 17 of 25 for 239 yards and an interception.
Shaun Hill was 26 of 37 for 243 yards for St. Louis. The Rams (6-10) finished with just 42 yards rushing and no play longer than 20 yards. The turnovers forced by Seattle were massive after St. Louis shut out Seattle in the first half.
"Those guys made some spectacular plays in the second half," Shaun Hill said.
And none was bigger than Jordan Hill's pick.
St. Louis was in field-goal range when Stedman Bailey was flagged for holding. On the first play of the fourth quarter, St. Louis tried to set up a screen pass to Tre Mason. Shaun Hill attempted to throw the ball away, but Jordan Hill got his hands down quick enough to intercept it.
Seattle needed just six plays to take the lead. Wilson found Kevin Norwood for 31 yards to the Rams 9. Lynch then went untouched for his 17th touchdown of the season.
The capper came less than three minutes later. St. Louis was driving near midfield and Hill attempted to find Lance Kendricks. Wagner knocked the ball from Kendricks to Irvin, who ran untouched for his second TD this season.
"I wasn't even looking at the ball, it just ended up in my hands," Irvin said. "That's a sign of me living right."
Notes
Seattle was bitten by injuries in the fourth quarter. Jordan Hill suffered a sprained knee and linebacker K.J. Wright dislocated a finger. The most significant injury was backup safety Jeron Johnson dislocating his elbow.
Local journalism is essential.
Give directly to The Spokesman-Review's Northwest Passages community forums series -- which helps to offset the costs of several reporter and editor positions at the newspaper -- by using the easy options below. Gifts processed in this system are not tax deductible, but are predominately used to help meet the local financial requirements needed to receive national matching-grant funds.
Subscribe to the sports newsletter
Get the day's top sports headlines and breaking news delivered to your inbox by subscribing here.
---