Sports
WSU heads off to conference play with win over UC Davis
Mon., Dec. 29, 2014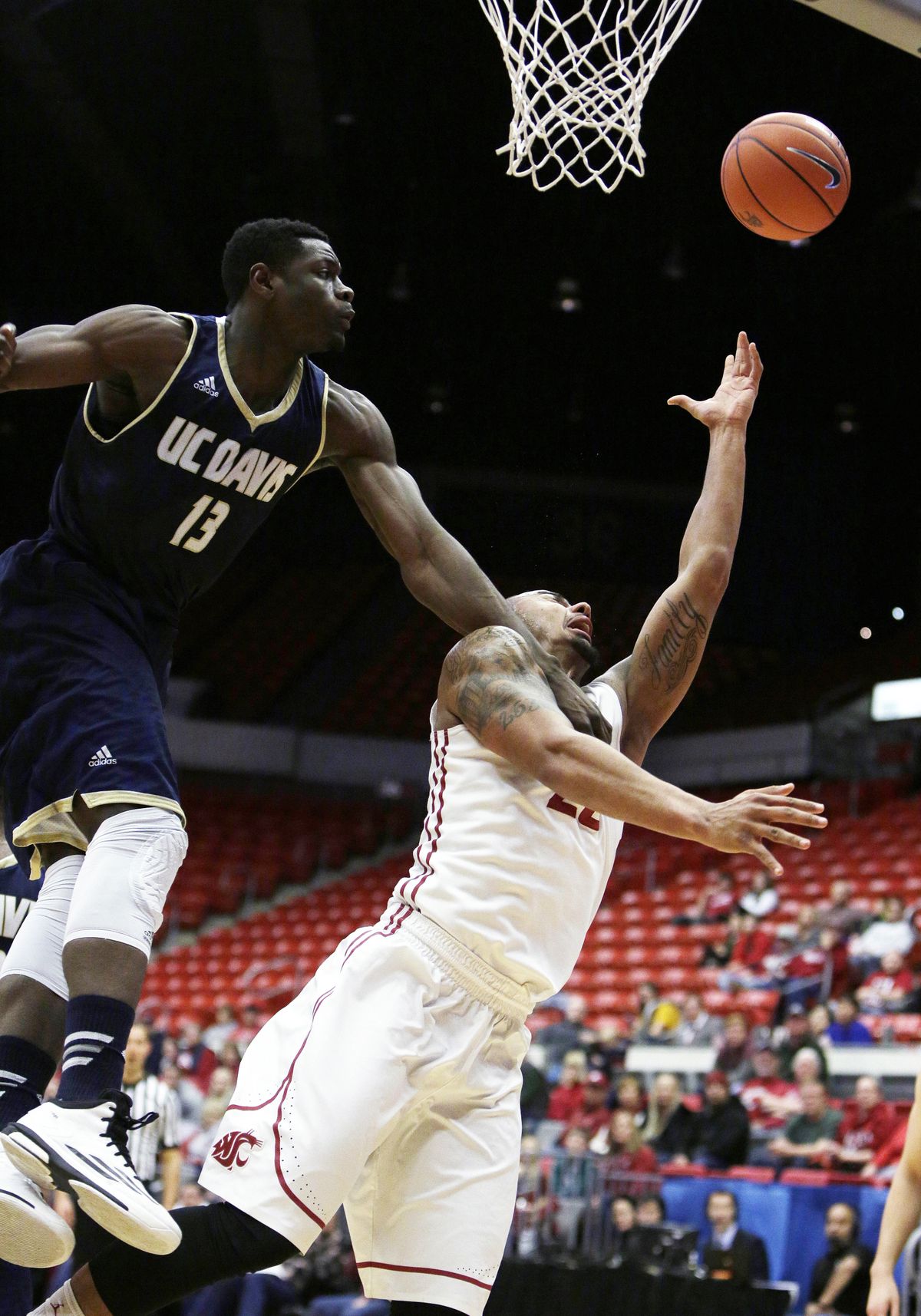 WSU's DaVonte Lacy, right, lays up ball around J.T. Adenrele. (Associated Press)
PULLMAN – The Cougars didn't end the nonconference season with a dominant performance to springboard them into Pac-12 play.
Washington State was too fast and loose with the ball on Sunday, missed an opportunity to improve defensively, and made it tough to distinguish between Corey Hawkins and his father, Hersey, a former NBA All-Star. But Washington State passed and shot the ball as well as it has all season in a 90-83 win over UC Davis.
The win gives the Cougars a 6-6 record, 4-1 at Beasley Coliseum.
The Cougars hit their first four 3-pointers and cruised to a 21-8 lead in the game's first 10 minutes. DaVonte Lacy jump-started the WSU offense by hitting quick outside shots on fast breaks. WSU distributed the ball well, assisting on 23 shots, the most by the Cougars in a single game since 2009.
WSU made 11 of 19 3-point attempts and 17 of 22 shots from the free-throw line. Many of the assists went to forward Josh Hawkinson, who peppered the Aggies with a slew of midrange jump shots from just inside the free-throw line.
"That's a shot I worked on a lot over the summer," Hawkinson said. "I've found it's helping a lot when the ball gets thrown into the post and the bigs start to double or lean in and I'm open, or trailing I'm open."
He also connected on two of his three attempts from behind the arc, scoring 18 points and grabbing 11 rebounds for his seventh double-double of the season.
It was certainly a boon for the Cougars to get 14 points on 5-of-7 shooting from Que Johnson, a talented sophomore scoring guard who has scored in double digits just four times this season.
Those players and their teammates built a 46-32 halftime lead that was enough to almost assure the Cougars of victory.
"I thought the first eight to 12 minutes of this game was as good of basketball as we've played all year long, offensively and defensively," said coach Ernie Kent.
That was the good part. But there was ugly side to WSU's win, one that exposed a lot of weaknesses that have yet to be fixed with the Cougars just a few days away from opening the Pac-12 season at Stanford on Friday.
There were the 18 turnovers, eight of them committed by freshman point guard Ny Redding, which led to 25 points by UCD.
There was the lackluster second-half defense that sputtered even when Kent switched to a half-court trap to generate some energy. That could have been an opportunity for the Cougars to add to their defensive toolkit, but with the way the Aggies easily scored the first two times they saw it, it's unlikely the Cougars will try that particular wrinkle against California's guards next week.
And there was the inability all game long to do anything defensively against Hawkins, who had a game-high 29 points, a game-high six assists, and a game-high five steals.
Still, the Cougars are improving.
"This team is a much different team than it was 12 games ago," Kent said. "I don't know how many teams in the conference have the growth potential, that have moved like us in 12 games with the schedule that we've had. We needed a good game, we had a good half, and now conference is here."
Local journalism is essential.
Give directly to The Spokesman-Review's Northwest Passages community forums series -- which helps to offset the costs of several reporter and editor positions at the newspaper -- by using the easy options below. Gifts processed in this system are not tax deductible, but are predominately used to help meet the local financial requirements needed to receive national matching-grant funds.
Subscribe to the sports newsletter
Get the day's top sports headlines and breaking news delivered to your inbox by subscribing here.
---