News > Features
Hendrix concert gave teen coming-of-age experience
Mon., Feb. 3, 2014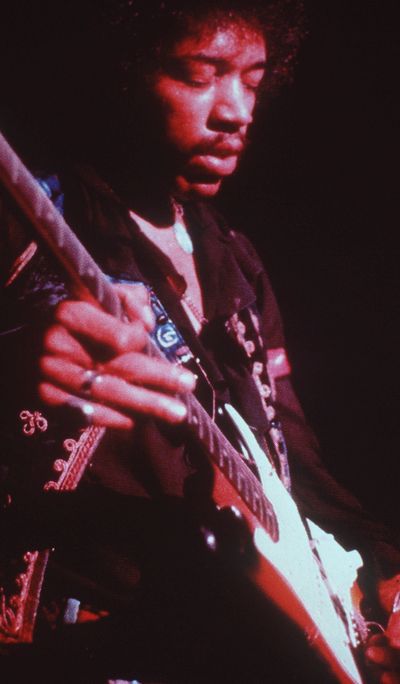 Paul Allen said the concert changed his life. A few hundred yards from where it happened, he later built the Experience Music Project, a shrine to rock 'n' roll and the artist who had set Allen's imagination on fire, one spring day in 1969.
Me, I was just a kid who lived in an old house on a gravel street in Olympia. Down in my basement bedroom, a homemade wire antenna snaked through the window frame, down the concrete wall and into the back of a big Zenith vacuum-tube AM radio.
Through that wire came the music that shaped a generation.
Through that wire came the news: Jimi Hendrix would play a concert just up the highway, in his hometown. May 23, 1969. At the Seattle Center Coliseum.
The young people who streamed into that concert included one who would become a Microsoft zillionaire and philanthropist – and thousands who disappeared into average lives. But most of us, I suspect, walked away with a memory of something bigger than a concert.
What is it about the music of our youth? Life didn't hand me the money to honor it with a museum, but even 45 years later, when I hear "All Along the Watchtower" it still yanks me back on a magic carpet ride, to a time when music provided inspiration for a cultural revolt.
In the spring of 1969, Hendrix stood at the peak of his career, on the threshold of Woodstock. He had returned from the clubs of Europe and electrified the melodious world of middle-class pop. He was like no one else: Wild hair, neon-colored clothes, and a style of music that made Elvis Presley sound as dated as Lawrence Welk.
In those days, American napalm was raining fire on the jungles of Vietnam. Assassinations had claimed John F. Kennedy, Malcolm X, Robert Kennedy and the Rev. Martin Luther King Jr. Racial tension smoldered in the cities. Protests had shaken the Democratic National Convention. Civil rights were still a dream – and, for some, a battle cry. On its way to family mailboxes was a payload of journalistic dynamite: the June 1969 issue of Life magazine, bearing page after page of simple photographs – clean-cut American men, casualties of the war, many of them sent involuntarily, by the draft.
Even in peaceful Olympia, kids including me had taken time away from reading Chaucer and studying chemical equations to enlist in political activism, campaigning for 18-year-olds to be given the right to vote. Our inspiration included Barry McGuire's hit tune, "Eve of Destruction": "You're old enough to kill, but not for votin'. You don't believe in war, but what's that gun you're totin'?" That polite campaign for the right to vote was only a beginning.
As the Seattle concert neared, Hendrix had not – yet – taken conspicuous political stands like those of the protest singers. Yet his screaming guitar slashed like a knife through the tension of the times. Within weeks, that guitar at Woodstock would transform the national anthem into a rendition of diving jets, wailing children and exploding bombs.
None of us then could see what lay ahead. But disc jockey Pat O'Day, the pied piper of Northwest rock 'n'roll, trumpeted the news of the Hendrix homecoming from his influential show on Seattle's KJR radio. O'Day had never failed us before. Everyone listened to his station, and high school kids up and down the West Coast went to the local dances he and others promoted, featuring bands like Paul Revere and the Raiders, Merilee Rush and the Turnabouts, and the Liverpool Five.
The Jimi Hendrix Experience was in another league, up there with Bob Dylan and the Beatles.
My friend Gary said we had to be there, had to hear Hendrix.
This raised some mundane logistical challenges. Neither one of us had been to a big rock concert in our lives. How would we get there? Who would we take?
My Dad's Studebaker station wagon seemed out of the question. Gary drove a battered Barracuda with a transmission he had rebuilt himself; first gear often didn't work. No matter. The Barracuda it was. Gary had a girlfriend. I didn't. Invite someone, Gary commanded. The next day as I packed away my clarinet I looked around the band room and spotted a friend: Cheryl, the flute player. She seemed more the Sousa type, but what the heck. She said yes.
And so it was that four middle-class kids on the cusp of graduation and adulthood piled into a beat-up car with a bad transmission and lurched up the freeway to Seattle.
Vivid though the concert was, I couldn't tell you what tunes Hendrix played. What I remember is the intensity of the music, the emotions of the crowd, the palpable sense of urgency and change, and the heavy cloud of sweet-smelling smoke that hung in the cheap seats up high in the Coliseum's rafters.
Soon after, we went our separate ways. I never dated Cheryl again. I hope she's had a nice life. Gary got a job repairing cars at a gas station and I haven't seen him in years. I made my way through college and found work at a newspaper. The revolution came and went.
Today, when the old tunes stir memories of those years, I wonder if the world has changed as much as our generation thought it should.
Eighteen-year-olds and persons of every race now have the right to vote, but in many parts of the country there are efforts to make even this most basic of civil rights more difficult to exercise.
An African-American now occupies the White House, but half the political establishment devotes itself to demonizing every move he makes, regardless of its merit.
Just as some called it "socialism" and tried to block Medicare for the elderly in the 1960s, today there are angry complaints of "socialism" about the effort to ensure better health care for younger Americans.
Even the tragic futility of Vietnam has a modern echo: in cities like Fallujah, still freshly marked with the blood of sacrificed American lives, terrorism has resumed.
And the world of popular music has exploded into a million market segments and an overhyped litany of televised karaoke contests.
Lord have mercy, I've turned into a fogey. But if the ghosts of Hendrix and Lennon are still out there somewhere, we want you back.
Local journalism is essential.
Give directly to The Spokesman-Review's Northwest Passages community forums series -- which helps to offset the costs of several reporter and editor positions at the newspaper -- by using the easy options below. Gifts processed in this system are not tax deductible, but are predominately used to help meet the local financial requirements needed to receive national matching-grant funds.
Subscribe to the Coronavirus newsletter
Get the day's latest Coronavirus news delivered to your inbox by subscribing to our newsletter.
---