Sports
EWU stays close to home on national signing day
Thu., Feb. 6, 2014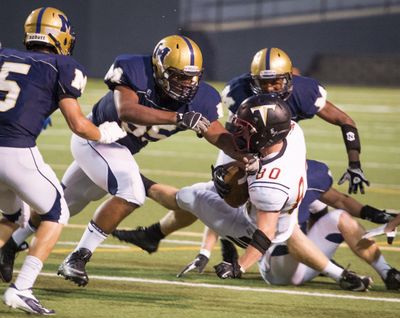 Sometimes the grass is greener in your own backyard.
Even if it's red.
With offers in hand from two military academies, Mead football star Jonah Jordan instead chose to sign a letter of intent Wednesday to play football for Eastern Washington.
"It was the place I wanted to play," said Jordan, a big defensive end with dreams to match.
Jordan rattled off the reasons: The program's family atmosphere … the allure of a winning Division I program … the 2010 national championship.
"And the red turf," added Jordan, who, like the Eagles, chose to stay close to home on signing day.
Out of a class of 26, all but four Eastern signees hail from in-state, including four from the Spokane area. Besides Jordan, the Eagles signed safety Cole Karstetter of Ferris, linebacker/defensive end Marcus Saugen of North Central and wide receiver/defensive back Stu Stiles of Mt. Spokane.
Another 18 are from the West Side, all but three of them from the Puget Sound area – the launching pad of many successful football careers in Cheney.
"We will always start with the state of Washington and locally within the state of Washington, and work out from there," Eastern coach Beau Baldwin told a crowd of more than 100 at the school's national signing day event at Northern Quest Casino and Resort.
"This is a great football state anyway, but this year there were so many great fits," Baldwin said.
After losing 23 seniors from last year's Big Sky Conference championship team, Baldwin knew that he and his staff "had a lot of holes to fill."
So did they? Time will tell, but the Eagles added nine linemen on both sides of the ball, and five wide receivers and five defensive backs.
"If I signed 26 guys and didn't fill some holes, there's something wrong," Baldwin joked before showing highlights of all 26 signees.
That included Jordan, a fast-motored, 6-foot-2, 250-pounder who played on both sides of the ball for Panthers coach Sean Carty.
"I know that based on his performance here and how hard he's worked, I think the future's wide open for him," Carty said.
Indeed, on a day that's all about potential, the Eagles see plenty in Jordan, whom defensive line coach Ryan Sawyer sees as a player who's "going to be tougher to handle than the next guy and finding a away to overachieve."
"He has a lot of pop, and he's very explosive," Sawyer said.
That was evident on the film; Jordan, rated a two-star recruit by Rivals, routinely overmatched opposing offensive linemen in Greater Spokane League play.
"He brings a lot of thump," Baldwin appraised as the film rolled. "When he gets there, he really gets there, and brings a lot to the table."
As for Jordan himself, he's happy about his decision. Offers from the Air Force Academy and West Point were attractive at first, but he wasn't sure about commiting to a military career after graduation.
He did, however, borrow an old Army recruiting line:
"I just want to be the best I can be," Jordan said.
Local journalism is essential.
Give directly to The Spokesman-Review's Northwest Passages community forums series -- which helps to offset the costs of several reporter and editor positions at the newspaper -- by using the easy options below. Gifts processed in this system are not tax deductible, but are predominately used to help meet the local financial requirements needed to receive national matching-grant funds.
Subscribe to the sports newsletter
Get the day's top sports headlines and breaking news delivered to your inbox by subscribing here.
---