Sports
Fatherhood helped Idaho's Madison gain focus
Thu., Feb. 6, 2014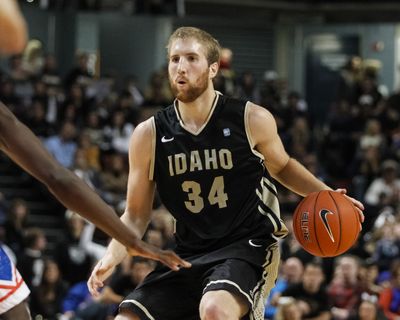 MOSCOW, Idaho – Thirty minutes after another excruciating loss, this one that ended on his turnover, Stephen Madison looked beaten down. His senior year at Idaho has been three months of close calls and lost chances, and on this night the Vandals had dropped a one-point decision for the third time at home.
On his way out of the Kibbie Dome, though, Madison held on tightly to a reminder of why in some ways it's been the best (and most memorable) season of his career.
Her name is Harper, and she's almost 4 months old.
On Oct. 19, Madison's girlfriend gave birth to Harper in Spokane. She came three weeks early, and three weeks before Idaho's season started.
When the Vandals aren't on the road, Madison's girlfriend and daughter are with him in Moscow. That means late-night diaper changes and all the things that come with the first stages of fatherhood – which Madison said have kept him "more alert, more focused, less lazy."
And more motivated.
"You don't get all the hours you're used to," Madison said. "You don't get to laze around and do whatever – it's the baby's schedule now. So it's school and basketball and dealing with everything the baby needs: crying, change diapers, all that."
The bearded 6-foot-6 wing/forward from Portland, who leads the Vandals (8-14, 2-6 WAC) in scoring and every other major statistical category, said a more structured schedule has helped in every area of his life.
Before college, Madison struggled staying on track academically. He said he's always been a good test-taker, but he would lapse on his homework because "I was just young and immature and not caring what I did about school."
When Madison transferred from Prairie High near Vancouver, Wash., to Jefferson High in Portland for his senior year, his GPA was so low that most college coaches –including ones from high-level conferences interested in Madison – stayed away. He hadn't met the NCAA's qualifying requirements, and schools didn't want to take a risk offering him a scholarship.
Madison ended up qualifying just before graduation after taking night classes while at Jefferson, where he played with future NBA standouts Terrence Jones and Terrence Ross.
Within a couple of weeks he had committed to Idaho, one of the few schools that stuck with him. (A few days after committing, Washington State offered him a scholarship but backed away after hearing that he had pledged to UI.)
Once Madison was at Idaho, Don Verlin and his coaching staff nudged him along in the classroom, and he has matured into the Vandals' best all-around player. He's incrementally increased his scoring average – from 3.7 points per game as a freshman to 17.9 as a senior, second-best in the WAC. And he leads the Vandals in rebounding, assists, blocked shots and steals.
Last week he moved into sixth place on Idaho's all-time scoring list with 1,334 points.
"I couldn't be happier with his development in the program," Verlin said.
Madison has never missed a game in four seasons at UI. He's also on track to get a general studies degree in four years, an achievement that he's "pretty happy about" because of how long it takes some to finish college.
After school Madison wants to pursue a professional career, one that he hopes will start with an NBA summer league invite like his friend and former teammate Kyle Barone received last year. Whenever his playing career is done, Madison's goal is to become a Division I coach.
Why? "Because I love basketball. It basically is my degree. I do it all the time," he said.
His motivation has come into focus after becoming a father at the age of 22. He knows he needs to provide for his daughter, which means "taking everything a lot more serious."
"He's making big steps in life," said fifth-year senior Joe Kammerer, the only Vandal who's been in the program longer than Madison. "So he's been forced to mature and be responsible. And he (has)."
Local journalism is essential.
Give directly to The Spokesman-Review's Northwest Passages community forums series -- which helps to offset the costs of several reporter and editor positions at the newspaper -- by using the easy options below. Gifts processed in this system are not tax deductible, but are predominately used to help meet the local financial requirements needed to receive national matching-grant funds.
Subscribe to the sports newsletter
Get the day's top sports headlines and breaking news delivered to your inbox by subscribing here.
---